Rockchip RK3288 Android 4.4.2 SDK and Schematics Released for Firefly Board
Firefly-RK3288 development board was first announced in July. I still don't have news about availability nor pricing, but the T-Firefly website launched yesterday. They seem do have a nice Wiki, but unfortunately everything is currently in Chinese, except when you go to the download page. You'll find firmware upgrade_tool for Linux and Windows, the USB drivers for rooting and firmware update, firmware images (Android 4.4.2, Ubuntu 14.04, and dual boot), the board schematics (PDF), and Android KitKat 4.4.2 SDK with U-Boot, Linux, and Android source code, some documentation, XBMC apk (no source) with H.265 hardware decode support for MP4, MOV and MKV container formats.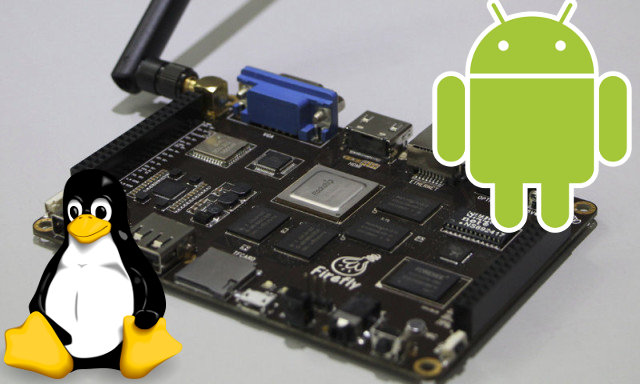 The SDK is available on Bitbucket. I planned to test it, but unfortunately my network connection is very slow (and unstable) to this server, and I failed to retrieve it with git clone. The company also posted the build instructions in Chinese in their website, but I'll reproduce them here for Ubuntu 14.04.
Install required packages:

sudo apt-get install git-core gnupg flex bison gperf libsdl1.2-dev \
libesd0-dev libwxgtk2.8-dev squashfs-tools build-essential zip curl \
libncurses5-dev zlib1g-dev pngcrush schedtool libxml2 libxml2-utils \
xsltproc lzop libc6-dev schedtool g++-multilib lib32z1-dev lib32ncurses5-dev \
lib32readline-gplv2-dev gcc-multilib libswitch-perl gcc-arm-linux-gnueabihf \
lzop libncurses5-dev  libssl1.0.0 libssl-dev

Checkout the SDK:

mkdir -p ~/edev/firefly
cd ~/edev/firefly
git clone https://bitbucket.org/T-Firefly/firefly-rk3288.git


Build the Linux kernel:

cd firefly-rk3288/kernel
make firefly-rk3288_defconfig
make -j8 rk3288-box.img

Build Android:

cd ..
make -j8
./mkimage.sh ota
And after some patience, Android should be fully build. Instructions to create a Ubuntu image are also available in the Wiki, but only in Chinese.
Categories:
Android, Linux, Rockchip RK32xx, Testing, Ubuntu
Android, cross-compilation, development board, firefly, how-to, Linux, open source, schematics, sdk, tutorial