After providing some pictures of VidOn.me AV200 media player, and its PCBA, it's now time for a review. I'll start by giving my first impressions, and checking out the system settigns and user's interface, go through my library of video test files, and cover most hardware features. As usual, I'll also test Wi-Fi performance, but I've now added more tests including Ethernet performance, and USB hard drive support and performance with NTFS, FAT32, EXT-4, and BTRFS partitions.
First Boot, Settings and First Impressions
The device comes with an IR remote control with lots of buttons, including shortcuts, D-Pad control, digit keys and trick modes (play/pause, fast forward and rewind, next and previous), but the two required AAA batteries were not included, and I did not have spare batteries, so I did not use the remote control, which looks pretty OK for XBMC, and just control the device with my Mele F10 air mouse. I've connected an Ethernet cable, the provided HDMI cables, the Mele F10 USB RF dongle, and the power adapter to boot the device. It took around 40 seconds to reach the user interface, which looks pretty similar to the one provided with many recent firmware on devices such as Tronsmart Vega S89 or SZTomato M8.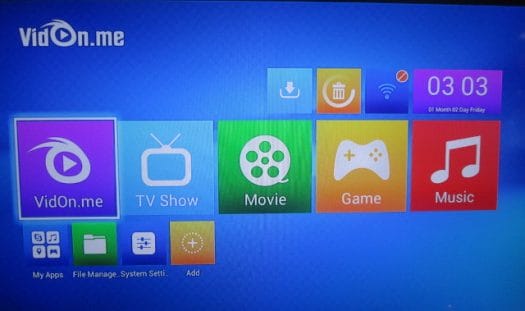 At the top left of the screen, clicking on the VidOn.me logo redirect you to their website. The small top right icons are for Download (with download speed shown in real-time), App (Kill, Move to SD card or Remove), Network connection, and date and time. The large icons in the center of the screen are for VidOn XBMC, and "folders" for TV shows, movies, games and music applications. The lower row is composed of icons redirecting to the list of apps, a file manager, and custom system settings. The Add icon allows you to add your preferred app to the row for faster access. The user interface resolution is stuck to 1280×720.
There are quite a few common pre-installed apps including Chrome, the Play Store, Gmail, YouTube, Pandora, Netflix, Pinterest, Skype, Fadcebook and Twitter. I had no problem installing other apps with Google Play.
The "Setting" menu gives you access to the settings shown in the same Metro-style with four sub menus: Network Settings, Display Settings, "Volume" Settings and Others Settings. Network settings let you choose between Wi-Fi and Ethernet almost no problem here, except the vey first boot, Ethernet is set by defautl as fixed IP without any IP, so you have to go to the Android Settings menu, via the Other Settings menu to configure Ethernet, not that user's friendly… The Display Settings provide menus top configure HDMI output to 720p 50/60, 1080i 50/60 and 1080p 24/50/60, as well as slider for overscan adjustment. The "Volume" settings are actually audio settings, that let you select the Audio output (HDMI or 3.5mm audio jack), whether it's connected directly to a TV or via a decoder amplifier (pass-through), and adjust the volume. "Other Settings" are not settings at all, but report the model (Android Blu-ray Box), thefirmware version (V3.1.3), the MAC Address, and the n-board storage (1GB app partition, 4.14 GB internal SD card). There are also two buttons" System Upgrade" which allows for OTA or local upgrades, and "Advanced Settings" that are the Android settings you can find on any Android device. There's not much to see over there, except the kernel version is 3.3.30, and developer options are enabled. Ethernet configuration must also be done in the Android settings…
The device has been released last year, so I was expecting a super stable firmware, and it's working pretty well most of the time, but I did get two random reboots, and once XBMC would not start at all, and I had to reboot to recover. There's a power button on the device and one the remote, I did not test the latter, but pressing the former really shuts down the device properly, which is a plus.
Video Playback
The box comes pre-loaded with a special version of XBMC called VidOn XBMC Pro which I used for testing video playback. The first time you start the app, you have to register with VidOn.me and login, or you can't use XBMC, and I found that quite annoying. But I was pleased to be asked if I wanted to receive an automatic upgrade for XBMC, which I downloaded only to be told there was not enough space! That's a new device where I only install 2 or 3 small apps (Root checker, and screenshot apps). That's the result of silly partitioning like I had on my Android phone with 1GB for apps, and 4+ GB for data which is never used. So I used the App tool the provided to move some apps to the internal "SD Card". When I went to XBMC again, they had to re-downloable the fully update yet again, which takes about 5 minutes, before it got successful…
But after a poor user experience due to forced registration and problems with installating an update, I was pleasantly surprised as the user interface is very smooth and rendered @ 60 fps (1280×720), and I did not experience any slowdown.
Let's start with video playback. Unless otherwise noted, the videos are played from a SAMBA share on Ubuntu 14.04 using the Ethernet connection of the device. I had no problem for SAMBA configuration in XBMC nor ES File Explorer.
Videos from samplemedia.linaro.org:
H.264 codec / MP4 container (Big Buck Bunny), 480p/720p/1080p – OK
MPEG2 codec / MPG container, 480p/720p – OK; 1080p – The video can play but there seemed to be some sort of screen/color blinking every few seconds.
MPEG4 codec, AVI container 480p/720p/1080p – OK
VC1 codec (WMV), 480p/720p/1080p – OK
Real Media (RMVB) – The video can played but lots of frames are skipped.
WebM / VP8 – 480p/720p/1080p is – OK.
I've also tested some high bitrate videos:
ED_HD.avi

(1080p MPEG-4 – 10Mbps) – Lots of frames skipped and massive audio/video sync issue
big_buck_bunny_1080p_surround.avi (1080p H.264 – 12 Mbps) – OK.
h264_1080p_hp_4.1_40mbps_birds.mkv (40 Mbps) – OK
hddvd_demo_17.5Mbps_1080p_VC1.mkv (17.5Mbps) – OK
Jellyfish-120-Mbps.mkv (120Mpbs) – Some buffering occurs, and the video is not really smooth at anytime. Tested using a USB hard drive (EXT-4)
I've also tested common audio codecs below using downsampling:
AC3 – OK
Dolby Digital 5.1 / Dolby Digital 7.1 – OK
TrueHD 5.1 & 7.1 – OK
DTS-MA and DTS-HR – OK
Even there's no Blu-ray drive to be seen, AV200 is sold as a "Blu-ray" player, as it is supposed to play Blu-ray. I could play Sintel-Bluray.iso in XBMC without issue, and navigate between chapters. 3D Blu-ray are also supported, but I'm not sure how to test it yet.
I've also tested several 4K Videos since AllWinner A31 SoC does support 4K decoding, but unfortunately hardware decode does not seem to have been implemented in XBMC:
HD.Club-4K-Chimei-inn-60mbps.mp4

(60 Mbps) – Audio cuts after 2 seconds, and video is very slow.

Sintel.2010.4K.mkv

– Very slow playback, frames skipped.
I also tested several AVI, MKV, FLV and MP4 videos, and they could all play. Finally, I also played some "motion bar" videos to check 24Hz, 23.976Hz, 50Hz, 59.940Hz, and 60Hz support, but there seemed to be jitter a bit all the time, so results are not conclusive.
Links to various video samples used in this review and be found in "Where to get video, audio and images samples" post and comments.
Network Performance (Wi-Fi and Ethernet)
I used to test only Wi-Fi, since I believed Ethernet performance would be pretty similar in all devices, but I've changed my mind, and will now provide both Wi-Fi and Ethernet performance results. The test consist in transferring a 278 MB file between a SAMBA share and the internal flash, and vice versa, repeating the test three times. Transferring the file between flash and SAMBA took 1:49 (2.55Mb/s), and in the reverse direction it's a bit slower as it took 2:18 (2.01 MB.s). There was very little variability between the test which is nice, and on average the transfer was performed at 2.25MB/s, a pretty decent result.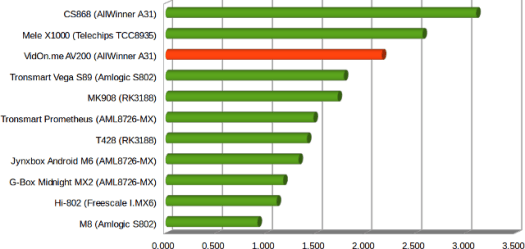 CS868, Mele X1000, and AV200 (aka Mele M9) all happen to have a metallic casing, and I wonder if it could be related in any way to Wi-Fi performance, albeit T428 also comes with a metallic enclosure but does not fare that well.
The Ethernet test does not really test pure Ethernet speed, but a common use case transferring the same 278 MB between SAMBA and the internal flash. From SAMBA to the flash was done @ 3.43 MB/s (1m21s), and from the internal flash to SAMBA @ 4.27MB/s (1m05s).
Miscellaneous Tests
Bluetooth
There's no Bluetooth support in both the hardware and firmware, so even external USB Bluetooth dongles won't be supported.
External Storage
I could use an SD card formatted to FAT32 successfully.
I've also purchased a USB 3.0 hard drive that I partitioned in 4 with NTFS, EXT-4, FAT32, and BTRFS. Here are the performance results achieved by copying files between the internal flash and the partitions.
File System
Read
Write
NTFS
6.17MB/s
5.05MB/s
EXT-4
Not supported
FAT32
6.31MB/s
13.9MB/s
BTRFS
Not supported
I used a stopwatch, and did the transfer with ES File Explorer waiting for the transfer window to disappear. I mention this detail because the transfer is reported as finished much earlier, but ES File Explorer appears to flush the file to disk for a few more seconds (around 20) before the transfer window is closed.I used a stopwatch, and did the transfer with ES File Explorer waiting for the transfer window to disappear. I mention this detail because the transfer is reported as finished much earlier, but ES File Explorer appears to flush the file to disk for a few more seconds before the transfer window is closed.
The read transfer speed is unfortunately not representative of the true speed as it must be limited by the internal flash write speed. I also tried to copy from FAT32 to SAMBA but it's even slower. I'll need to find another way…
Gaming
I've tested two games: Angry Birds Star Wars, and Beach Buggy Blitz. Both are running fine, including Buggy Blitz set to maximum graphics settings.
VidOn.me AV200 Benchmark
I've just run one quick benchmark (Antutu) since AllWinner A31 is not exactly new, to check there was not performance issues.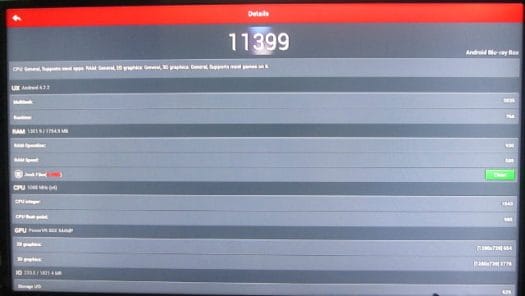 A 11399 score for a quad core Cortex A7 @ 1 Ghz seems about right, considering a Rockchip RK3188T (4x Cortex A9 @ 1.4Ghz) now gets around 14,000, so the score is probably helped by the PowerVR GPU.
Conclusion
VidOn.me AV200 is performing quite well, especially when it comes with video playback, but I feel a little worried that I had 2 automatic reboot during my day of testing, especially since the device went through several firmware iterations.
Let's summarize the PROS and CONS
PROS

Smooth and fast firmware.
Custom version of XBMC with Blu-Ray ISO and 3D support, and HDMI pass-through
Very Good video formats/codecs support
High quality metallic enclosure
Good Wi-Fi performance
OTA firmware and XBMC upgrades

CONS

Stability problems.
Their XBMC version requires registration and login to VidOn.me
4K hardware video decoding not supported, at least in XBMC
Poor partitioning of the flash, leading to problems to install apps or updates.
Device is sold out, and can only be obtained as second hand, or by buying Mele M9.
Further firmware updates very unlikely due to above reasons.
VidOn.me AV200 has one of the best, if not the best, audio/video format/codec support I've ever seen from the device I tested, baring lack of support for 4K, H.265, and some visual effects in one of my MPEG2 files, but I tend to test recently released device, and the VidOn.me team had more time to iron out issues with this media player, which makes the two reboots I had all the more disappointing, but maybe I was just unlucky, and it did not happen during video playback (One in ES File Explorer, and one in the System Settings).
As mentioned before, you can't buy VidOn.me AV200 anymore, but it's the same hardware as Mele M9, and according to reports you can install VidOn.me firmware on Mele M9 or A1000G.

Jean-Luc started CNX Software in 2010 as a part-time endeavor, before quitting his job as a software engineering manager, and starting to write daily news, and reviews full time later in 2011.