Last year I reviewed SoundMate M2 Wi-Fi audio streamer, and Uyesee has sent me a sample of their new SoundMate WM201 powered by Actions Semi AM8253, and based on EZCast app for audio calld EZMusic (EZCast Music).
SoundMate WM201 Unboxing Pictures
That's the package for the device.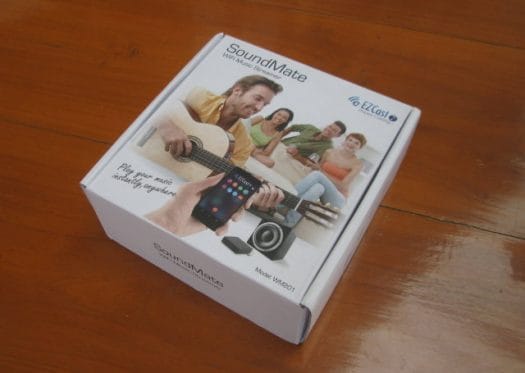 The device comes with two audio cables, a micro USB to USB cable for power, and "SoundMate WiFi Music Streamer" user manual.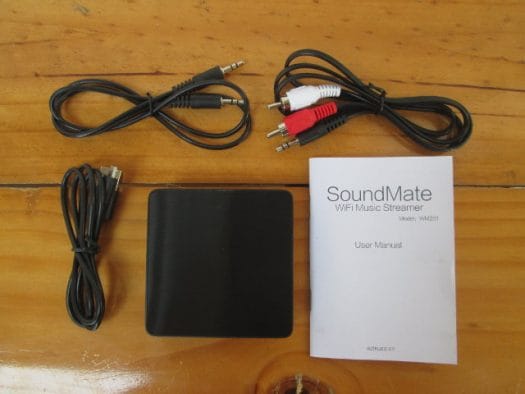 Let's have a closer look at the tiny box.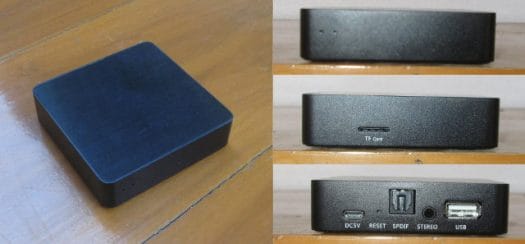 Two LEDs are located on the front for power and connection, a micro SD slot can be found on the side, and the rear panel has most of the connection: micro USB port for power, reset pinhole, optical SPDIF, 3.5mm stereo jack, and USB 2.0 host for mass storage.
SoundMate WM210 Teardown
Take out of four sticky rubber pad on the bottom of the case, and loosen four screws to remove the bottom cover.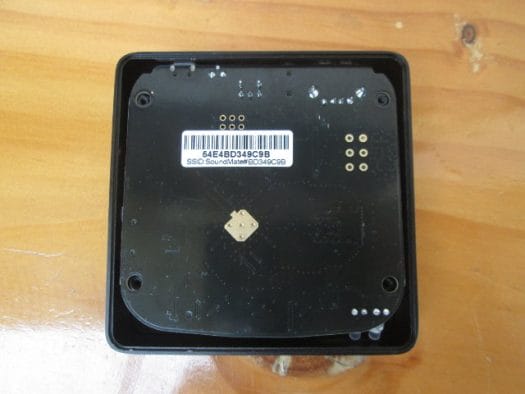 Not much to see here, except the MAC address that starts with 54E4BD and belongs to FN-Link Technology, which must be the company provided the Wi-Fi module for WM201.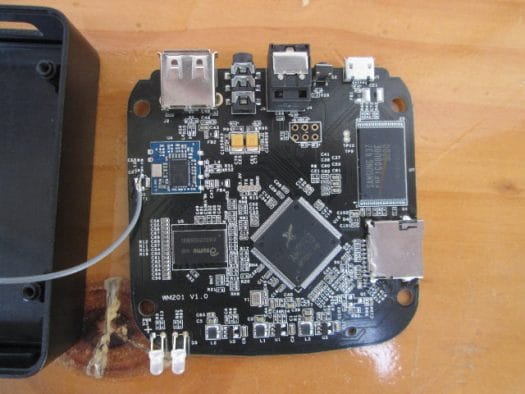 Actions Semi AM8253 processorv@ 600 MHz is in the center of the board, and connects to Axeme H2A35121656BB6C 64MB DDR2 RAM, and Samsung K9F1G08U0E NAND flash (128MB). The Wi-Fi module is based on Realtek RTL8188ETV chip.
SoundMate WM201 Review
I've connected WM201 to Onkyo TX-NR636 AV receiver with any SPDIF optcial audio cable. It does not make much sense to do so because TX-NR636 already support Wi-Fi conenctivity and DLNA, and can already do much of the added featues provided by WM201, but if you have an older amplifier / AV receiver without connectivity, WM201 can be a neat way to smarten your older AV receiver.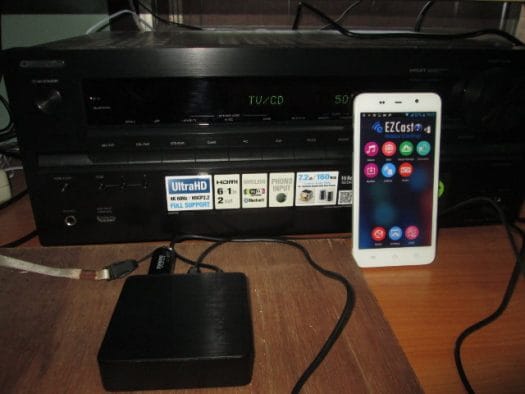 Once of the thing you'll want to do is to install EZcast app for Android, iOS or Windows/Mac. I've only installed EZCast android app on my Android smartphone for this review. The first time the app will look with an EZCast dongle, and detect a SoundMate-XXXXXX device to which you can connect to. The first time the connection can take a while, like over one minute. You can then access the Home screen with Music, Web, Cloud Storage, Comment, Update, AirDisk, and Radio options, as well as DLNA, AirSetup (for micro SD card / USB flash drive connected to WM201), and 3G/4G connectivity.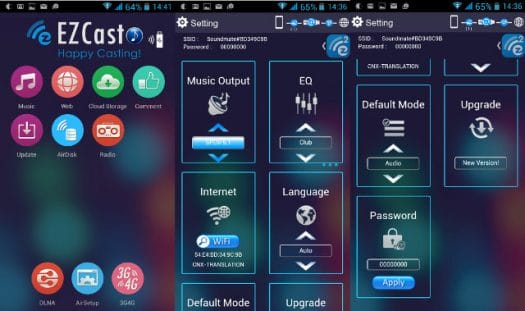 AirSetup will let you choose the audio output (Stereo, SPDIF 5.1, …), set the equalizer, configure the connection, check for firmware upgrade and so on.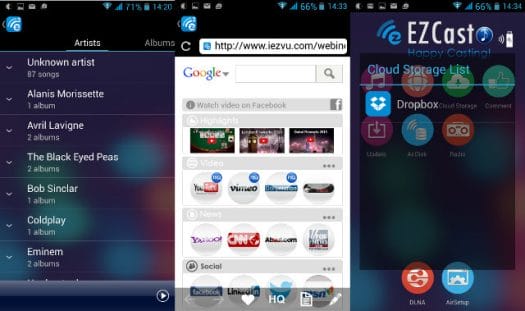 The "Music" app will let you browse audio files on your smartphone and stream them to your speaker or AV receiver. It works OK, but there's no volume option here. In theory, the Web option can let you stream audio from YouTube and other online service, but I could not make this work at all. Cloud Storage will detect some cloud apps installed on your device (in my case Dropbox), and allow you to stream audio files from the cloud.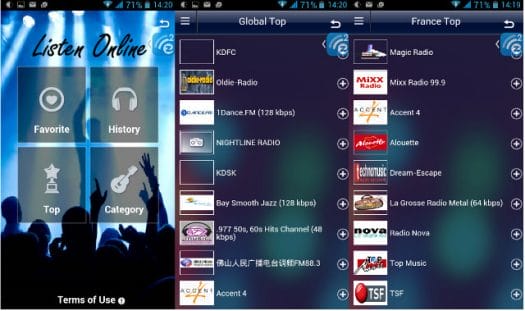 The "Radio" app will list various online radio station from over the world. It's been a while since I've listened to radio, and the last time I did that was in France, but I could not find any famous radio on the list, except maybe "Oui FM".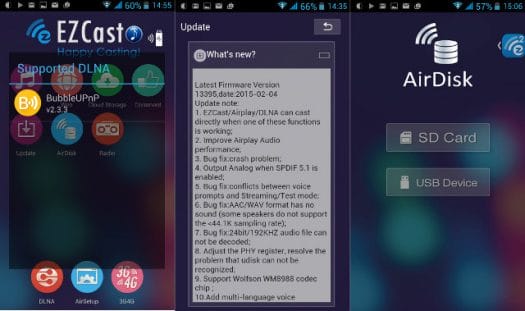 "AirDisk" function should allow you to play music from a micro SD card or USB flash drive formatted to FAT32 connected to the device, but in my case it did not recognize my USB drive at all. It's a LiveCD (with Ubuntu), so maybe that's why. DLNA will simply redirect to launch one of your installed DLNA apps such as BubbleUPnP, and in my case it could also play m4a audio files, something that's not supported by Onkyo TX-NR636 internal software. I did get a firmware update (13395), and the procedure worked fine. You'll hear a female voice telling you to wait during the update, followed but some audio signal.
Within the room, WM201 works fairly well, but I did have one or two short audio cuts during the dozen music files I played. If you go a bit further than 6-7 meters with a wall then the system becomes unreliable, but it's quite common with this kind of solution. Once you lose the connection, you may have to reboot the device to make it work again.
SoundMate WM201 can be bought for $37.99 on Aliexpress for $37.99 including shipping. You may also want to check the product page on UyeSee website if you intend to purchase in larger quantities.

Jean-Luc started CNX Software in 2010 as a part-time endeavor, before quitting his job as a software engineering manager, and starting to write daily news, and reviews full time later in 2011.