The Rich Communication Services (RCS) is a messaging platform that allows messaging from carrier to carrier and between phone and carrier, that is positioned to replace SMS but has had its share of pushback from the communication industry.
The service has been around for a long time but had very little noteworthy attention since its inception in 2007. Named the GSM Association in 2008, there were many upgrades, but three years after the GSMA formed the steering committee to oversee the project, the project platform was named Rich Communication Services and now called simply RCS.
Between 2007 and the present there have been many versions of the RCS platform, and Google stepped in in 2010 and has been helping with updates right up into its announcement that it would be offering an opt-in version of the platform on all Android devices this month, June 2019, called RCS Chat.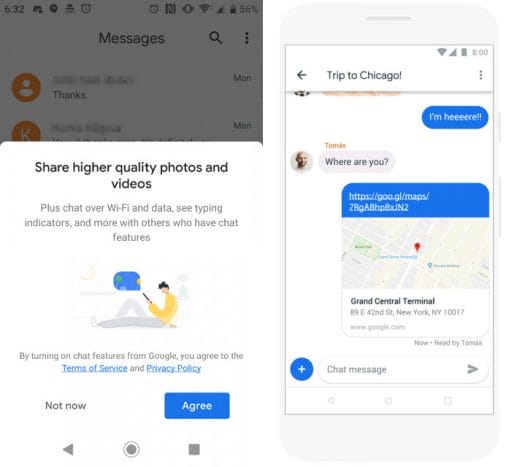 The advantages and features offered by RCS are group chat, chat, capability discovery, audio messaging, video share, multidevice, enhanced calling, as well as being able to share locations and live sketching. One of the significant drawbacks to this is end–to–end encryption, which is not available. Privacy and its perception is highly important and has said it is addressing the issue. Other messaging services have encryption as a default feature.
The idea behind RCS is a more versatile and interactive texting app, with higher overall interactive media capability and expanded message length, from 160 characters to 5000 characters. The SMS and MMS platforms will no longer be necessary because RCS can perform all the functions of the other two services with just one app.
Both businesses and private users will be able to utilize the service, just like texting now, but with more overall program options, especially interactive multimedia content and message length. The app will be opt-in, and will only work if all parties in the conversation have the service and agree to use it. The Peer to Peer (P2P) RCS will offer the new platform without affecting those who don't want to upgrade yet. The Android Messages app, which is Google's standard, will automatically check to see if all parties in a conversation have RCS, and if they do, will let the users know RCS Chat is available.
The communications industry has been very slow in accepting RCS, due in large part to their resistance to change, but also because the texting service now is so rooted in most businesses and private users way of life it is hard to break. Still, Google will roll out the service and as with any new technology offer a way to enhance people's lives, without the complete shock of abruptly changing the technology.

Stephen started writing about technology after publishing sci-fi short stories. His first White-Paper, written in 2008, was well received and inspired him to continue writing about technology. Today he writes in the technology space full time, covering a multitude of topics. During the time he wrote part-time he edited hundreds of titles for large publishers, in science and technology. He lives in Staten Island, with his wife and children.