MicroMod is a modular interface ecosystem for quick embedded development and prototyping. MicroMod comes with two components, that is a microcontroller "processor board" and a carrier board. PC industry's M.2 connector is the interface between these two components. The carrier boards are for the usage of various peripherals and the processor board act as the brain of the application system. 
MicroMod processor board has a dimension of 22×22 mm that can be easily fitted on the carrier boards. Although, the original M.2 standard was dedicated to swapping out peripherals where a user could swap one component with the other one. The MicroMod standard is for swapping out microcontrollers according to the functional and application requirements. 
MicroMod Processor Boards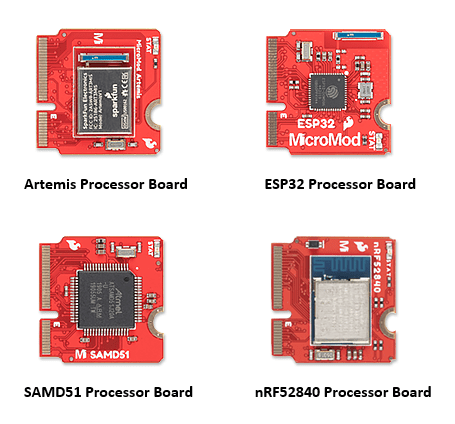 Artemis Processor Board comes with an Ambiq Apollo 3 Blue Arm Cortex-M4F with BLE 5.0 running up to 96MHz and a power rating of less than 5mW. It also supports the TensorFlow Lite framework.
ESP32 Processor Board

comes with a dual-core Tensilica LX6, with integrated WiFi and dual-mode Bluetooth. It integrates 520kB internal SRAM and a 16MB flash storage.

SAMD51 Processor Board

comes with an

easy-to-use development platform with a UF2 bootloader. It has a 32-bit ARM Cortex-M4F MCU working up to 120MHz of CPU speed.

nRF52840 Processor Board

comes with an

ARM Cortex-M4 CPU and a 2.4 GHz Bluetooth transceiver. It integrates 1MB flash memory and supports USB for mass-storage applications.
MicroMod Carrier Boards
All the carrier boards offer a SparkFun Qwiic connector. This four-pin JST connector allows an easy connection to other boards like sensors or relays. Hence, it provides pins for I2C synchronous communication. Due to the compact size of the processor boards, the reset button, programming header, and USB type C connector are embedded on the carrier boards. Talking more about the carrier boards:
ATP Carrier
The ATP (All The Pins) carrier board is for accessing all the 75 pins of the processor board. Additionally, it has a rail of through-holes for each socket pin that allows flexibility for connection to the signals. It also features M/F connections for each pin and a USB type A for host support.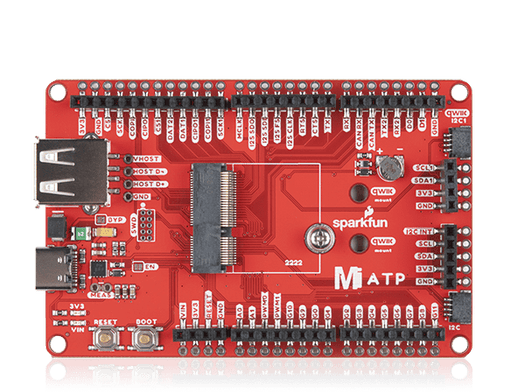 Input and Display Carrier
This carrier board has a 2.4-inch TFT LCD display along with six addressable LEDs, and six I/O pins. It also comes with a piezo speaker and a five-way tactile switch for navigation purposes. This board is for applications that require visualization of data and inputs.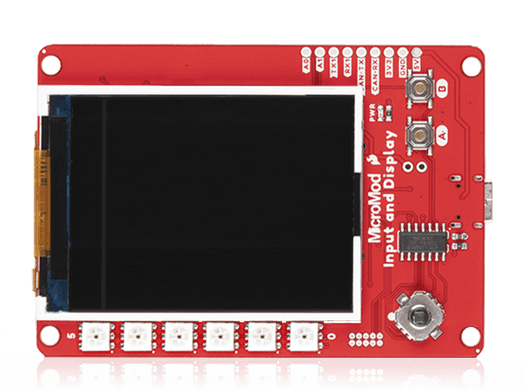 Machine Learning Carrier
The ML carrier board includes two microphones, a 3-axis accelerometer, and a Himax cable connector for a camera, which allows flexible placement of the camera. Voice recognition, always-on voice commands, gesture, or image recognition are the target applications of this board.
Data Logging Carrier
The data logging carrier board comes with a microSD card socket for storing extracted data from the sensors. "An on-board, surface mount battery provides power for a real-time-clock on a processor MicroMod." The carrier board has a flexible range of interfaces including SPI, I2C, and UART.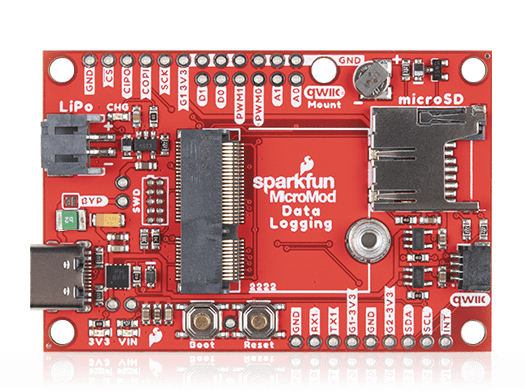 Weather Carrier
The Weather carrier board is for creating a weather station with a multitude of processors. The carrier board includes three sensors: the BME280 temperature, pressure and humidity sensor, the VEML6075 UV sensor, and the AS3935 Lightning detector. It also comes with RJ11 jacks and soil moisture terminals.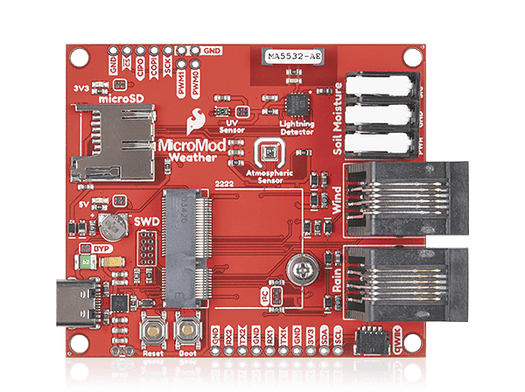 Additionally, SparkFun is also selling a five-pack of the MicroMod connectors. If a user wants a different combination of processor and carrier boards, the company provides Eagle libraries and guides for designing and building the combinations according to the user requirements. You can follow the getting started guide to find out more, and this tutorial to create your own carrier board.

The price range for all the devices lies from $6.95 to $19.95, except for Weather Carrier Board at $44.95 and Input and Display Carrier Board at $59.95. You can find the purchase link for all devices on the main page. For more information about the MicroMod Processor and Carrier Boards, visit the main page of the MicroMod modular interface ecosystem.

Saumitra Jagdale is a Backend Developer, Freelance Technical Author, Global AI Ambassador (SwissCognitive), Open-source Contributor in Python projects,  Leader of Tensorflow Community India and Passionate AI/ML Enthusiast