mCore-R818 is the first time that MangoPi adopts the design combination of a core-lite module and a carrier board. As its name suggests, it is an AllWinner R818 SoM whose SoC integrates an Imagination PowerVR GE8300 GPU for UI rendering, can drive MIPI DSI, LVDS, and RGB displays, as well as cameras through a MIPI CSI interface, 8MP/5MP/2MP interfaces.
The Allwinner R818 system-on-module powers a feature-rich carrier board as well as an upcoming Cyberpad Android "tablet" with a 3.1-inch display.
MangoPi mCore-R818
The package design of the processor itself is small, so the MCore-R818 core board is only 3x3cm in size, but still contains four components with the Allwinner R818, the eMMC flash, LPDDR4 memory, and the AXP717 PMU. MangoPi provides two hardware configurations: 2GB DDR with 16GB eMMC flash, and 4GB DDR with 32GB eMMC flash.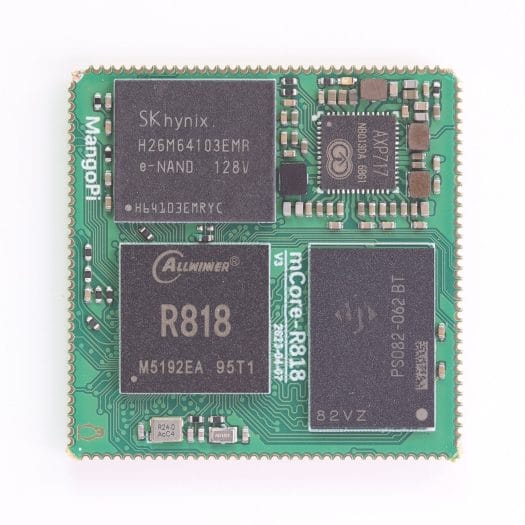 MCore-R818 Core Lite Specifications:
SoC – Allwinner R818

CPU – Quad-core Arm Cortex-A53 @ 1.6 GHz with 32KB L1 I-cache + 32KB L1 D-cache per core, 512KB L2 cache
GPU – Imagination GE8300 GPU
Video Unit

H.265 video decoder 4K @ 30fps, H.264 video decoder 4K @ 30fps, VP9 video decoder 720p @ 30fps
H.264 video encoder 1080p @ 60fps
MJPEG/JPEG Baseline encoder 4K @ 15fps

System Memory – 2GB or 4GB DDR
Storage – 16GB or 32GB eMMC 5.1 flash
PMU – AXP717
Dimensions – 32x32x3 mm
mCore-TEST carrier board
The design of the carrier board contrasts with the typical compact of MangoPi design in the recent past. with the company deciding to include a large number of peripheral interfaces such as a 3.1-inch capacitive touch screen, RGB, MIPI DSI, and other display interfaces, as well as 15-pin Raspberry Pi MIPI CSI to support OV2680, OV8858, and other camera sensors, also speakers and mic audio interfaces. the mCore-R818 is soldered directly to the mCore-TEST carrier board.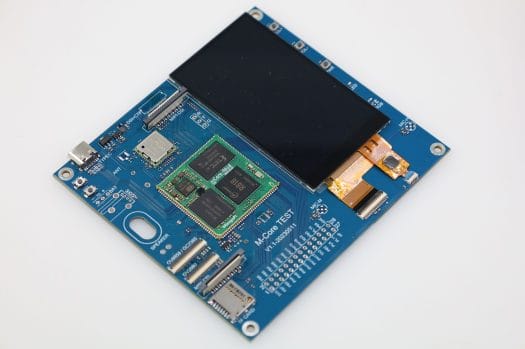 m-Core TEST carrier board specifications:
Storage – MicroSD card slot
Display

3.1-inch 800 x 480 capacitive touchscreen
40-pin RGB LCD connector for 5-inch screen with capacitive touchscreen support
15-pin RaspberryPi MIPI DSI output interface
20-pin MIPI DSI+CTP 20pin display interface for Dongshanpi MIPI display

Camera

15-pin RaspberryPi MIPI CSI camera interface
8MP OV8858 camera interface
5MP OV5647 camera interface
2MP OV2680 camera interface

Audio

1x Speaker header
2x analog mic

Networking – Onboard 2.4GHz WiFi and Bluetooth module plus onboard antenna
USB – 1x USB Host port, 1x USB OTG port
Misc –

3x buttons (FEL, BOOT, power supply)
ADC keys – Android vol+ key and vol- key
Lithium battery interface, charging and discharging
1x RGB LED
CyberPad "tablet"
MangoPi also further miniaturized many of the features of the development kit described above to create the CybePad ultra-compact handheld terminal with a 3.1 display, a main board, a battery, and an adapter board. The SBC retains most of the resources, including the screen and camera, and adds a Type-C interface to meet the needs of external keyboards or mice. But it seems that MangoPi forgot to reserve a mini PCIe socket and SIM card slot for the 4G LTE module, or simply did not have enough space, so that it can be used as a small smartphone.
It's so tiny!!! pic.twitter.com/yRbvXccH1J

— MangoPi-SBC🐧 (@mangopi_sbc) May 23, 2023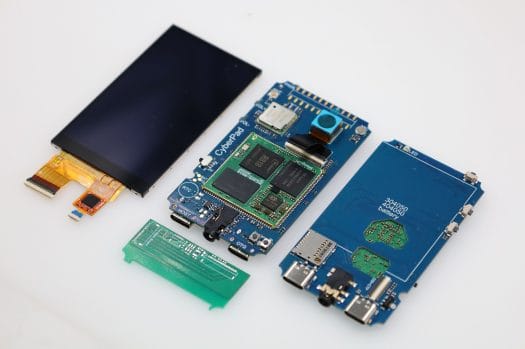 CyberPad is currently in the debugging stage and has not reached mass production. The PCB of CyberPad will be open-sourced on the MangoPi official website for personal DIY use by developers, but the page is currently empty.
MangoPi also disclosed some test data. When the mCore-R818 runs Android 10 on the carrier board, the boot time is around 15 seconds, the battery voltage was 3.9V with the current stabilizing at 0.16A. In the case of Android back-and-forth operations or after running the video app for a period of time, the processor still maintains about 65 degrees without heat sink, the current will reach 0.22A, and when the screen is stopped, the current will drop to 0.02A, and it can wake up at any time.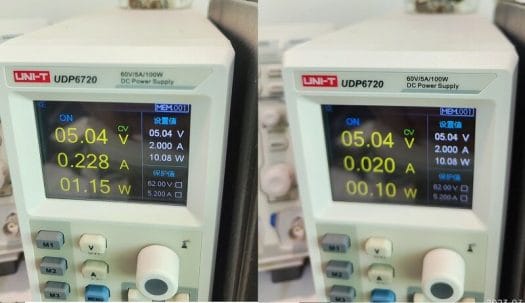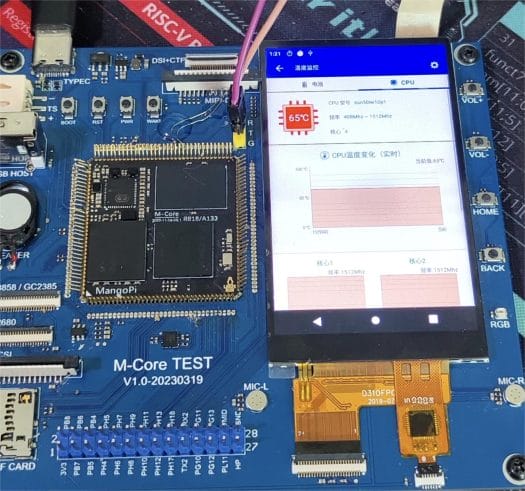 There are also some storage speed and Geekbench test results, During the random read and write test, the average read speed can reach 31MB/s and the average write speed can reach 7.9MB/s, Geekbench's multi-core test result is 359 points.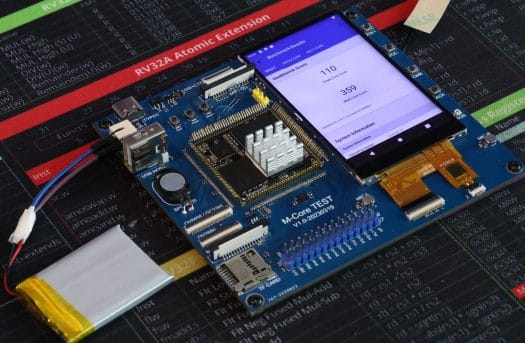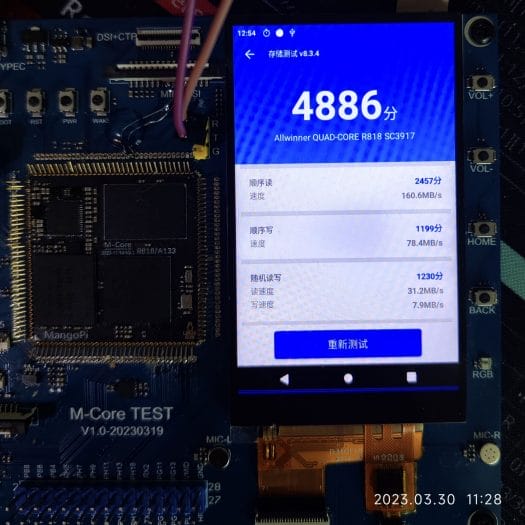 MangoPi provides Tina Linux (OpenWrt), and Android 10 images for the board, plus related SDKs, It is expected that the armbian SDK will be related in the future too. Some other documentation, mostly related to R818, can also be found on the product page.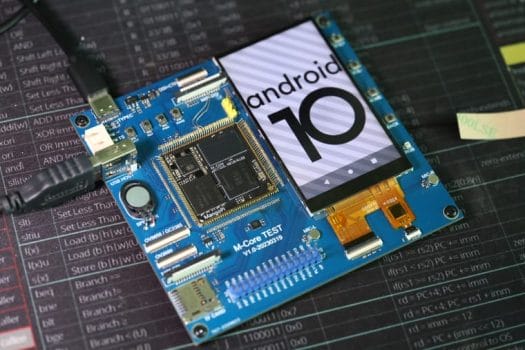 The MCore-R818 seems to be a better choice than the AllWinner H616 based MangoPi MQ Quad with better cooling performance and better performance when running Android. Currently, the mCore-R818 Core Lite with 2GB DDR and 16GB eMMC configuration is sold for $31.09 on Aliexpress, while the 4GB/32GB model goes for $41.68 both without shipping which, for reference, adds 78 cents to Thailand. The carrier board is not yet publicly available for sale.

Li Zexi became a part-time writer for CNX Software in 2022 and works as a software engineer in an embedded software company in China. He's been passionate about embedded development and the Internet of Things for many years, with extensive industry experience, and a new and unique vision!