Orange Pi Zero is an interesting little ARM Linux board thanks to its low price, but also because it features a new Allwinner H2 / H2+ quad core Cortex A7 processor very similar to Allwinner H3 minus the 4K video decoding part, as well as Allwinner XR819 WiFi module, which I have not seen on any other boards so far.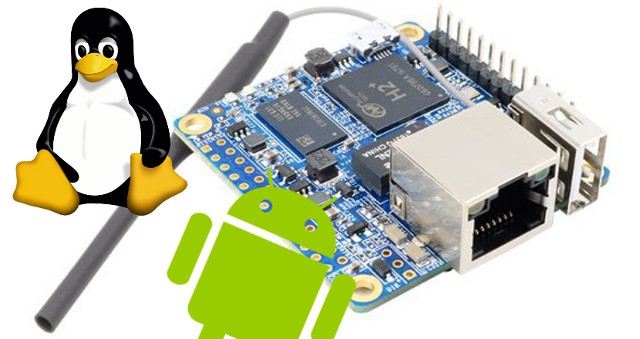 But hardware without software is pretty much useless, so developers will be happy to find out that Allwinner H2 SDK with Linux (lichee) and Android has been released or leaked, and it also includes the Allwinner XR819 WiFi driver.
You'll find the SDK on Zoobab server with three main directory / files:
Android folder – Android 4.4.2 SDK
lichee folder – Linux 3.4.39 source code. However you'd probably better use Linux 3.4.113 currently released by sunxi-linux, or Linux mainline. The latter does have some limitations, and may or may not be suitable for your project.
H2-V1.2.tar.bz2 – The tar file with both Android and lichee folder in case you want to download the full SDK on your computer
If another hardware comes with Allwinner XR819 WiFi module and you just need the Linux driver, you'll find it in linux-3.4/drivers/net/wireless/xradio directory.
tkaiser managed to enable XR819 on armbian after disabling dhd driver:
1

2

3

4

5

6

7

8

9

10

11

12

13

14

15

16

17

18

19

20

21

22

23

24

25

26

27

28

tk

@

orangepizero

:

~

$

iwconfig

wlan0

wlan0

 

 

IEEE

802.11bgn

 

ESSID

:

"Snort-Honeynet"

 

 

 

 

 

 

Mode

:

Managed

 

Frequency

:

2.412

GHz

 

Access

Point

:

BC

:

05

:

43

:

BE

:

C1

:

E7

 

 

 

 

 

 

 

Bit

Rate

=

39

Mb

/

s

 

Tx

-

Power

=

20

dBm

 

 

 

 

 

 

 

Retry

 

long

limit

:

7

 

RTS

thr

:

off

 

Fragment

thr

:

off

 

 

 

 

 

Link

Quality

=

66

/

70

 

Signal

level

=

-

44

dBm

 

 

 

 

 

 

Rx

invalid

nwid

:

0

 

Rx

invalid

crypt

:

0

 

Rx

invalid

frag

:

0

 

 

 

 

 

Tx

excessive

retries

:

1

 

Invalid

misc

:

0

 

Missed

beacon

:

0

tk

@

orangepizero

:

~

$

nmcli

dev

wifi

list

*

 

SSID

 

 

 

 

 

 

 

 

 

 

MODE

 

CHAN

 

RATE

 

 

 

SIGNAL

 

BARS

 

SECURITY

 

  

Snort

-

Honeynet

 

 

 

 

 

Infra

 

1

 

 

54

Mbit

/

s

 

92

 

 

 

▂▄▆█ 

WPA2

 

 

 

  

EasyBox

-

116D28

 

 

 

 

 

Infra

 

9

 

 

54

Mbit

/

s

 

84

 

 

 

▂▄▆█ 

WPA1

WPA2

 

  

FRITZ

!

Box

Fon

WLAN

7360

 

Infra

 

1

 

 

54

Mbit

/

s

 

67

 

 

 

▂▄▆

_

 

WPA1

WPA2

 

  

DISTORTEDPEOPLE

 

 

 

 

 

Infra

 

9

 

 

54

Mbit

/

s

 

55

 

 

 

▂▄

_

_

 

WPA1

WPA2

 

  

CubaLibre

 

 

 

 

 

 

 

 

Infra

 

1

 

 

54

Mbit

/

s

 

45

 

 

 

▂▄

_

_

 

WPA2

 

 

 

tk

@

orangepizero

:

~

$

cat

/

etc

/

modprobe

.d

/

dhd

.conf

tk

@

orangepizero

:

~

$

ls

-

la

/

system

/

etc

/

firmware

/

drwxr

-

xr

-

x

2

root

root

 

4096

Nov

 

9

13

:

57

.

drwxr

-

xr

-

x

3

root

root

 

4096

Nov

 

9

13

:

55

.

.

-

rw

-

r

--

r

--

1

tk

 

tk

 

 

2308

Nov

 

9

13

:

57

boot_xr819

.bin

-

rw

-

r

--

r

--

1

tk

 

tk

 

126416

Nov

 

9

13

:

57

fw_xr819

.bin

-

rw

-

r

--

r

--

1

tk

 

tk

 

 

 

744

Nov

 

9

13

:

57

sdd_xr819

.bin