2020 has been an interesting year with plenty of disruption to most people lives, and political changes. Now it appears some of those changes will affect technology, and by that, I mean things like changes to datasheets and even source code.
I've been seen a lot of talks about slave/master terminology on Twitter, blogs, and CNET is now reporting Twitter Engineer will remove racially charged technical terms from the source code and interface.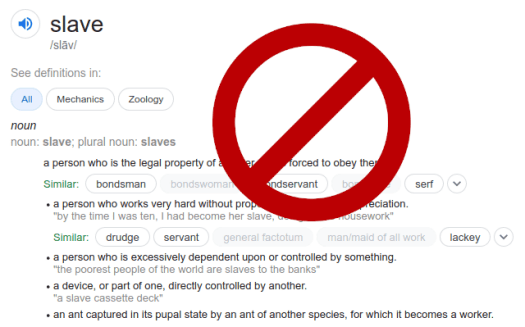 Whether you are a veteran or just graduated last year, you may have to learn a new set of vocabulary to understand datasheets and code.
| Old Vocabulary | New Vocabulary |
| --- | --- |
| Whitelist | Allowlist |
| Blacklist | Denylist |
| Master/slave | Leader/Follower, Primary/Replica or Primary/Standby |
| Grandfathered | Legacy status |
| Guys | Folks, People, You all, Y'all. |
| Gendered pronouns like He / His | They or Their. |
| Man hours | Hours or Engineer Hours |
| Sanity check | Quick Check, Confidence Check or Coherence Check |
| Dummy value | Placeholder value or Sample value |
Twitter's senior management is allegedly backing the effort for the changes. This goes beyond racially charged terms, but if it's the world we're going to live in so be it. Some changes in the datasheet may not be a big issue, except for the initial confusion, but it may become problematic when changes happen in the source code as it may break other programs and scripts.
One example is Github planning to replace the master branch by another name. If it's going to happen, and others are going to follow suit, I wondered about many "slave" code results there are in the Linux kernel. Answer: 2,878.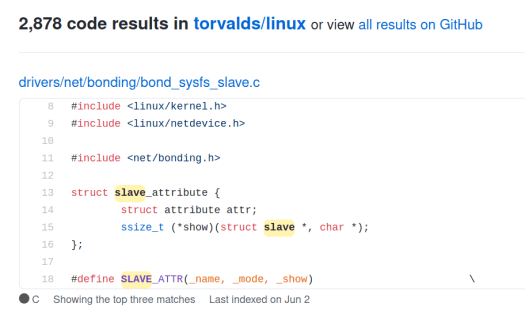 It's OK to change the code for internal variables and functions, but changing anything exposed to user space will break programs. Linus Torvalds really does not like to break userspace as attested by a 2012 rant, so it may never happen. But things have changed since then, so we'll have to wait and see. Of source, it's not limited to the Linux kernel, and any master/slave API may be impacted. It may become interesting for closed-source blobs, if some companies pledge not to ship any software or firmware with any reference to slavery in the source code.

Jean-Luc started CNX Software in 2010 as a part-time endeavor, before quitting his job as a software engineering manager, and starting to write daily news, and reviews full time later in 2011.