I've been writing about a few Bluetooth 5.0 solutions this year, but in most case those were based on Nordic Semi nRF52 chips which do support BT 5.0 Low Energy, but not Bluetooth classic which means they are suitable for HID devices, but not for all applications such as potentially some Bluetooth audio application.
I've just come across a $10.59 audio amplifier board on IC station that is supposed to support Bluetooth 5.0 via Beken BK3266 Bluetooth audio chip.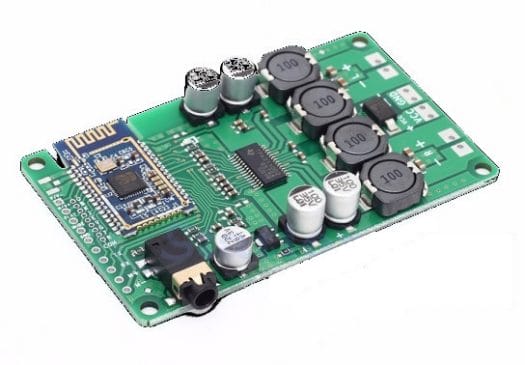 Specifications and features listed for the board:
Bluetooth 5.0 Connectivity

Up to 6 paired devices
Bluetooth protocols – HFPV1.7, A2DPV1.2, AVRCPV1.5, AVCTPV1.2, AVDTPV1.2
Range up to 10 meters
Transmission Power – Class2, 4dbm
Sensitivity – -81dBm < 0.1% BER
Frequency Range – 2.402GHz – 2.480GHz

Audio

MP3/WMA/WAV music format
Speaker Impedance – 4 to 8 Ohm
Output Power – 2x15W at 16V/4A, 2x10W at 12V/4A
Audio signal to noise ratio >75dB

Configuration via UART interface
Misc – On/off button
Supply Voltage – 8.0 to 22.0 V DC
Power Consumption – Working current <=20mA; standby current <500uA
Dimensions – 71 x 53 x 9.4 mm
Temperature Range -20℃ to 85℃
Relative Humidity- 0% to 95%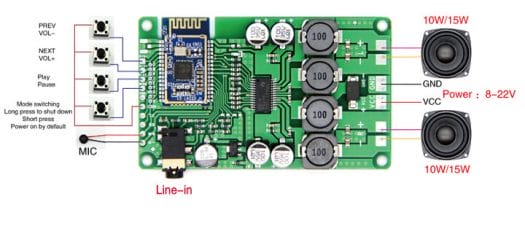 In order to use the board, you'll need to connect buttons, microphone, as well as 10W or 15W speakers as shown in the wiring diagram above. Complete the hardware setup with a power source, and an optional? input audio signal. Pair the board with your phone, and start playing music. You can also connect a USB to TTL debug board to configure the board over UART.
But what's the benefit of Bluetooth 5.0 for audio application? The board is said to be suitable for DIY speaker, voice intelligent control, Bluetooth signal conversion, stereo Bluetooth speaker or headset, Bluetooth hands-free calling, Bluetooth control, and multimedia equipment, all of which are possible with older versions of Bluetooth. The product page further mentions that "Bluetooth 5, support serial port to change the name and password, support button to turn off / boot, support serial port to change the tone volume, and off, support call off, power on, maximum volume", which don't seem specifically related to BT 5.0.
Bluetooth 5.0 does support longer range but with a 10 meters range this solution clearly does not take advantage of this new feature. Bluetooth 5 announcement did not include any specific about audio improvement, So I had a look at a Bluetooth 5 paper, and audio is mentioned three times:
Bluetooth 5 introduces the ability to perform periodic data to be broadcast, it's possible to chain packets and deterministic advertising, which allows scanners together and for each packet to contain a different to synchronicity their scanning for packets with the subset of the whole data set. Schedule of the advertising device. This can be a more power-efficient way to perform scanning and is also likely to pave the way for new uses of Bluetooth LE in
connection-less scenarios, such as audio applications
The Bluetooth 4 channel selection algorithm used in frequency hopping produced only 12 distinct sequences of channels and all packets in a given connection event would use the same channel, which is not optimal for some applications, such as audio. Bluetooth 5 introduced a new channel selection algorithm called channel selection algorithm #2. Hopping sequences are now pseudo random and the distinct sequences which are possible are very large.
Bluetooth's advertising extensions feature will pave the way for next-generation beacons, advanced audio applications and more.
If one can indeed use Bluetooth 5 LE for audio applications one obvious advantage would be longer battery life thanks to the lower power consumption. Points 2 likely means audio cuts are less likely, and improvement made to Bluetooth 5 advertising extensions should reduce re-connection time.
It's hard to know if BK3266 supports any of those "features" since Beken did not update their website with any info about the new chip, and I could not find the datasheet online. For reference, another BK3266 board is sold on Aliexpress for about the same price, already includes the buttons, support 3.6 to 5V power input, but there's even less details than for the IC Station board.

Jean-Luc started CNX Software in 2010 as a part-time endeavor, before quitting his job as a software engineering manager, and starting to write daily news, and reviews full time later in 2011.