In 2019, Amazon introduced the Sidewalk with privacy and security at the core. Amazon Sidewalk a low-bandwidth, long-distance wireless protocol that is expected to provide a new way for devices to stay connected especially when smart devices leave their WiFi or Bluetooth coverage range by leveraging the 900 MHz spectrum.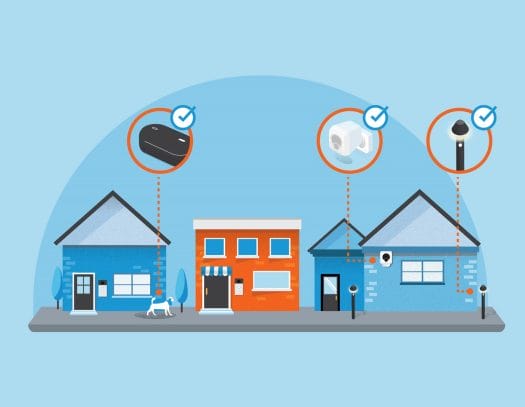 Amazon Sidewalk will most likely be an LPWAN type network since it is promising neighborhood-like device connectivity with is crowdsourcing initiative. It uses Bluetooth Low Energy (BLE) for short distances, the 900 MHz spectrum, and other frequencies for longer distance coverage.
Sidewalk attempts to make sure your BLE devices can still connect to your home network even when you take a walk away from your home. According to Amazon, users can easily access the Sidewalk network using two types of devices: Sidewalk Bridges and Sidewalk-enabled devices. Amazon has now announced that compatible Echo devices can now act as bridges and also some selected Ring Floodlight and Spotlight Cams will also be supported by the network, Tile is also expected to join sidewalk enabled devices as well.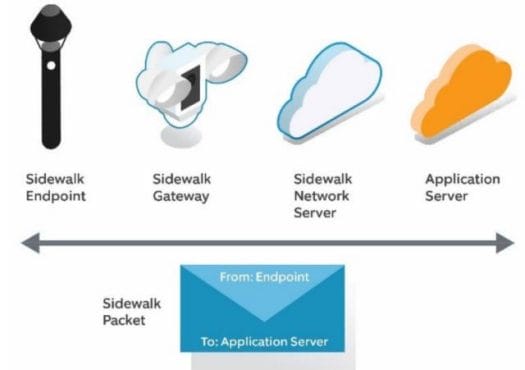 Joining on the potential expansion of Amazon Sidewalk is Silicon labs with their collaboration to enable developers to create IoT products support Sidewalks with its EFR Wireless Gecko Series family which supports Sidewalk's sub-GHz and Bluetooth Low Energy protocols.
"Silicon Labs and Amazon are teaming up to help OEMs create amazing new user experiences with secure, private, easy to set up Sidewalk IoT devices," said Jake Alamat, vice president, and general manager of IoT home and consumer products at Silicon Labs.
One significant focus area of the Amazon Sidewalk is its privacy and security, which have three layers of encryption built-in and Amazon has released a whitepaper about it. The whitepaper also provides more info about the nature of the Sidewalk protocol.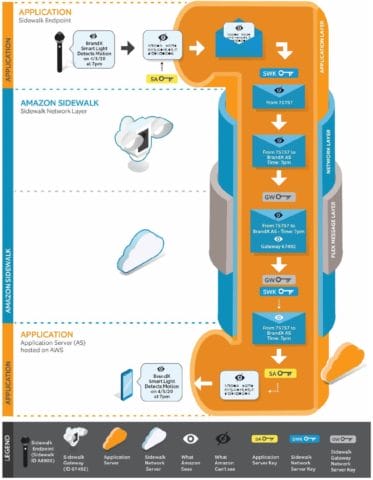 It seems Sidewalk might be attempting to compete with the likes Zigbee, Zwave, Thread, and other similar mesh networking technologies but according to the general manager of Sidewalk, Manolo Arana, that's not the case:
We shouldn't look at Sidewalk as a competitor to Thread or other mesh networking protocols. "I want to make sure that you see that Sidewalk is actually not competing with Thread or any of the other mesh networks available," he said. "And indeed, when you think about applications like ZigBee and Z-Wave, you can connect to Sidewalk the same way." He noted that the team isn't trying to replace existing protocols but just wants to create another transport mechanism — and a way to manage the radios that connect the devices.
Semtech has also announced a collaboration with Sidewalk as well.
"Semtech's LoRa is a proven IoT solution that supports a long-range, low power wide area network (LPWAN) platform and meets Amazon Sidewalk's goal of providing the network support needed to connect a broad range of low power home devices or sensors. The collaboration with Amazon solidifies that LoRa is the de-facto platform for IoT LPWAN applications and expands LoRa to new consumer applications," said Mohan Maheswaran, Semtech's President and CEO.
More information about Sidewalk is available on the page and the latest announcement is available here as well.

I enjoy writing about the latest news in the areas of embedded systems with a special focus on AI on edge, fog computing, and IoT. When not writing, I am working on some cool embedded projects or data science projects. Got a tip, freebies, launch, idea, gig, bear, hackathon (I love those), or leak? Contact me.