One of the challenges in starting a new IoT project is the question of what connectivity to use. Depending on the nature of a project, there are several wired and wireless connectivity options that can be used to power a project and ensure it's a success.
We have WiFi, Bluetooth, Zigbee, Zwave, LoRa, ZigFox, Thread, NB-IoT, 3G/4G, and others. You can use from anyone, but which one to use is another thing because most development board only support 1 or 2 of those.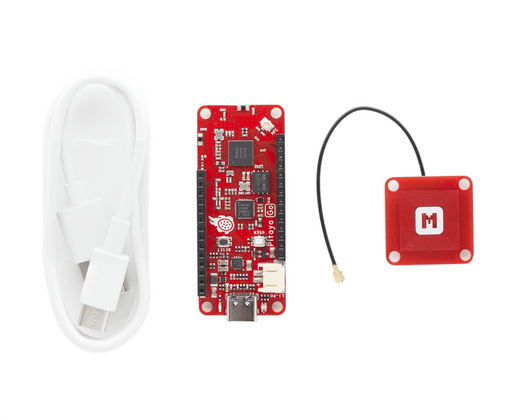 Well, with the introduction of the Pitaya Go, you don't have to worry so much about that decision. The Pitaya Go is an IoT development platform with multiprotocol wireless connectivity built-in.
The Pitaya Go is based on the Nordic's high-end multiprotocol SoC nRF52840 and the Microchip's extremely low power Wi-Fi network controller ATWINC1500B. The nRF52840 SoC is the most advanced member of the nRF52 Series SoC family, and it is fully multiprotocol capable with full protocol concurrency. It has protocol support for Bluetooth 5, Bluetooth mesh, Thread, Zigbee, 802.15.4, ANT and 2.4 GHz proprietary stacks.
So with the Pitaya Go, it is possible to run 2 or more IoT connectivity protocol concurrently thanks to the dynamic switching multiprotocol solution in the nRF528480 SoC. A useful application will be from transitioning from using the Bluetooth in a Smartphone to control or monitor Thread/ZigBee based sensor nodes. All you will need is this case is to have one Pitaya Go acting as the network gateway. See below video for application possibility.
The team behind the Pitaya Go is Makerdiary, which also released a similar development board called the nRF52840-MDK back 2018.
Pitaya Go is designed to be standalone. It comes with a battery charger and a power path manager. It features a 64Mbit ultra low power QSPI Flash memory, NFC-A Tag PCB Antenna, RGB LED (re-programmable), button, and GPIO through an expandable header socket. It also comes with a USB-C connector.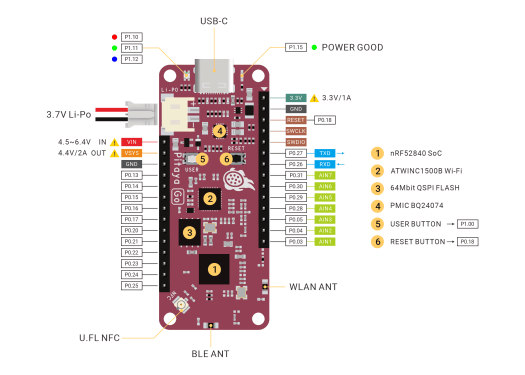 Pitaya Go offers a complete solution for wireless connectivity with IEEE 802.11 b/g/n WiFi 4, Bluetooth 5, Thread and Zigbee, that is specifically designed for the IoT. With Pitaya Go, I doubt if you will need another IoT board again. Maybe the addition of LoRa or any other LPWAN technology will be the ultimate bombshell.
Pitaya Go Features
Nordic Semiconductor nRF52840 SoC

64 MHz Arm Cortex-M4 with FPU
1 MB Flash + 256 KB RAM
Bluetooth 5, Bluetooth mesh, Thread, Zigbee, 802.15.4, ANT and 2.4 GHz proprietary
Arm TrustZone Cryptocell 310 Security Subsystem
Integrated USB 2.0 Full-speed Controller
QSPI/SPI/TWI/I²S/PDM/QDEC/ADC support
Integrated NFC-A Tag

Microchip ATWINC1500B Wi-Fi Network Controller

Shipped with the latest firmware 19.6.1
IEEE 802.11 b/g/n 20 MHz (1×1) Solution
Extreme low power with Shutdown Control
On-Chip Network Stack to Offload MCU
Supports Soft-AP
Security protocols supported: WPA/WPA2 Personal, TLS/SSL
Enterprise Security with WPA/WPA2 (802.11x)
Network services: DHCP, DNS, TCP/IP (IPv4), UDP, HTTP, HTTPS, MQTT, etc.

64Mbit ultra-low-power QSPI Flash Memory
Integrated Li-Po Battery Charger with Power Path Management
Additional NFC-A Tag PCB Antenna
User-programmable RGB LED and Buttons
Dual Wi-Fi/Bluetooth 2.4G Chip Antennas
Reversible USB-C Connector
Li-Po Battery Connector
Easily expandable dual 14-Pin Header Sockets
Measures 2.4″ x 1.0″ x 0.3″ (60.96mm x 25.4mm x 7.6mm)
Pitaya Go is open-source, and the design files are freely available on the GitHub page. The board is available for purchase for $34.90 excl shipping on Tindie and Makediary online store.
The Makediary team has also released some exciting demo:
Web Device CLI – a web-based terminal which can communicate with Pitaya Go via WebBluetooth. The principal aims of Web Device CLI are to help to get started quickly.
Weather Client – Shows how to get weather information from openweathermap.org using Pitaya Go
More information about using the product is available on the Wiki and product page as well.

I enjoy writing about the latest news in the areas of embedded systems with a special focus on AI on edge, fog computing, and IoT. When not writing, I am working on some cool embedded projects or data science projects. Got a tip, freebies, launch, idea, gig, bear, hackathon (I love those), or leak? Contact me.