Geehy APM32F103 is a clone of STMicro STM32F103 MCU that has been tested by at least one person who claims it was just a drop-in replacement and PCB, code, hex, testing, and production did not have to be changed at all.
Most STM32 microcontrollers are in short supply with 52+ weeks lead times and prices going through the roof, so people may be looking into the long list STM32 clones and fakes including APM32F103. They all claim to be pin-to-pin and firmware compatible, but when theory meets reality, things may go wrong. For instance, last year I had a conversation with one person who switched to GD32 microcontroller and had all sorts of issues (translated from French):
I ordered samples from the GD32F103RCT6 (LQFP64) "clone", tested them, and it's a catastrophe… Out of 6 chips, I only managed to flash one. And that one will not boot either. I've dived into the firmware, but I can't really see what causes the problem. We also use mBed which makes the task even more difficult…
There may be variants and issues with specific production batches, as when Olimex tried the GD32F103RBT6 on their boards (in 2015) it worked out of the box.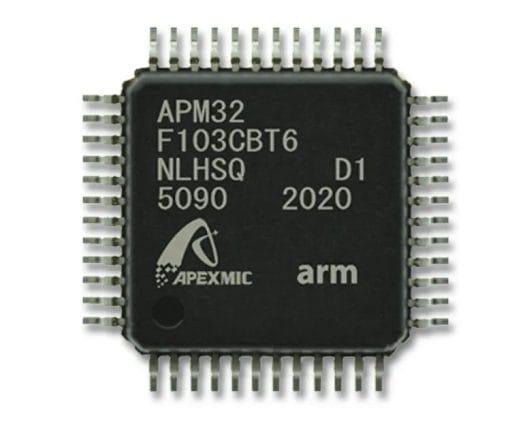 The reason I'm writing about APM32F103 today is that Veeral Purohit tested Geehy APM32F103CBT6 successfully as a replacement for STM32F103C8 without having to make any modifications:
Currently ST's STM32 series microcontrollers have over a 1 year long lead times our production stopped for many products in which we used it regularly.

We kept finding an alternate part and finally success with this part APM32F103CBT6 from Geehy. Our goal was to find a equivalent part by which we could just replace it without changing our PCB, Code, Hex, Testing and production. This part is the answer to our quest finally settled. Hope you can start your production again with this STM32 equivalent part.

This APM32F103CBT6 devices works out of box with same ST-Link programmer as well as same HEX file and source code that is made for STM32F103C8 without changing anything in our setup or production.
An important note is that Veeral works for Sunrom, an electronics distributor in India, which also happens to sell the APM32F103CBT6 chip… It might still be worth testing that part on your design if the STM32 equivalent is hard to get. One user on LinkedIn commented that it may be an illegal counterfeit instead of just a clone as it's compatible with ST-Link without a license from STMicro:
When it works with stlink and same datasheet applies to it. It's so called as counterfeit. Reliability is at our own risk . Cannot expect the cat to be tiger . However if we believe it works as stm , we can believe as always .
That specific part is also available on LCSC for about $3.5, or lower when ordering in quantity. You may also see all ATM32F103 models on Geehy website.

Jean-Luc started CNX Software in 2010 as a part-time endeavor, before quitting his job as a software engineering manager, and starting to write daily news, and reviews full time later in 2011.