There are a lot of different digital signage solutions around and it may be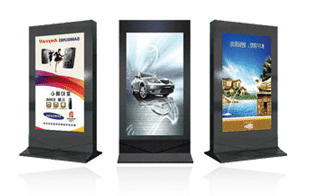 difficult to find which one is right for you since there can be quite a few different features and options. So I'll do my best to explain the main features to guide your choice if you are planning to purchase a digital signage solution (embedded signage player, content management software and server). I'll focus this post on the digital signage player, but bear in mind the content manager software is equally very important.
[ad#Google Adsense – Wide Banner]
Hardware features
Video outputs: composite, component (YPbPr), VGA, DVI, HDMI, LVDS
The capability to output simultaneously to different video outputs maybe an advantage if your plan is to use one player to output to several monitors.
Video resolution: Standard Definition (e.g. NTSC) vs. High Definition (e.g. 1080p)
This is a simple choice based on costs and whether you need to output HD content and the size of your monitor. (e.g. that does not make that much sense to output 1080p in a 10″ display).
Audio output: Stereo, Dolby 5.1, Digital audio output
Storage support:IDE interface and/or SATA interface
To support CF Card, SD Card, Hard Disk, Solid State Drive…
If you need to remotely change the content, network connectivity is a must and usually you'll get
* Ethernet 100M / 1Gbit and/or
* Wifi
* 3G
* Wimax
The last three can also be achieved thru a USB interface
Used for mass storage (firmware update, content update) and external network devices (e.g. Wifi, 3G or Wimax dongles)
A must to support scheduling and monitoring properly.
Power Control: Power On/Off MCU
This is important in the long run, since having proper power control will greatly reduce your (or your customer) electricity consumption and bill and may also prolong the life of your monitors.
This is not necessary, but may be convenient to be able to adjust the volume (if your monitor does not have volume control), change some settings with having to use the content manager software.
GPS: Global Positioning System
GPS can be used for location targeted advertisement for example in buses.
Depending on your application you may have to choose an appropriate casing: e.g. Rack, casing that can fit into a car radio slot, etc…
Software Features
Ideally you do not want to have to change your existing content or have the content management to do it for you.
You'll need to check three things
* Video container support, e.g. avi, divx, mov, mp4, mkv, ts, vob, mpg, asf, wmv, flv, etc…
* Video codec support, e.g. mpeg1, mpeg2, mpeg4, divx, xvid, h.264,wmv, theora, etc…
* Audio codec support, e.g., pcm, mp3, wma, dts, ac3, aac, etc…
Recently, 3D display have started to appear so you may want to check if the solution provided can support it or could support it in the future.
Same thing here you should make sure the system can support your content with having you to manually change your content.
The system should at least support jpeg, png and gif formats.
You should also check if the system support picture transition effects (e.g. fading) if that is important to you.
Most of signage have the capability to handle text in different way, so you should check if the product match your requirements.
For still text: you should be able to set the position, background color (or image) and text color.
For scrolling text: you should be able to set the position, background color, (or image) and text color and set the text direction (e.g. left to right, right to left etc..). The features should require will depends on the languages used, e.g. you would probably not use left to right scrolling for a text in English, but you would have to to output Arabic.
For scrolling text the smoothness different greatly between solutions, if a system support some 2D hardware acceleration the scrolling text should be very smooth (comparable to what you would experience watching Bloomberg for example). Platforms based on Sigma Designs EM8620 or SMP8630 series should have a very smooth scrolling text.
If you are going to support different languages, you should also check support for different encoding, font update etc…
Digital Video Support: DVB-T, DMB-TH, IPTV…
DTT can be supported by the hardware natively or via a USB Dongle. Using a USB dongle for DVB-T may slightly increase the cost vs. native support for provides more flexibility.
IPTV would just require network capabilities and a streaming server.
You would need this features if you need to show live TV.
In most cases, your medias will play as scheduled and follow the playlist order as defined in the content manager. However, in some cases, you may need to display a media (video, picture or text) real-time in order to make an announcement or show some important news and this is where media insertion comes into play, where you can send a command via the content manager can send a command to the player to play (and eventually download) a file to play/display it immediately.
Multi-zones / layouts support
Your digital signage solution should provide you with preset layouts (e.g. 3 zones: video, picture, text) and a layout designer so that you can define your own layouts.
There are limitations to what the hardware/software can achieve so you'd better check how many simultaneous videos, pictures and text can be displayed.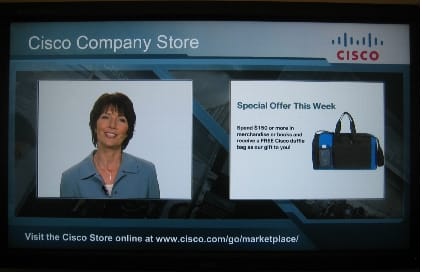 In the example above, you can see 1 video zone (left), 2 picture zones (background and right) and possibly one text zone ("Visit the Cisco Store online at www.cisco.com/go/marketplace") at the bottom. I said possibly the text could also be apart of the background image.
Vertical / Horizontal support
You'll likely use both displays oriented horizontally and vertically (See image on top of this blog entry), so make sure your solution has a way to support both.
Media Playback Scheduling
You should be able to have different playlists and layouts and schedule them daily, weekly, monthly, etc…
This part is important to reduce power consumption and also pre-download content before the media is played
Usually you will be able to schedule the power settings for a week, Monday to Sunday and define what time the player should be powered on or off.
With some systems, you may also have different power modes with power on/off, sleep mode (no display, but networking and scheduling tasks still running in the background)…
Mainly Ethernet, Wifi, 3G and Wimax.
The first two would mainly be used in fixed location where a LAN is available, Wifi reducing the need for cabling but Ethernet providing more reliable and fast connection. The other two (3g/Wimax or even gprs) can better suited to use in public transport such as buses and coaches and/or location that do not have easy internet access.
For Wifi makes sure it can support Open, WEP, WPA and WPA2 modes. Surprisingly, I have seen some players that can only support WEP..
Your signage should at least support FTP and HTTP download and may also support P2P download (e.g. BitTorrent) in order to decrease the bandwidth requirement and have faster content update if you have a large park of digital signage player.
It should also support Time Protocol (868) or NTP to synchronize the time between your player, the HTTP/FTP server and the content manager.
It may also support SNMP (see Logging and monitoring below).
The main reason you need networking capabilities are content update so you would need to make sure your media files and configuration files (e.g. play lists and schedules) can be update remotely in a timely manner.
You should also be able to update the firmware remotely.
Logging and monitoring capabilities
Your players should be able to report their own status and statistics to the content manager either through network and by using a USB thumbdrive to retrieve the log files if you are elected to use a version that does not support network.
Real-time monitoring can also be achieved thru SNMP (Simple Network Monitor Protocol) with the advantage that it is a well established protocol and some solutions provide an API so that you may be able to monitor your new players using a different control software.
Power Failure Auto Resume
Power failure auto resume allows your player to re-start where it stops in case of unexpected power failure that could have occurred due to the utilities, the cleaning lady unplugging you signage, etc..
This is especially useful if you are playing long video (1 or 2 hours), so that if the problem occurs after 30 minutes, the player does not restart from the beginning but where it stopped.
This is only needed if you want to adjust some media (e.g. text colors) or player settings (e.g. Volume, On/Off Times) through a remote control instead of using the content/player manager software.
Touch screen and or Keypad support
In some cases, you may want the user interact with your signage in that case it should support touch screen or keypad to let the user jump between window. The key mapping and action should be defined in the content manager.
That's it for now, this is by no way exhaustive, please comment, if you have any questions or suggestions.

Jean-Luc started CNX Software in 2010 as a part-time endeavor, before quitting his job as a software engineering manager, and starting to write daily news, and reviews full time later in 2011.