The NFC Forum, a non-profit industry association that advances the use of Near Field Communication (NFC) technology, has recently published a White Paper entitled "NFC in Public Transport" and show how you can leverage NFC technology in such environment. The whitepaper mainly focuses on mobile phones, readers and smart posters.
If you need an introduction about NFC, including starting points for developing hardware and software, please read our previous blog entry first.
What can NFC do in public transport ?
After a short NFC introduction, the whitepaper deals with the possible applications related to public transport including:
Transport timetables
Link to an up-to-date weather report website
Special discounted travel offers
Location relevant maps
Next bus arrival time
Taxi services
Emergency calls
Phone-to-phone transfer of destination addresses and maps to taxi driver
and how NFC can be used before the journey (e.g. paying for parking, using smart poster for products/services promotions and discounts…), during the journey (e.g. paying for tickets, exchange virtual business cards, using discount codes…) and after the journey (e.g. check receipts, transfer receipt to computer…).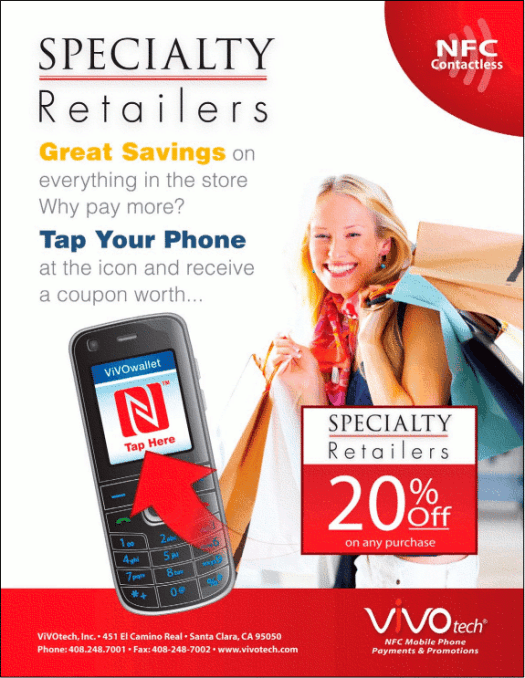 Benefits of NFC for transport
The reports then lists the benefits for:
Travelers: Convenience, loss less likely, all payment means converge to the phone, easy tracking of payments and ability to use paperless discounts.
Transport Operators: Increase in customer satisfaction, shorter boarding times, new revenue streams with advertizement (digital signage, smart posters…) and cost reductions (paperless operation).
In the next section it emphasizes the benefits of NFC technology over paper magnetic stripe tickets (no ticket wear out, less loss, more convenient, more environmentally friendly…), contactless cards (one NFC enable device can replace multiple contactless cards, avoid multi-cards "collision" issue, "add value" can be done over the air…), PC based online ticketing (no need to print tickets, tickets can be purchased anywhere, value added services on the go: discount vouchers, tourist information,…) and barcodes (2D barcodes are more difficult to read than NFC data, faster and two-way communication)
NFC and Ticketing
The next section of the report explains how NFC can improve the ticking process for:
Registration: Faster registration, for example for discounts for children or elderly and it can be done over the air.
Provisioning: Much simpler, no need for tickets and it is not required to visit a ticket kiosk for purchase.
Validation: Remove the need for manual validation (vs. paper ticket), allows for post pay (pay-after-you-travel tickets).
NFC Implementation Options
There are three ways to implement NFC in public transports:
Open (Ungated) Systems: The users just tap their mobile device against an NFC forum tag before traveling without having to pass thru any type of gates. This type of system is currently used by Rhein-Main-Verkehrsverbund in Frankfurt Germany (2D barcode / Java MIDlet) and by mobilkom austria (using SMS).
Controlled Entry Systems: The users must make use of electronic validators at entry points on transport vehicles or in a boarding area in order to add value to their NFC enabled devices. This is similar to systems using contactless card (e.g. Octopus in Hong Kong).
Gated Systems: Many cities today already have automatic fare collecting systems using gates and smart cards; e.g., London, Madrid, and Paris. The transport operator arranges with the NFC-enabled phone provider to support the installation of that city's transport application, such as Oyster in London or Calypso in Paris, on the secure element in the phone.
NFC Stakeholders and Economics
The main stakeholders are beside the transport operators are companies providing NFC hardware and software, mobile network providers, system integrators, handset, NFC readers and tag manufacturers.
There are three options to enable NFC in mobile devices:
A handset manufacturer can provide NFC-enabled phones with embedded secure elements
SIM manufacturers can provide the SIM cards, via the mobile network operators, needed to store ticket applications
Secure Digital card manufacturers can offer SD cards, when the ticket is stored in a pop-out card
There are also non technical stakeholders such as fare collection operators, ticket sellers, vending machine makers, retailers and advertising agencies.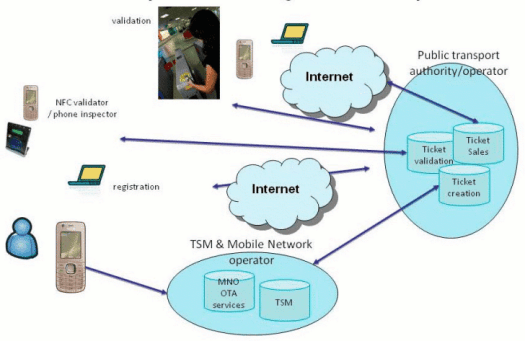 NFC Implementation Examples in Public Transport
The reports concludes with four successful NFC implementations:
London – Testing Transport Ticketing on NFC Mobile Phones
Germany – Touch&Travel Pilot Program
San Francisco – NFC Mobile Payment for Rapid Transit
Frankfurt – RMV-HandyTicket with NFC for Public Transportation
The full report (33 pages) is available for download free of charge at http://www.nfc-forum.org/resources/white_papers/NFC_in_Public_Transport.pdf.

Jean-Luc started CNX Software in 2010 as a part-time endeavor, before quitting his job as a software engineering manager, and starting to write daily news, and reviews full time later in 2011.