HbbTV (Hybrid Broadcast Broadband TV) is a new European standard for web-based smart TV applications for TVs and set-top boxes. Services and applications delivered via HbbTV include traditional broadcast TV channels, catch-up services, video-on-demand, EPG, interactive advertising, personalisation, voting, games, social networking and other multimedia applications.
The latest version of the HbbTV specification is 1.1.1 and can normally be downloaded after registering on ETSI website. The official nomenclature of the specification is ETSI TS 102 796. It is also directly available at the following link – http://www.etsi.org/deliver/etsi_ts/102700_102799/102796/01.01.01_60/ts_102796v010101p.pdf
The HbbTV specification is based on existing standards and web technologies including OIPF (Open IPTV Forum), CEA, DVB and W3C.
HbbTV Specifications specifically makes use of the following standards:
CEA-2014 – Web-based Protocol and Framework for Remote User Interface on UPnP Networks and the Internet (Web4CE), also known as CE-HTML.
Open IPTV Forum Release 1 Volume 5 – Declarative Application Environment of the Open IPTV Forum.
TS 102 809 (aka DVB Blue Book A137): "Signalling and carriage of interactive applications and services in Hybrid Broadcast Broadband environments".
An hybrid terminal (smart TV / smart stb) must have the components described below.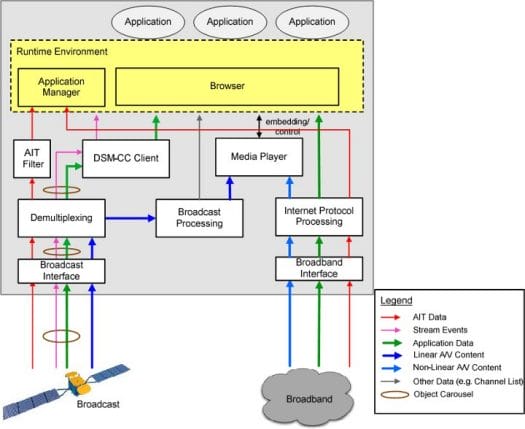 The terminal can receive data via broadband (Internet) or broadcast (Satellite/DTT) interface. The data received includes AIT (Application Information Table) Data (XML format), stream events (broadcast only), application data and linear A/V data.
In case of broadcast reception the AIT Data must be processed and converted to XML data bu the AIT Filter and \Stream Events and Application Data are handle by a DSM-CC (Digital Storage Media – Command and Control) client.
All the meta-data is them processed and displayed by the run-time environment (Application manager and Browser).
The linear A/V data is processed the same way as in a standard set-top box.
The 75 pages specification explains how all those components should interact and what should be implemented in order to design a HbbTV compliant device.
I could not find any retail products that are currently claiming to be HbbTV compliant.
However, quite a few companies offers such systems for integrators and ODM/OEM including:
Tara Systems HbbTV Receiver:

Support for basic profile of the HbbTV standard (ETSI TS 102 796 V1.1.1).
Extendible to Download, PVR and RTSP streaming profile. The HbbTV PVR Profile is currently under development at TARA.
Generic, browser-agnostic interface to a CE-HTML web browser (e.g. Opera, WebKit with CE-HTML extension).
Reception and handling of HbbTV content via DSM-CC object carousel.
Application signaling and lifecycle management for HbbTV applications.
HbbTV application access to the underlying DVB middleware stack (depending on stack capabilities).
Ant Galio HbbTV Platform:

Fully integrated HbbTV compliant TV service platform
Assured compliance with the HbbTV standard
Roadmap of new features
Product already ported and integrated to a variety of hardware platforms and underlying software
Architecture allows easy porting to a wide range of underlying platforms
TV services are fully insulated from the underlying TV delivery infrastructure, maximising return on investment across multiple device types
Full platform integration and performance tuning services available from ANT's Engineering Services teams
Single vendor solution
Available now and already deployed (Humax)

BSMediaSoft MarA Middleware for HbbTV:

"RED button" applications which are serviced by broadcast operators via the satellite stream
"Web TV" applications which are serviced by broadband service provides via the IP
connection.
DVB-S/S2 channel management: channel search, channel tuning, channel edit, SI auto update, multiple audio and subtitle language, etc.
PVR features: Support for twin tuner PVR functions, time shift, instant recording and scheduled recording
7-day EPG support
HbbTV is expected to take off in 2011 with roll-outs in Germany (ARD, ZDF and RTL channels), France (HbbTV interactive services in 2011) and the UK.

Jean-Luc started CNX Software in 2010 as a part-time endeavor, before quitting his job as a software engineering manager, and starting to write daily news, and reviews full time later in 2011.