I've recently come across an interesting and amusing story entitled "Boost Your WiFi Signal Using Only a Beer Can"  on discovery channel website. I've said to myself that I've got to try with my WiFi router.
The interesting part is that my WiFi router (TP-LINK TL-WR940N) has 3 antennas, so I had to diligently drink three beer cans (LEO brand,  the best local beer in Thailand). Once this was done, I had all that I needed, besides a pair of scissors, a utility knife and some double faced tape.

The next step was to clean the beer cans, let them dry and cut the bottom and top of the beer cans as described on discover channel blog post. There is no dotted red line on LEO beer cans, but there are yellow horizontal lines that make this can perfect for the job. After less than 5 minutes of hard work, I had my first "beer can antenna" as shown below (and strongly considered drinking another one as a reward for my work).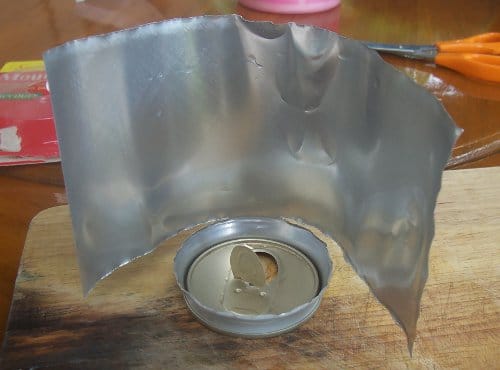 So I could try it on the router and realized it would not be practical to use 3 beer cans on this router, and that only two would do. Sorry, my bad. But I think I'll get over it.
I then cut my second beer can WiFi antenna and installed then on my router by fixing them with double faced tape.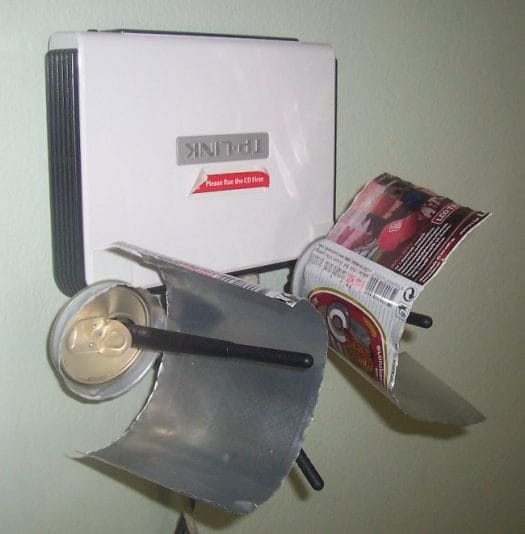 As you can see, this looks absolutely gorgeous, but the router is wall-mounted in the living room and unfortunately not everybody appreciates arts in the house, so it may not stay that way very long.
So this was done, but my "work" was not complete as I wanted to measure the Wi-Fi signal strength improvement or if there was actually any improvement at all.
I chose 5 strategic locations in and around the house to measure signals:
Location 1 aka the "sala"  (Sala (ศาลา) means Pavilion in Thai).
Location 2 aka the bedroom.
Location 3 aka the wife's office.
Location 4 aka the neighbor's house.
Location 5  aka my "playroom".
I did some measurement with iwconfig in Ubuntu before adding the beer can to the router with the command:
iwconfig | grep "Signal level"
Here are the initial measurements:
Location 1: -50 dBm (Quality: 60/70)
Location 2: -41 dBm (Quality: 69/70)
Location 3: -58 dBm (Quality: 52/70)
Location 4: -83 dBm (Quality: 25/70)
Location 5: -32 dBm (Quality: 70/70)
I did some measurements with the beer as shown above, but there was some improvements in some locations but results were not that great, probably because the signal of the middle antenna was blocked by the beer cans, so I adjusted the middle antenna to be horizontal and made the beer cans vertical so that it looks that way: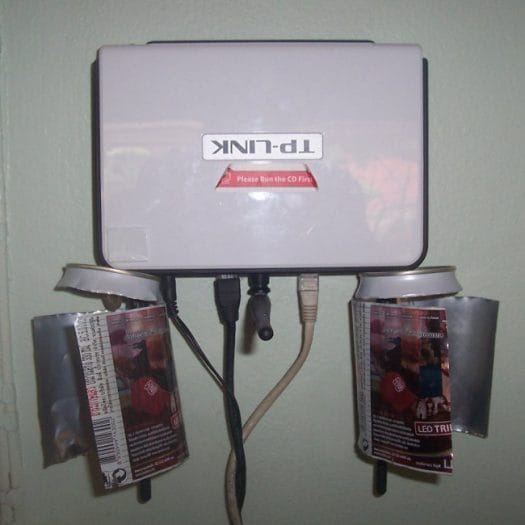 The beer cans make the signal directional so the signal would be likely to gain strength where the can are pointed to and lose in the other direction. I pointed the left can (on the picture) towards my wife office (location 3) and the right can towards my neighbor's house (location 4) since I'm such a lovely bloke. Location 5 is between the router and location 3.
Here are the measurements with the beer-can improved-wifi-router:
Location 1: -50 dBm (Quality: 60/70) – Difference: 0 dBm.
Location 2: -50dBm (Quality: 60/70) – Difference:

-9 dBm

.
Location 3: -53 dBm (Quality: 57/70) – Difference:

+5 dBm

.
Location 4: -77 dBm (Quality: 30/70) – Difference:

+6 dBm

.
Location 5: -30 dBm (Quality: 70/70) – Difference:

+2 dBm

.
So WiFI signal strenght can be improved with a beer can. But this should only be used, if you have specific areas (or directions) where the signal should be made stronger as other place will lose signal strength.

Jean-Luc started CNX Software in 2010 as a part-time endeavor, before quitting his job as a software engineering manager, and starting to write daily news, and reviews full time later in 2011.