Texas Instruments announced a new series of its MSP430 MCUs codenamed "Wolverine" for its aggressive power-saving technology. The company claims this ultra-low-power MSP430 microcontroller platform offers at least 50 percent less power consumption than any other micro-controller in the industry with 360 nA RTC mode and less than 100 µA/MHz active power consumption.
Since typical battery powered applications spend as much as 99.9 percent of their time in standby mode, Wolverine MCUs power consumption of 360 nA in standby mode would more than double the battery life.
Here are the key power savings techniques and technology using the the Wolverine MCU (MSP430FR58xx):
Ultra low leakage (ULL) process technology. TI developed ULL technology that offers a 10x improvement in leakage and optimized mixed signal capabilities. Power reduction are also achieved thanks to an improved 130 nm process technology and more than 30 power-optimized analog and digital components.
Unified FRAM (Ferroelectric Random Access Memory). Taking advantage of FRAM  low power memory, "Wolverine"-based MCUs can operate at less than 100 µA/MHz in active mode and consume 250x less energy per bit compared to Flash- and EEPROM-based microcontrollers. In addition, FRAM is 100 percent non-volatile, which gives developers the low power, speed and flexibility of SRAM while retaining the key no-power storage capability of Flash
MSP430 ultra-low-power system legacy, peripherals and software for easy development. The new platform takes advantages of exiting MSP430 features as well as TI's  MSP430Ware software and resource package, and low-power code optimization software tools.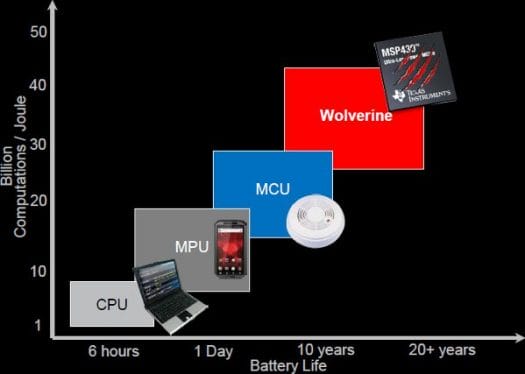 Battery powered devices usually have a lifetime of 10 years, with Wolverine technology this would be extended to 20 years. Such low power MCU may also enable devices powered by energy harvesting where you never need to replace the battery. With this technology, Texas Instruments envisions low power devices such as a device worn on your finger that allows intuitive, touch-free interaction with the digital world. or a solar panel the size of a microcontroller that enables environmental intelligence in any building or a smoke detector with carbon monoxide sensing, thermostat control and biometric security capabilities without increasing its size.
You can watch the video introduction of Texas Instruments's Wolverine platform.

The "Wolverine" MSP430FR58xx microcontrollers will be available for sampling in June 2012. However TI says that developers can get started with existing MSP430 solutions.
You can find more information on TI Wolverine page as well as on this Wolverine Platform PDF Presentation.

Jean-Luc started CNX Software in 2010 as a part-time endeavor, before quitting his job as a software engineering manager, and starting to write daily news, and reviews full time later in 2011.