ARM unveiled its ultra-low power Cortex-M0+ core back in March, and Freescale and NXP also announced their plans to use this new core in some of their micro-controllers destined to power the internet of things.
Yesterday at Freescale Technology Forum (FTF), Freescale announced the availability of alpha samples of its Kinetis L series. This new low power MCU family will allow existing 8-bit and 16-bit architecture to be replaced by 32-bit architecture without increasing power consumption, cost or size, and the company expects them to be used in devices such as small appliances, gaming accessories, portable medical systems, audio systems, smart meters, lighting and power control.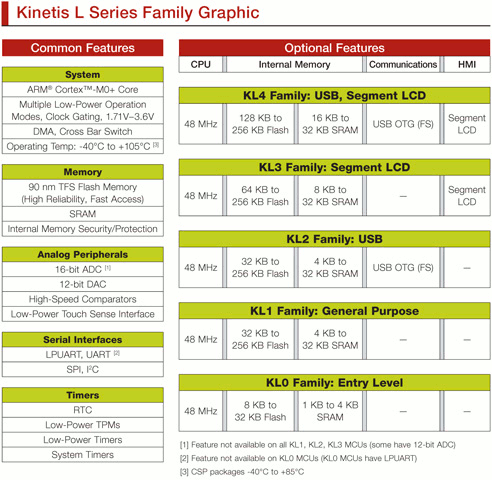 The ARM Cortex-M0+ processor is said to consume about a third of the energy of any 8- or 16-bit processor, while delivering between two to 40 times more performance. Kinetis L series MCU can consume as low as 50 uA/MHz in very-low-power run (VLPR) mode and can rapidly wake from a reduced power state, process data and return to sleep, extending application battery life. To provide even lower power consumption and improve battery life, Kinetis L series peripherals can remain active, even when the CPU core is in deep sleep mode.
Freescale Kinetis L series MCU includes the following common features:
48 MHz ARM Cortex-M0+ core
High-speed 12/16-bit analog-to-digital converters
12-bit digital-to-analog converters
High-speed analog comparators
Low-power touch sensing with wake-up on touch from reduced power states
Serial interfaces such as I2C, SPI and UART
Timers (RTC, TPM…)
There are currently 3 Kinetis L series families:
Kinetis L0 family – 8 to 32 KB flash memory, 4 x 4mm QFN packages. These MCUs are pin-to-pin compatible with Freescale 8-bit S08P family.
Kinetis L1 family – 32 to 256 KB flash memory, communications and analog peripheral options. This family is compatible with the Kinetis K10 family.
Kinetis L2 family – Adds USB 2.0 full-speed host/device/OTG. Compatible with the Kinetis K20 family.
Focusing on 8/16-bit migration to 32-bit, Freescale made the Kinetis L series is pin- and software-compatible with the Kinetis K series.
Freescale did not mention Kinetis L3 and L4 MCUs (adding LCD support) in their press release, probably because those are not available yet.
Freescale provides several hardware and software tools to make development easier: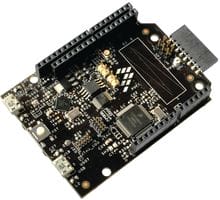 Freescale Freedom development platform – Development board based on Kinetis L2 MCU in an Arduino like form factor for application prototyping and demonstration. This board features an integrated USB debug interface offering a mass-storage device mode flash programmer, a virtual serial port and programming and run-control capabilities.
Processor Expert software – GUI-based software generation tool that automatically generate peripheral start-up code or device drivers.
Kinetis MCU Solution Advisor – Web-based MCU product selector that helps identify the best-suited MCU based on your requirements: operating characteristics, packaging options, memory configuration and peripherals.
Freescale Kinetis L series alpha samples are available now, with broad market sample and tool availability planned for Q3. Kinetis L0 MCU costs as low as 49 cents (USD) in 10,000 unit quantities. The Freescale Freedom development platform will only be available in Q3 for 12.95 USD, but you can already pre-order it on Newark/Element14.
You can find more information on Freescale's Kinetis L Series MCUs page.

Jean-Luc started CNX Software in 2010 as a part-time endeavor, before quitting his job as a software engineering manager, and starting to write daily news, and reviews full time later in 2011.