The X server is getting old, and many developers complain it's not an optimal solution anymore due to its (over) complexity, which was why Wayland was developed. However, it turns out Ubuntu will not use Wayland, but instead their own display server called Mir which will be used in all form factors from phones to desktops.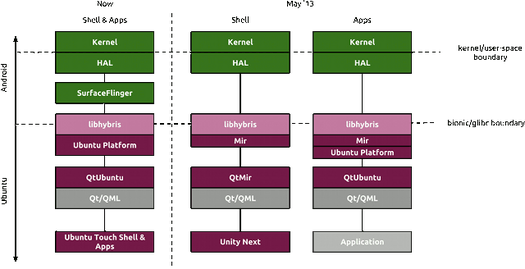 Phoronix has provided a quick summary about the key aspects of Mir:
Mir is a new display server being developed at Canonical and it is not based on X.Org or Wayland.
Android graphics drivers will be supported.
Existing DRM/KMS/Mesa/GBM (the open-source Linux graphics drivers) will work. Canonical is pressuring the binary blob vendors to make their drivers compatible.
There will be support for legacy X11 applications through an integrated root-less X.Org Server.
Canonical will natively support GTK3 and Qt/QML toolkits with Mir.
Mir will be used for all form factors from Ubuntu Phones to the Ubuntu Linux desktop.
Mir should be ready for Ubuntu Phone OS by this October while it should come to other form factors (and the desktop) within one year.
Canonical has not chose Wayland because it could not fulfill their requirements completely, but due to their design, it would still be possible to add Wayland support by implementing a Wayland-specific frontend for the Mir server or by providing a client-side implementation of libwayland that talks to Mir.
Mir will also run on the free drivers software stack, but it does not run on closed source drivers now, and Phoronix reports that Canonical is in talks with closed-source vendors (NVIDIA and AMD) about supporting Mir and a unified EGL-centric driver model. From the look of it, it seems only desktop platforms will support the free Linux graphics drivers, which means other platforms such as smartphones and tablets may have to rely exclusively on the Android drivers (TBC).
There are three milestones for Mir development:
May 2013 – Finish the first step towards integrating Unity Next with Mir and provide enough facility to start iterating the actual shell development.
October 2013 – Unity Next & Mir window management are completely integrated with the rest of the system to support an Ubuntu Phone product. Desktops and laptops will have access to a legacy mode that allows to run legacy X clients against an on-demand rootless X server.
April 2014 – Complete convergence across the form factors is achieved, with Mir serving as the carrier across form factors.
That means Ubuntu 14.04 LTS will be the first release to fully take advantage of the new display server.
Thanks to Guillaume.

Jean-Luc started CNX Software in 2010 as a part-time endeavor, before quitting his job as a software engineering manager, and starting to write daily news, and reviews full time later in 2011.