You may have a few cards in your wallet: credit cards, debit cards, gift cards, membership cards, … and it's just convenient to carry them around all the time. There will soon be a solution with Coin, a smart card where you can store all your other cards data, and use this smart card instead.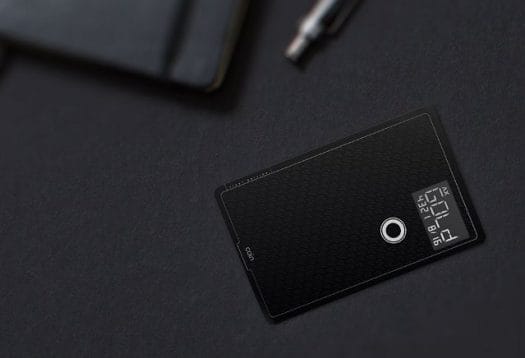 In order to register your physical cards (up to 8 cards for one Coin), you'll need to install an application in your Android smartphone, or your iPhone, take a picture of both sides of the cards, and swiping the Coin though a small device provided with the card. Then, when you want to make a purchase, you just click on the button of the Coin to select the card to use, and carry on with your purchase are you would normally do.
You may worry about security concerns, but the company behind the Coin has taken steps to prevent others from using your card. First, you can only use cards registered to your name, and registering with the smartphone app requires the physical card. So somebody with a photocopy of your card should not be able to simply register your card on their own Coin. Secure communication (HTTP and Bluetooth) and storage is ensured with 128-bit or 256-bit encryption.
There are also some security advantage compared to standard cards:
If your Coin is too far from your mobile phone, you'll receive an alert. If it's away too long from your smartphone, the Coin will lock itself, and if you run out of battery that means you'll need to unlock the Coin manually via the mobile app. Same thing if you lose your phone.
Your full card number is not shown on the Coin, so people won't be able to easily steal your card number. The CVV/CVC code is shown however.
Another concern is that the button on the card could also be pressed unintentionally using the wrong card for the transaction, but the company claims the button have be designed in a way that makes it difficult to trigger a "press" unintentionally.
There are currently some limitations with the card. First it does not support EVM (Europay, MasterCard and Visa) chips, which means it will not work in many countries, and the only place where you can be sure it will work is the US. A future version will be available with EVM support. The Coin comes with a non-replaceable battery coin, so after about 2 years you'll need to buy another one. The card is using Bluetooth Low Energy which explains why the battery can last around 2 years.
If you live in the US or another country where you don't need to use EVM, you can pre-order a card for $50 + $5 shipping on OnlyCoin.com. Be aware that although the Coin will be shipped in the summer of 2014, your credit card will be charged immediately for the pre-order. Coin will eventually retail for $100.
[Update: Not directly related to the smart card above, but it appears Coin (the company) also provides an Arduino BLE devkit for $45 + shipping].

Jean-Luc started CNX Software in 2010 as a part-time endeavor, before quitting his job as a software engineering manager, and starting to write daily news, and reviews full time later in 2011.