The other day, I opened one of the products I received for review, and I found a blue connector on the board with no description. USB 3.0 connectors are blue this connection seemed "funny" with two internal connectors, and I though it must have been something else, and asked on Google+.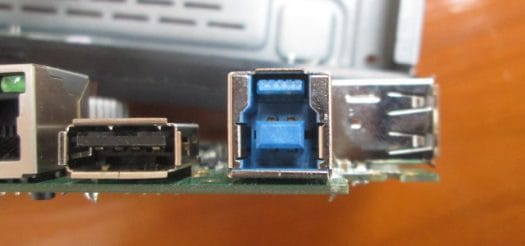 It turned out this is a USB 3.0 Standard-B receptacle. As my knowledge about USB 3.0 connectors was obviously lacking, I've decided to investigate and have a look at the different existing and upcoming USB 3.0 connectors that we should find in different types of devices and computers now or very soon.
Standard-A USB 3.0 connectors and receptacles
This is the easy one, it looks very similar to the USB 2.0 connectors, except it's blue and adds 5 pins for USB 3.0 connectivity. It's backward compatible with USB 2.0, and the receptacle is used for hosts. Most people must have already seen that one.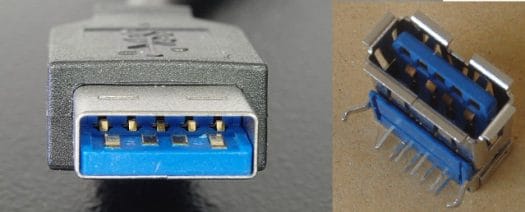 Standard-B USB 3.0 connectors and receptacles
USB 3.0 Standard-B receptacles and connectors are somewhat similar to the USB 2.0 version, but are larger, and with one extra row for USB 3.0 connectivity. Such receptacle accepts either a USB 3.0 Standard-B plug or a USB 2.0 Standard-B plug, and it's also backward compatible with USB 2.0. Due to different size, a USB 3.0 Standard-B connector can't be plug into a USB 2.0 Standard-B receptacle. The Standard-B receptacle is used for USB devices. If you have a USB 3.0 device (e.g. USB hard drive) you must have already seen this, but since I don't have ny it was my first time to see this type of connector.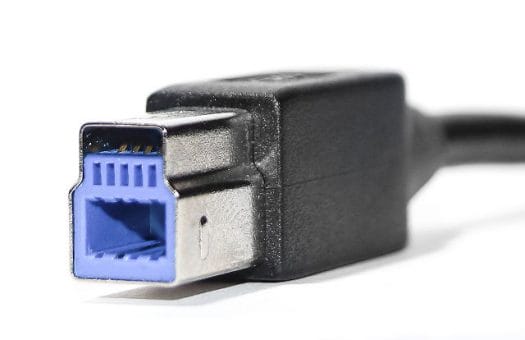 Micro-A USB3.0 receptacle and Micro-B USB 3.0 connectors
The USB 3.0 Micro-B cable plug consists of a standard Micro-B USB plug, with an additional 5-pin plug place on the other side. That's been done this way for USB 3.0 Micro-A host connectors to preserved compatibility with USB 1.x/2.0 Micro USB cables. There's no way to connect a micro USB 3.0 cable into a micro USB 2.0 receptacle due to obvious mechanical differences. I understand these types of connectors and receptacles can't be found in many devices just yet, Samsung Galaxy Note 3 being an example, but many mobile devices may eventually feature micro-B USB 3.0 receptacles.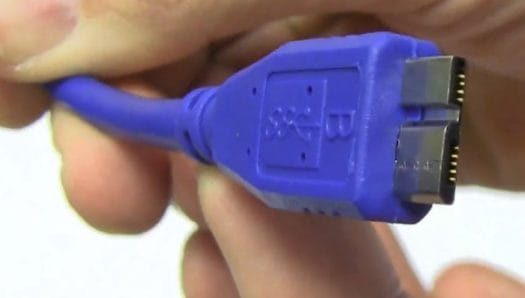 USB 3.0 Type-C
There's a new type of USB 3.0 connector coming up announced last December. I could not find pictures yet, but we do know this new connector will be about the size of USB 2.0 Micro-B, it will be reversible ("users will no longer need to be concerned with plug orientation/cable direction"), support scalable power charging, and USB 3.1 Superspeed+. Since many people do not really like USB 3.0 Micro-B, USB Type-C connectors may even replace the latter in mobile devices such as tablets and smartphones.
USB 3.0 Signals
USB 2.0 has 4 signals: Ground, Power (5V), and D-/D+ differential pair for data. There's also the shield provided by the metal housing. USB 3.0 is backward compatible but adds Superspeed transmitter and receiver differential pairs (4-pin), and ground for signal return. According to the table below, there are also some "Powered-B" with 2 extra pins for power and ground provided by the device.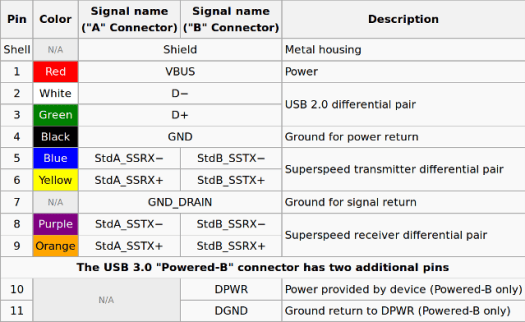 Source: Mostly Wikipedia

Jean-Luc started CNX Software in 2010 as a part-time endeavor, before quitting his job as a software engineering manager, and starting to write daily news, and reviews full time later in 2011.