Today I'll start the review of one of the streaming software available on the market, with version 2.2.0 EVO of IPTV Panel Professional Edition developed by Xtream-codes.

The Software is mainly used for the so-called IPTV broadcasting, but also with great potential for all kind of other content delivery applications such as audio and business streaming, cloud video transcoding, and all other kind of global streams.
What is IPTV?
Internet Protocol television (IPTV) is a system through which television services are delivered using the Internet protocol suite over a packet-switched network such as a LAN or the Internet, instead of being delivered through traditional terrestrial, satellite signal, and cable television formats. Unlike downloaded media, IPTV offers the ability to stream the media in smaller batches, directly from the source. As a result, a client media player can begin playing the data (such as a movie) before the entire file has been transmitted. This is known as streaming media.

IPTV services may be classified into three main groups:

Live television, with or without interactivity related to the current TV show;
Time-shifted television: catch-up TV (replays a TV show that was broadcast hours or days ago), start-over TV (replays the current TV show from its beginning);
Video on demand (VOD): browse a catalogue of videos, not related to TV programming.

IPTV is distinguished from Internet television by its ongoing standardisation process (e.g., European Telecommunications Standards Institute) and preferential deployment scenarios in subscriber-based telecommunications networks with high-speed access channels into end-user premises via set-top boxes or other customer-premises equipment.
This review will contain results mainly for the "end-user" or business owner, who already owns or bought legitimate streams, as Xtream-codes IPTV software does not provide any video streams, and "only" helps distributing your content.
If starting from scratch, producing your self-made streams, it's already professionally explained in the video below using Xtream-codes IPTV panel on AMD MOI Pro IPTV streaming server.

I would love to do this by myself, but I would be in need of the necessary hardware. TBS can provides future producers of streams with all the required and necessary hardware.
Installation Process
After you registered at https://xtream-codes.com and placed your order, you get access (after payment) to your unique default root username, default root password, and your CMS Address.
You can now login with both credentials, and start adding your server addresses. Your Server IP and SSH Password is required, and the whole process is pretty straightforward.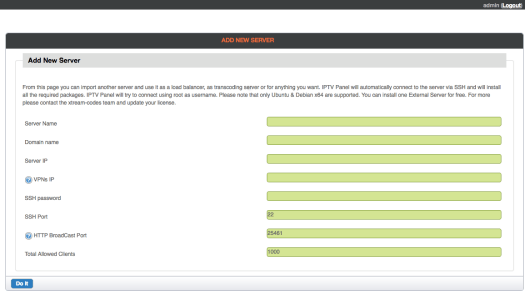 If necessary, you can add a second Load balancer Server by the same method. If you need more Load balancers (LB's) in the future, you will have to pay an extra Fee. Xtream-Codes call this "plugins", but I guess it's a simple SSH Protocol.
They activate on their server side, like: 2/4/6 LB's…. Again, the first LB is free of charge.
The Graphical User Interface (GUI): Xtream-Codes Panel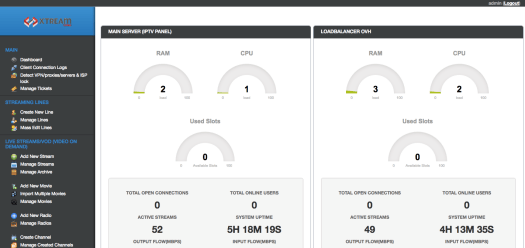 If you are confronted the very first time with it, it might be confusing at first with all the available options, but be assured, that after 1 or 2 days you'll be getting used to it. Many features and possibilities are waiting for you, and it also a few have's and have not's. Let's start with the "have's!
One of the great features in version 2.2.0 Evo is the Transcoding process. Here a general overview of the 2 Versions: Profesional and Minimal Editions.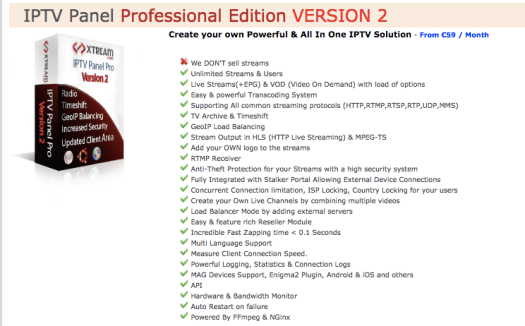 Xtream-Codes also offers a Minimal Edition of this software for a cheaper monthly price (19 Euros per month vs 59 Euros per month)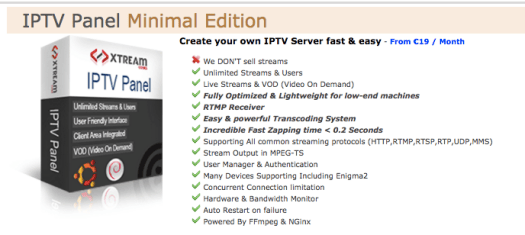 As you might expect, the professional edition adds several features including:
Load Balancing by adding servers (1 is free, all others must be bought)
Manage all servers in a very simple and powerful interface
MAG Devices Support
New powerful transcode System supporting almost every function
Every stream is playable (more protocols support)
Faster zapping time (instant)
Powerful Logging & Search System
Stream Statistics
Http Live Streaming (HLS) Output
iOS/Android Client Area Portal
More lightweight
The Menus & Options  of the Panel

The Transcoding or Video-Conversion process
This is one one of the "Highlights" of Xtream-Codes IPTV Panel. I've tested over a hundred different kinds of formats, from Blu-ray-MKV, different AVI's, FLV, MP4, WMV, MOV and OGG. Each time the transcoding process was successful.
I also tested quite a few homemade AVI's without transcoding, all watchable later on. But for professional hosting, large sized movies should be encoded before transferred to your server, in my opinion. The reason is mainly the later ability for your future customers to watch the movie streams, without any kind of freezings or bufferings. Due to Internet limitations, and nowadays also server bandwidth problems, the movies should be transcoded in 720p maximum and the file size should be around +/- 1GB each. The bitrate should be somewhere around 2 – 3000k maximum. This would later almost guarantee the freeze free availability of the stream, if the user owns a decent Internet connection. Not everybody have an 200 Mbit/s and up broadband connection.
Sure, there are higher bitrates possible and many customers already crying for lossless FHD's streams. In my eyes often a wishful thinking. Too many components playing a huge role in the Internet world, and last but not least there's always the question of bandwidth.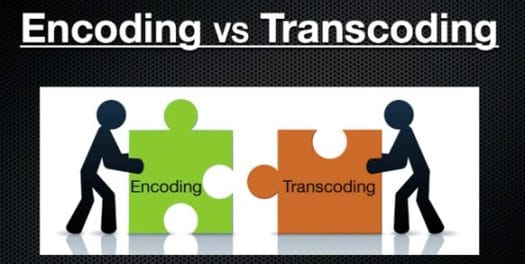 "What's the difference between encoding and transcoding?" was one of the first questions I had when I started working with video's and IPTV streaming. I had always used them interchangeably and after a quick Internet search I was surprised that I did not find a clear answer.
While encoding and transcoding both represent ways of converting files between formats, there is a distinct difference:
Encoding, by definition, takes analog source content and converts it to a digital format. For example – converting a video on a VHS tape to an mpeg file or a video DVD.
Transcoding takes an existing digital format and converts it to a different digital format, like taking a sample video and converting it to an adaptive bitrate format such as HTTP-Live-Streaming.
Despite the clear differences by definition, I've noticed that only technical experts tend to use the term with distinction. People getting started with video are often left behind and confused between the terms like I was. I hope that with this short note, we were able to shed some light on this myth….
Here you can see the different kinds of VIDEO and AUDIO transcoding codecs available: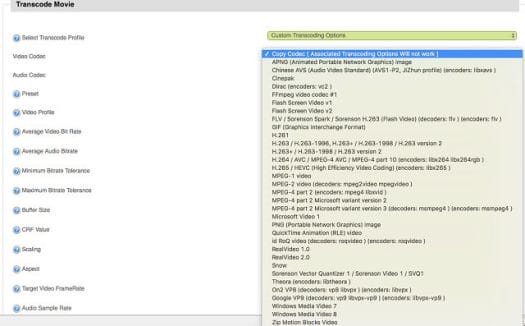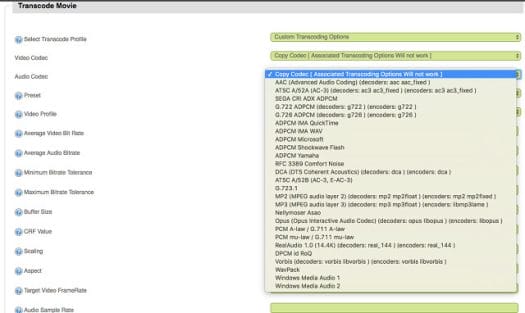 The Preset option allows you to select between ultra fast and very slow transcoding options, which should also affect the video quality.

The Video Profile option (in my opinion too many Apple's…)

Setting the average video bitrate

Other Transcoding Options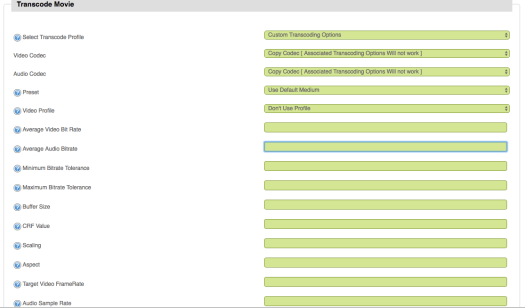 Main server and load balancer monitoring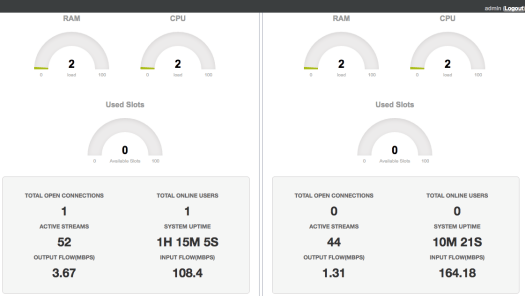 3rd Load balancer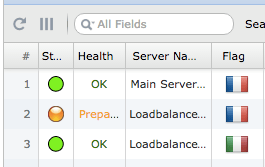 Load Balancer Settings
Load balancing Chart? What this feature is doing exactly? As stated before, IPTV Panel Pro has load-balancing mode that will redirect your users automatically to other servers in a case of huge load. The load-balancing chart is being used to control the SOURCE flow or how the stream source will be transferred to your servers.
You can draw any flow you want depending on your needs.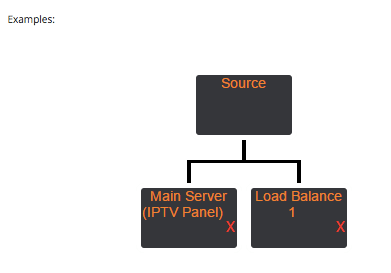 Both servers will take the stream from the source in the configuration above.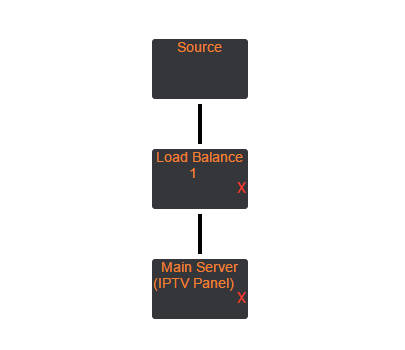 In this case, the server "Load balancer 1" will read the stream from the source and at the same time he will transfer the same stream to the second server.
Implementing LEGITIMATE Streams in your Panel and Managing Streams
Attention: Many customers make here a major mistake, with the result of missing audio and other misbehaviors in the stream later. What Video & Audio Codec should I use if I transcode later?
Xtream Codes has added many video & audio codecs but not all of these codecs are supported for IPTV use. To be on the safe side, you should always use the H.264 as video codec and AAC as audio codec for IPTV use.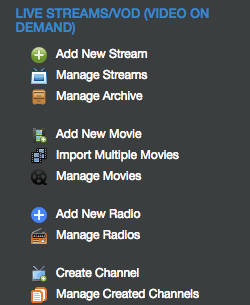 As we can see, importing a live stream, a movie or a radio broadcast stream was never that easy. We start by adding a live stream.
Two options here: One single stream, or multiple streams! If you import multiple streams, you need the file/stream list containing all of your streams.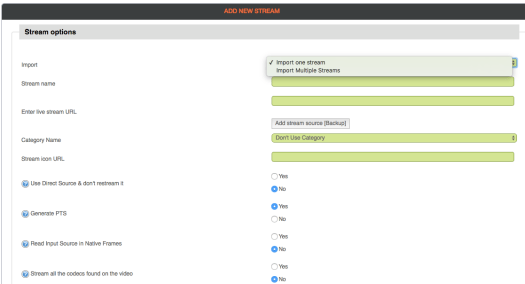 We have several options later, how the streams can act. For better understanding, it's theoretically possible that you "restream" your legitimate bought streams later. In other words…in some cases, you may want to sell these streams to other resellers.
Through this setting you can block your streams to be "restreamed" later on, if you really try to sell some of your streams in time by choosing a category or bouquet later for your customer. Streams marked here as "yes" will not work for your customer.


Very useful are the "Quicktools" in the Manage-Streams Section: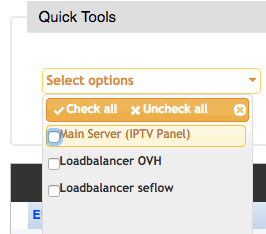 Adding a New Movie
You can also add a movie you uploaded to your server previously, or even from a remote source.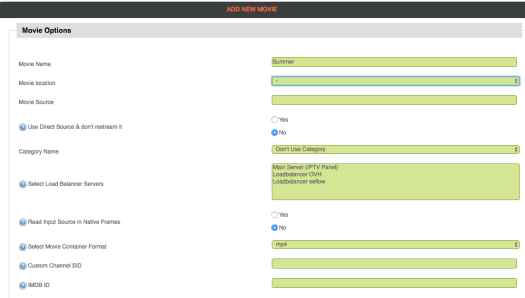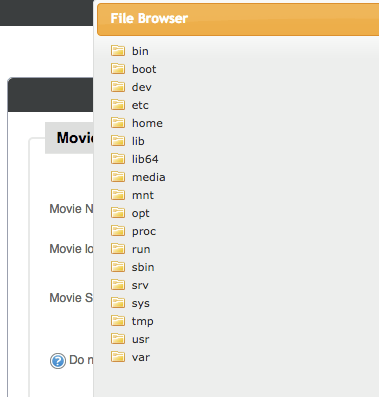 If you add a movie from your own server, it works over the integrated file browser, while if you want to stream from a remote location, simply type in the location.

You can set read "Input Source in Native Frames", and  if you are transcoding, set it to YES.
You like to have a picon for your Movie? Here you can add a IMDB ID.
But here we go…Movies! It is common in this business, that once a while a server is having issues, and most times the load balancer also gives up. If this happens, and no matter the backup of your data bank, you are in troubles. You may have tons of movies in backup, and must re-assign them all again to a server manually.
This feature is definitely missing in the editing movies section. There are only 3 parts: Add New Movie, Import Multiple Movies and Manage Movies.
The scenario: You transfer in an emergency case over ssh protocol sftp-wise all your movies to an other server. You set up a new OS or reinstall one, and you get a new root password. After making a new server with Xtream Codes Panel, so far, so good. But you have to assign them later, all of them! A mass-edit regarding assigning movies to the main server or one of the load balancers would do it! Saving a dramatic amount of time for a customer. I repeat myself here, I mentioned that above already, regarding "add a new stream". No reason for me to think of right now, that it should not be possible to assign this stream to a bouquet, and not only in to a category.
Adding a New Radio
It's the same procedure as adding a video stream. You can import a single or multiple Streams from a file.
Creating new Client/Customer Lines
Creating a new customer line is a piece of cake; just fill up the necessary fields. Like user, a unique password if you wish so, you even can use the created line in a stalker portal, but watch out then, please read:

If a customer has a MagBox for example, the better option is to bind the box over the MAC address. It is even possible to bind a before created simple m3u Playlist to a newly created MAC address. Simply go to "Add New Mag Device" and associate the existing line to it.

Portals for Mag-Devices are like "http://yoursite.com:port/c/"
Features, Options, Security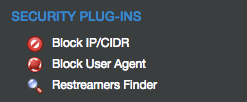 Restreamers Finder
Another useful feature is the so-called Restreamers Finder. In these days there are many restream software's for ordinary users on the market, like Hola addons for Android Systems and many more.
Block User Agent
Not absolutely clear about this feature. What is a "User Agent"? A User Agent is normally a short string that web browsers and other applications send to identify themselves to web servers. Unfortunately, most browsers falsify part of their User-Agent header in an attempt to be compatible with more web servers. Useful, but I find that the manual assigning of each single user agent is a hell of a work. There are preconfigured block lists already in the Internet and it would be from great help, if Xtream Codes would allow loading a whole list.
Block IP/CIDR
IP blocking is clear, but what is a CIDR? Classless inter-domain routing (CIDR) is a set of Internet protocol (IP) standards that is used to create unique identifiers for networks and individual devices.
The IP addresses allow particular information packets to be sent to specific computers. Shortly after the introduction of CIDR, technicians found it difficult to track and label IP addresses, so a notation system was developed to make the process more efficient and standardized. That system is known as CIDR notation.
Resume? Absolutely useful!
There is still some work to do specially in the editing sector, one of the most important parts of streaming software:
Searching for Bad Movies (a dog's work if hundreds/thousands of movies)
Adding a new stream and assign it direct into a bouquet, would be more then useful.
Mass edit Movies features (ex:Assign Movies to a server in bulk)
Part 2 (…coming soon)
Finishing the part of the most important features
Comparison the "Have's" and "Have Not's"
Results after a new installation (Simulated Crash of the Main Server)
The Pro's
The Contra's
The Competitors of Xtreme-Codes Panel
Be aware of some kind of hoster (Strange experiences with 2 "Big Ones"! Troubleshootings)
The Conclusion and resume
Ending the first part, I want to say thanks to Xtream-Codes for giving me the tools and the necessary "LB Plugins" (Naaaa, not a plugin, Xtream-Codes! Call it a Addon better!) to start.
[Update: Part 2 is up @ Xtream Codes IPTV Panel Review – Part 2: Movie Data Editing, Security, Resellers, Users and Pricing Management ]