Tuxera has introduced FAT+, a new file system for removable storage on embedded systems that's compatible with FAT32 but without the limitations such as the 4GB file size limit, and brings fail-safety and performance optimization. FAT+ is allegedly one of the recommended file systems by the Universal Flash Storage Association (UFSA) for the next-generation Universal Flash Storage (UFS) cards.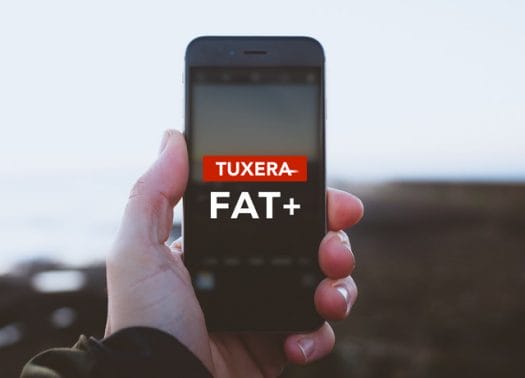 Some of the key features of Tuxera FAT+ implementation include:
Supported Operating Systems – Android, Linux, Chrome OS, Firefox OS, Tizen
Hardware Architecture – ARM, ARM64, Intel x86/x86_64 or compatible, MIPS, MIPS64, PowerPC, SH4, and more
Capacity

Maximum volume size – 2 TiB with 512-byte sectors, 16 TiB with 4096-byte sectors
Maximum allocation block size – sector size in bytes x 128
Maximum file size – 16 TiB
Maximum filename length – 255 characters (16-bit)
Supported sector sizes – 512, 1024, 2048, and 4096 bytes

Interoperability

Conforms to all Microsoft FAT versions including XP, Vista, Windows 7, Windows 8, and Windows 10 (Microsoft Interop Vendor Alliance)
Compatible with Linux VFAT (incl. Android VFAT)
Compatible with Mac OS X FAT driver
Compatible with RTOS standard FAT
Support for all flash-based storage types such as SD cards, eSD, CF cards, SSD, USB-connected storages, UFS cards, and eMMC
Support for APM, GPT, and MBR partition schemes
FAT+ requires at least 1MB RAM, and a 25MHz processor to operate properly, with the memory and CPU foot print as follows: 40 to 60 KB for R/W implementation, 25 to 35 KB for read-only, and 0 to 10% CPU usage. The interoperability section means that, for example, you can upgrade your firmware from VFAT to FAT+ without the user noticing, except for the faster performance – up to 2.3 times compared to VFAT, increased reliability, and support for large files. The company has also made tools for FAT+ file system such as mkfatfs, fatfsck, fatinfo and so on.
Tuxera business model is to sell licenses to companies that use their file systems implementations into their products. I've used their NTFS file system in several embedded systems, and the performance is much better, especially on lower end platforms where performance may be CPU bound. You'll find more details on the product page, where you should also be able to ask for license pricing for your product(s).

Jean-Luc started CNX Software in 2010 as a part-time endeavor, before quitting his job as a software engineering manager, and starting to write daily news, and reviews full time later in 2011.