ArmWizard forum member "-W.-" needed a cluster to test his firmware build and deployment solution for Orange Pi Zero boards which can deploy the firmware to multiple boards from one single board.
So he procured 24 Orange Pi Zero boards, a 24-port switch, some USB hubs and debug board, as well as some other accessories, power supplies, and two wooden planks. That's the results after assembly.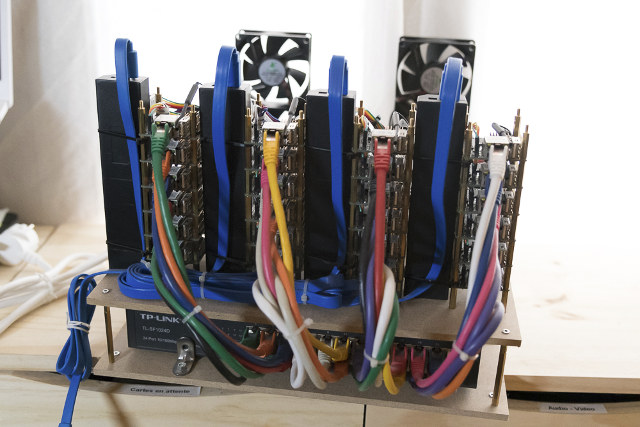 So we have 4 tower of six Orange Pi Zero boards fairly neatly connected to the 24-port Ethernet switch with 30 cm Ethernet cables, and four black USB hubs for the USB to TTL debug boards. The side view below shows the boards are powered by micro USB cables connected to three different power supplies, cooling achieved via four fans, and the power extension is hidden right underneath close to the Ethernet switch.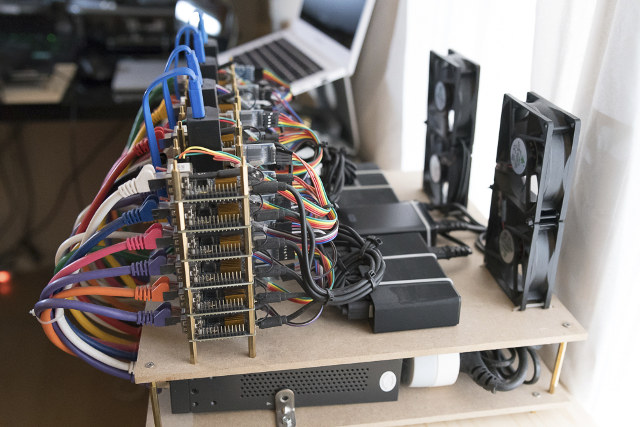 The cluster will also be used for machine learning latter on, at least to detect potential bottlenecks due to the relatively slow network (100M Ethernet).
What's also interesting is that he won't be running an Armbian image like many of us do, but as I found out on Orange Pi forums, ArmWizard's Debian 9.4 image with mainline Linux 4.15 instead.
ArmWizard is a French community for hobbyists and professional interested in Arm development boards. Everything in French language, and they describe the goals for the reference images in details, but basically the firmware images target various embedded cards and are build periodically (typically daily) with three types offered:
minimal – Bootable minimal image with access to SSH.
desktop – Debina with Xfce environment.
server – Based on minimal image, but adds better security.
At this time, only the minimal version is available, and you'll find images, not only for Orange Pi Zero, but also for Orange Pi R1, and Cubieboard 2/3 boards on the Download page. There are other boards listed, but no image is currently available, support is only planned.