The basic setup of Creality 3D's very popular Ender and CR-10 series 3D printers now have a drop-in board upgrade that is poised to rival printers that cost many times more than the Creality models. The original board only utilizes the ATmega2560 microcontroller, the A4988 stepper motor drives, with those cheap Chinese capacitors. The board runs Marlin 1.x open source firmware.  This setup is very close to the Arduino Mega 2560 and the RepRap RAMPS 1.4 board which are some of the most common and simplest board combinations in the world.
The upgrade from TH3D, is the EZBoard Lite, makes some very important changes to the overall board ability, scalability and functionality. The physical process of upgrade is simple and easy. The outcome is an increase in speed and functionality that is comparable to 3D printers costing 5 to 10 times as much.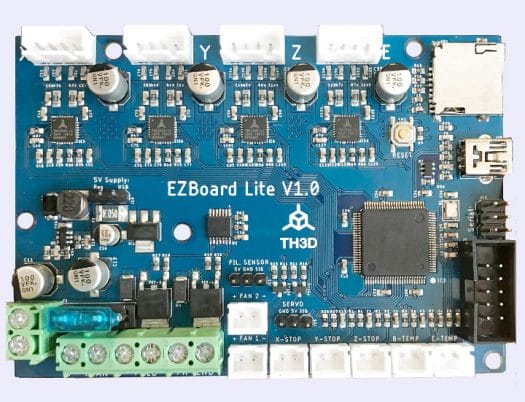 Features
Easy Drop-In Installation
No Soldering
No Wire Cutting
No Printing of Adapter Parts
Multiple Creality Model Compatibility
CR-10 & 10S (Reg., Mini, S4, S5)

Needs the Creality Dual Cable LCD Adapter Board
DOES NOT Work With Touch Screen Models

Ender 3, 3Pro, 5
Silent Trinamic TMC 2208 Stepper Drivers Running at 1/256 Stepping
UART enabled for driver configuration and data
Change Modes with the LCD or GCode
Change Motor Current (VREF) From LCD or GCode
SpreadCycle and StealthChop2 take 1/16 signals from the CPU and interpolates them to a 1/256 which creates smooth motor control
4 Layer PCB with 2oz. Copper for Durability and Heat Dissipation
TMC 2208 Drivers Require a 4 Layer PCB and 2 oz. Copper
Boards that use 2 layers and 1 oz. Copper when using TMC 2208s tend to overheat over the lifespan of the product
TH3D Unified Firmware 2.0
Based on Marlin 2.0
Easy Printer Setup like the Unified Firmware customers are used too
GPL V3 Source Code Provided to EZBoard Customers
32 Bit CPU for the latest Marlin 2.0 features currently and in the future
No slowdowns when running all the latest Marlin features
No USB printing bottleneck like the 8-bit boards
MOSFETs over specified for cool operation and longevity
Handles over 50A of power per MOSFET
Dual Controllable Fan Outputs
FAN 1 – Layer Fan Output
FAN 2 – When connected to the Hotend and Controller fan, will shut off when not printing
Compatible with single and dual cable Creality LCDs
Dual Cable requires the Creality Dual Cable LCD Adapter board
Other On-Board Connections
Servo header for BL Touch Use
Filament Sensor Connection (works with the EZOut Sensors)
Additional Features Include
Works with the EZABL Kits (all versions)
Includes the Dual Z Stepper adapter cable for machines with 2X Z Motors
The reason there is such a drastic improvement to the quality and speed is the use of TH3D EZBoard Lite uses silent Trinamic TMC2208 stepper motor drivers, much higher quality capacitors, and a 32-bit Arm processor that supports the Marlin 2.0 open source firmware.
It is easy to see, in the control box, where the board would be placed, and how the connections are made. Marking the connectors with a number or label would be advised, but it is well laid out and almost exactly the same layout as the original board, making the upgrade a smooth and effortless process.
The quality of the resolution is smoother with quite a bit more accurate microstepping and interpolation, where sub-microsteps are reached. Overall the increase in quality should be outstanding and the overall improvement in speed significant, so that this board outperforms those comparable 3D printers offered today and makes the CR-10 and Ender series even more desirable choice for the enthusiast or professional alike.
You can pre=order EZBoard Lite for $89.99 on the product page with shipping slated for June 19, and more details may be found in a Reddit discussion.
Thanks to Andreas for the tip.

Stephen started writing about technology after publishing sci-fi short stories. His first White-Paper, written in 2008, was well received and inspired him to continue writing about technology. Today he writes in the technology space full time, covering a multitude of topics. During the time he wrote part-time he edited hundreds of titles for large publishers, in science and technology. He lives in Staten Island, with his wife and children.