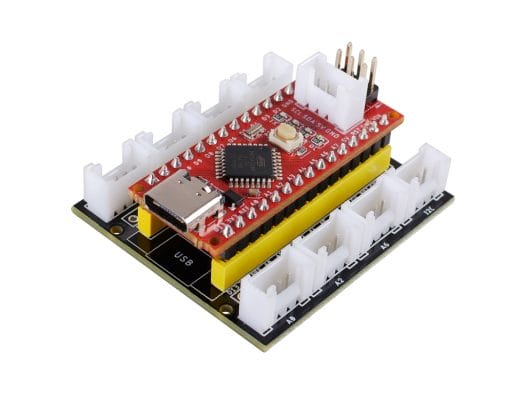 Seeed Studio has announced the release of yet another compact  board. The new board, Seeeduino Nano, is quite similar to the Arduino Nano board, and fully compatible.
Another thing about the new board is that it has some different features. Seeeduino Nano comes with only one on-board Grove connector, but it can be expanded with the optional Grove shield adding 8 Grove connectors.
More precisely, the shield has 3 Grove digital connectors and 3 Grove analog connectors, as well as 1 Grove I2C connector, and 1 Grove UART connector.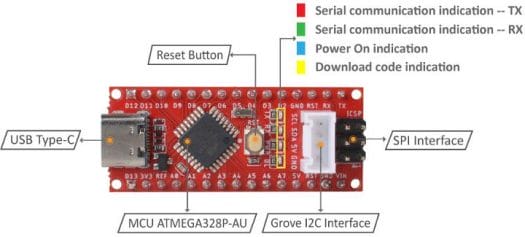 Program Code
Firstly, the Seeeduino Nano is built around Atmega328P 8-bit AVR microcontroller. This is the same as the Arduino Nano board, meaning you can use the same program code on both boards. There's no specific Wiki for Seeeduino Nano, but it's similar, albeit much smaller than the well-documented Seeeduino V4.2.
Price of the Seeeduino Nano Board
The board is available for just $6.90 and the Grove shield for the Arduino board is sold at $2.60 on the Seeeduino Studio online store. The price for the board is less than half of the price of the Arduino Nano board.
Performance and Functionality
Although it is cheaper, this board does not lack in performance and functionality. The small size makes it easier to use in projects with space constraints. And with the help of Grove system, you can leverage hundreds of sensors and actuators, simply by plugging one in.
Features of the Seeeduino Nano Board
Dimensions – 43x18mm
MCU – Microchip ATmega328P
Fully compatible with Arduino Nano
USB Type-C for programming and power
On-board Grove I2C connector
Breadboard-friendly

Tiwalade Joanna Okedara is a content writer, and blogger, with a passion for all things tech. She also specialises in writing SEO content, and spends most of her time researching new content marketing strategies. She loves to cook, and plan events in her spare time