UniSoC Communications has announced the completion of testing on its IVY510 5G modem. The testing was performed in partnership with Huawei and finished up in July 2019. The IVY brand platform offers compatibility with IoT products and services and is already being used as a cutting-edge option in some devices. The testing had been performed under the auspices of IMT 2020, the regulatory body in the worldwide telecom industry. In the tests, the IVY510 reached download speeds of 1.38 Gbps at CAICT's MTNet Lab.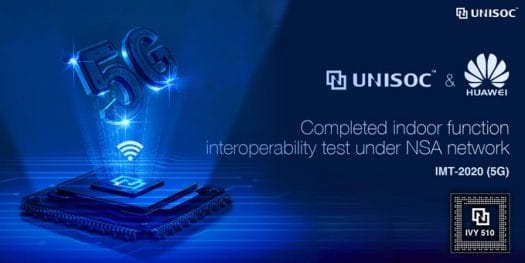 The IVY510 was announced in February of this year at MWC. It is a multimode 2G/3G/4G/5G modem, that meets the 3GPP R15 standard, supports Sub-6GHz 5G spectrum and has a channel bandwidth of 100 MHz. Offering high performance, deeply integrated, low power 5G platform, supporting both SA (standalone) and NSA (non-standalone) network arrangements. The ability to move through different network formations allows the IVY510 to grow through and along with 5G deployment stages.
IMT 2020 International Mobile Telecommunications-2020 requirements are issued by the ITU Radiocommunication Sector (ITU-R) of the International Telecommunications Union, in 2015 for 5G networks, devices, and services.
The 5G Standard is set to be completed in 2020, as that time rapidly approaches UniSoC has neatly secured a place in the sector, especially IoT, with its early entry into the market. There are several other companies, who are planning to enter into this market, or have entered the market, with their own 5G modems:
UniSoC IVY510 will shortly go through the interoperability test under the SA (standalone) network.

Stephen started writing about technology after publishing sci-fi short stories. His first White-Paper, written in 2008, was well received and inspired him to continue writing about technology. Today he writes in the technology space full time, covering a multitude of topics. During the time he wrote part-time he edited hundreds of titles for large publishers, in science and technology. He lives in Staten Island, with his wife and children.