Industrial AIoT
Vecow makes its latest entry into the industrial 4.0 and AIoT application market place with the announcement of the Whiskey Lake-UE based EMBC – 3000 3.5″ SBC and the SPC 5200 slim fanless computer system.  The units are extremely similar, and it would seem the EMBC-3000 is inside the SPC-5200, so there are several options for the system features and setups. Whiskey Lake-UE processors, such as Core i7-8665UE, are the embedded, long-lifespan version of Whiskey Lake-U processors.
Company Background
Vecow has a long history in the embedded industrial computing industry, going back to 2011. Their latest embedded systems are a 3.5 form-factor SBC, the EMBC-3000 and the SPC-5200 slim build embedded computer, both built around the 8th Gen Whiskey Lake-UE processors with 15W TDPs.  The EMBC-3000 are available with i-series or Celeron processors.
EMBC-3000 SBC Intended Uses and Application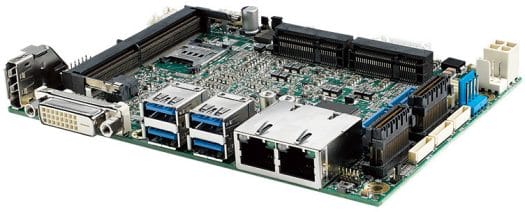 The EMBC-3000 has been developed with machine vision and AGV (Automated Guided Vehicles) in mind, for use in factories, warehouses, distribution centers and other places where there is human and non-human interaction, like M2M, or M2H environments. The applications include factory-automation, intelligent control, and AVG/AGR.  The uses span a wide range of industrial 4.0 and AIoT applications as well.
Specifications 

The units all support DDR4 2400MHz SO-DIMM up to 32 GB and a variety of I/O ports and connectors. There are four USB 3.1 Gen 2 ports with 10Gbps data transfer rates, four COM RS-232/422/485, sixteen isolated DIO,  one SIM card socket, two Mini PCIe slot (8GT/s) and two SATA III (6G) ports. The units support triple displays, through Displayport, DVI-D and the dual-channel 24-Bit LVDS display interface and ports. Designed for a low profile form-factor, to fit inside a robot factory vehicle,  with dimensions of 146mm x 102mm, EMBC-3000 offers full function SUMIT A, B expansion boards for 10GigE LAN, GigE LAN and PCIe slot for graphics cards, USB adaptor, and video card connectivity.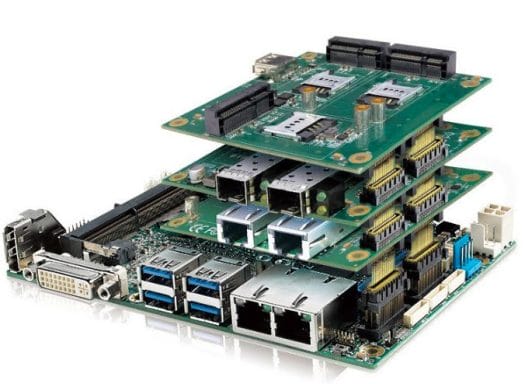 Specifications by Item
Processor — Intel 8th Gen "Whiskey Lake" UE-series Core and Celeron (2x or 4x core @ up to 2.0GHz); Intel Gen 9.5 HD Graphics (24 EU); 15W TDP (configurable TDP of 12.5W to 25W)
Memory — up to 32GB of 2400MHz DDR4 via dual sockets
Storage:

2x SATA 3.0 with the power connector
mSATA available via mini-PCIe (see farther below)

Networking — 2x Gigabit Ethernet ports (Intel I210 and 1219LM with AMT 12.0) with WoL and PXE
Display/media:

DisplayPort up to 4096 x 2304 @ 60Hz
LVDS (24-bit, dual-channel) at up to 1920 x 1200 with backlight connector
DVI-D at up to 1920 x 1200 @ 60Hz
Triple independent display support
Mic-in, line-out interfaces (Realtek ALC892 HD audio)

Other I/O:

4x USB 3.1 Gen 2 host ports at up to 10Gbps
2x USB 2.0
4x RS232/422/485
GPIO, fan connector

Expansion:

2x mini-PCIe (PCIe/USB) slots (1x with mSATA support, 1x with SIM card slot)
Optional SUMIT A and B connectors on the i7-8665UE model for stackable 10GbE, GbE, PCIe/graphics, USB adaptor, or video cards

Other features — Watchdog; HW monitoring; 2x LEDs; optional TPM, heatsink, heatspreader, cables
Power — 9-48V DC; ATX connector; power and reset buttons; ignition control (16 Model)
Operating temperatures — -40 to 85°C; 5% to 95% humidity, non-condensing
Dimensions — 146 x 102mm ("3.5-inch form factor")
Operating system — Linux or Windows 10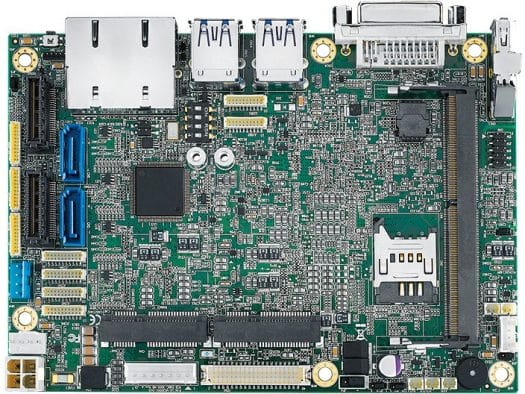 The SPC-5200

The SPC 5200 is a slimline fanless computer system, meant to be used inside other devices or as a stand-alone industrial device. There is a slightly lower operating range for the SPC-5200 -40°C to 70° C.  The dimensions are slightly bigger than the EMBC-3000 due to the enclosure,  246.1 x 53.8 x 44.0mm and there are shock absorption and vibration resistance, which are important during vehicle applications.

Additional Information
There is no pricing or ship date as of yet, for either the EMBC-3000 or the SPC-5200. You may find further details on the respective product pages. The information found in this article was provided in part by the Linuxgizmos article for the two hardware platforms.

Stephen started writing about technology after publishing sci-fi short stories. His first White-Paper, written in 2008, was well received and inspired him to continue writing about technology. Today he writes in the technology space full time, covering a multitude of topics. During the time he wrote part-time he edited hundreds of titles for large publishers, in science and technology. He lives in Staten Island, with his wife and children.