Sania Box, A Special Kind of DIY RPi4 Based Kit
The 13-year-old Sania Jain is a young entrepreneur, published writer and tech aficionado who now offers an embedded computer kit called Sania Box. The Raspberry Pi 4 based embedded system kit comes with an add-on board and has been designed to develop coding skills in anyone 8 years old or more, and for learning IoT, STEM, and for all kinds of DIY fun.
Background
Some DIY RPi-based kits can be found in our archives, such as the Piper Computer Kit 2 made for children's education, but there's now another option thanks to Sania Jain who has been designing, building, and writing in the STEM arena for some time.
Sania Jain's accomplishments are amazing, and look to be just her beginning in STEM-based endeavors.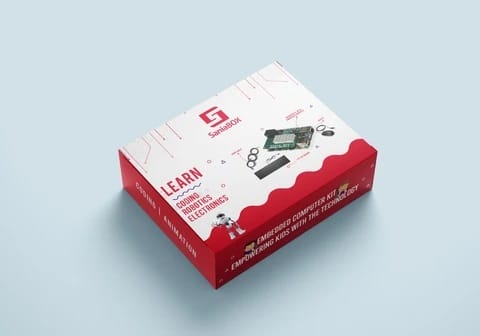 A Concept With Wide Reach
The Sania Box was conceived by Sania Jain and built by Moonshot Jr Inc, who is a bit mysterious but headquartered in Silicon Valley. The Kickstarter campaign has been somewhat popular and their goal is nearly reached as of this writing.
The Basics of Sania Box
The box works with either Raspberry Pi 4 or 3 SBC with an add-on board, that has a number of different optional attachment choices:
Red and Green LED Lights
Three-digit – 7 Segment Display
Light Sensor
Gas Sensor
Thermal Sensor
Touch Sensor
Relay and Audio Buzzer
Safe and Fun
The add-on board is designed to be safe, and cable-free, where cable connections could be unsafe for children, Sania Box is safe for children and environmentally friendly.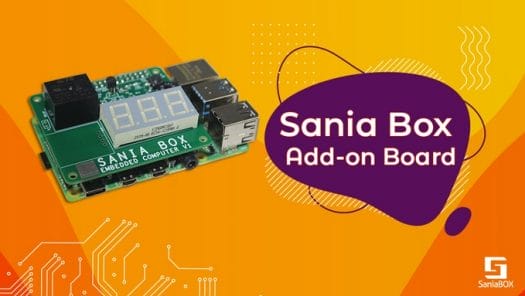 Sania Box and Python Education
The Sania Box relies on Python to teach programming. Python has been selected because it allows younger coders to learn more easily. The language choice is only recommended as Sania Box can use any language supported by the Raspberry Pi.
The Premise of Sania Box
Sania Box is an initiative meant to help children learn computer engineering and development, as well as coding, IoT, and electronics. The projects that can be built with the Sania Box are meant to be fun and educational and reach many layers of children's lives, such as school, home, aftercare/enrichment centers, museums, and activity centers.
The price point of Sania Box shows it has been developed with accessibility in mind, and rather than building a profit margin, it aims to be a sustainable educational tool.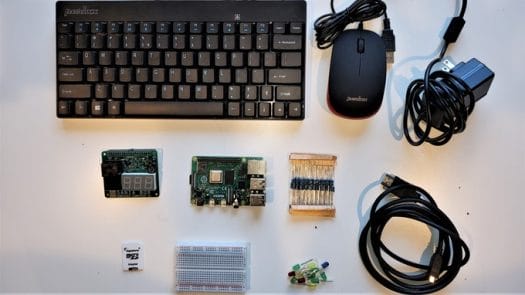 In the box
Wired keyboard and mouse
Custom Case
USB-C Power supply
16 GB SD card with pre-loaded software to help you start programming out of the box
HDMI cable to use a TV as your monitor
A Raspberry Pi Model 4 with 1 GB Ram and 64-bit quad-core processor to power the add-on board
The Sania Box embedded add-on board has the following features:
2 LEDs (Red and Green) that can blink, keep steady, and turn off
Push Button
Thermal Sensor
Touch Sensor
Three-digit, 7-segment clock display
Relay Circuit
Light Sensor
Gas Sensor (CO2, methane, etc)
Just to refresh your memory
CPU – Broadcom BCM2711, Quad-core Cortex-A72 (ARM v8) 64-bit SoC @ 1.5GHz.
RAM – 1GB LPDDR4-2400 SDRAM
WiFI – 2.4 GHz and 5.0 GHz IEEE 802.11ac wireless, Bluetooth 5.0 BLE.
Ethernet – Gigabit.
USB – 2x USB 3.0 ports; 2x USB 2.0 ports.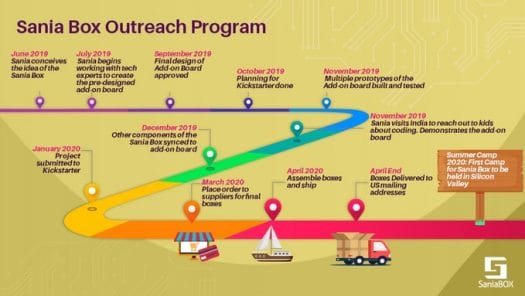 Pricing and Delivery
At this time there is a $149.00 basic level Coders Edition for everything included. There are other offers for $129.00 Pledge for the first 200 boxes, but the initiative is accepting donations for the program to inspire coding and STEM in general. The project can be found on Kickstarter and April 2020 is the proposed shipping date.

Stephen started writing about technology after publishing sci-fi short stories. His first White-Paper, written in 2008, was well received and inspired him to continue writing about technology. Today he writes in the technology space full time, covering a multitude of topics. During the time he wrote part-time he edited hundreds of titles for large publishers, in science and technology. He lives in Staten Island, with his wife and children.