Last year, Rockchip had a presentation in China where they highlighted their processor roadmap for 2020, and we learned about processors such as Rockhip RK3588 Cortex-A76/A55, RK3530 Cortex-A55 SoC's, and RV1109 camera processor, but we had limited details about the processors at the time.
CNX Software has now received a more detailed roadmap that reveals some of the specifications about the new processors, and some Rockchip products that people may not be aware of such as a 3D structured light module and a 4G module.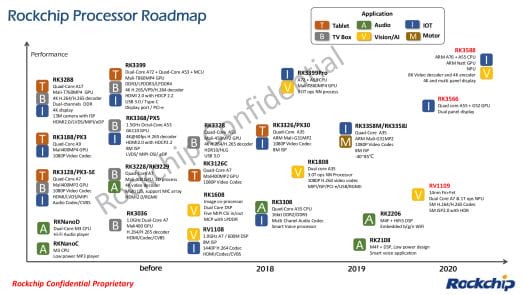 Rockchip RK3566
Rockchip RK3530 is not shown in the roadmap, but there's a similar RK3566 processor, so I assume the company just changed the name.
Rockchip RK3566 specifications:
CPU – Quad-core Arm Cortex-A55 @ 1.8GHz
GPU – Arm Mali-G52 2EE
NPU – 0.5 TOPS with support for INT8/ INT16
Multi-Media

8M ISP 2.0 with 3F HDR(Line-based/Frame-based/DCG)
Support MIPI-CSI2,4-lane
1080p60 H.265, H.264 encoding
4K H.264/H.265/VP9 60fps video decoder
DVP interface with BT.656/BT.1120

Memory – 32-bit DDR3L/LPDDR3/DDR4/LPDDR4/LPDDR4X
Storage – eMMC 4.51, NAND Flash, SFC NOR flash, SATA 3.0, SD card via SDIO
Display

Support Dual Display
MIPI-DSI/RGB interface
LVDS/eDP/DP
HDMI 2.0

Audio – 2x 8-ch I2S, 2x 2-ch I2S, PDM, TDM, SPDIF
Networking – 2x RGMII interfaces (Gigabit Ethernet) with TSO (TCP segmentation offload ) network acceleration
USB – USB 2.0 OTG and USB 2.0 host; USB3.0 HOST
Other peripherals

PCIe
3x SDIO 3.0 interface for Wi-Fi and SD card
6x I2C, 10x UART, 4x SPI, 8x PWM, 2xCAN interface
The processor targets Internet of Things applications and should be available in Q2 2020.
Rockchip RV1109
Rockchip RV1109 was unveiled last April, and we have some extra information about the processor:
CPU – Dual-core Arm Cortex-A7 @ 1.0GHz
NPU – 1.0TOPS with support for INT8/ INT16
Memory – 32-bit DDR3/DDR3L/LPDDR2/LPDDR3/DDR4/LPDDR4
Storage – eMMC 4.51, Serial NOR Flash with fast booting support, SD card via SDIO interface
Display – MIPI-DSI/RGB interface up to 1080p @ 60 FPS
Audio – 8-ch I2S with TDM/PCM, 2-ch I2S
Multi-Media

13M ISP 2.0 with 3F HDR(Line-based/Frame-based/DCG)
2xMIPI CSI, LVDS, sub-LVDS
4K H.264/H.265 video encoder: 3840 x 2160 @ 30 fps + 720p @ 30 fps encoding
4K H.264/H.265 30fps video decoder
3840 x 2160 @ 30 fps encoding + 3840 x 2160 @ 30 fps decoding support
DVP interface with BT.656/BT.1120

Networking – RGMII interface with TSO network acceleration
USB – USB 2.0 OTG and USB 2.0 host
Other Peripherals

Dual SDIO 3.0 interface for Wi-Fi and SD card
I2C/UART/SPI interface

Process/Package – 14nm FinFET, FCCSP 0.65
Rockchip RV1109 should already be available (launch in Q4 2019), and found in vision/AI applications such as IP cameras.
Rockchip RK3588
The new roadmap document does no provide much more info about RK3588, but the high-end processor from the company that was initially expected in Q1 2020 has apparently been delayed to Q3/Q4 2020.
Key features for RK3588:
CPU – 4x Cortex-A76 and 4x Cortex-A55 cores in dynamIQ configuration
GPU – Arm "Natt" GPU
NPU 2.0 (Neural Processing Unit)
Multimedia – 8K video decoding support, 4K encoding support
Display – 4K video output, dual-display support
Processor – 8nm LP
Natt is a goddess from Norse mythology, so it must be a new unannounced architecture for Arm Mali GPU. The last unknown Arm GPU architecture is Valhall found in Mali-G77 for example.
Support for Automotive & Industrial Temperature Ranges
Rockchip processors also support wider temperature range from the usual consumer temperature range, to the extended "commercial grade" found in "K" variants such as RK3399K, and now there are some processors supporting automotive/industrial temperature range (-40 to 85°C) as well.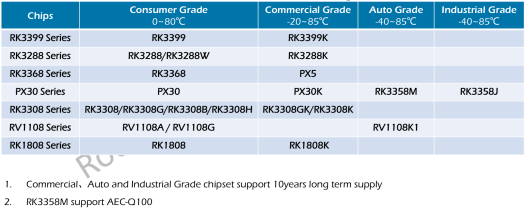 Some of the names are fairly confusing, as we were told PX processors are for automotive (infotainment), but none of their automotive-grade processors are PX processors.
RK3358M/J processor was launched in 2019 for IoT and automotive applications and comes with four Arm Cortex-A35 cores, and an Arm Mali-G31MP2 GPU.
Rockchip Modules
There are also a bunch of modules but I'm not convinced they are based on Rockchip IP, as for the 4G module at least, they probably went with either a Qualcomm, UNISOC or MediaTek solution.
Rockchip RM310 4G module supports download rate of up to 100 Mbps and upload rates of up 50 Mbps.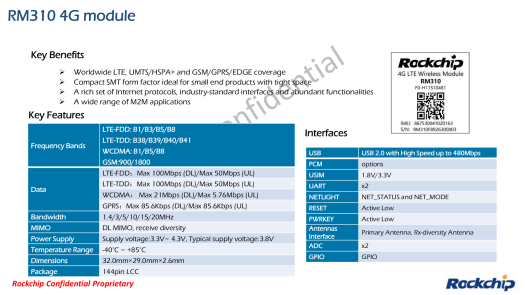 Rockchip RMSL201 3D structured light module should be designed for computer vision applications for face recognition, robotics, or virtual reality applications.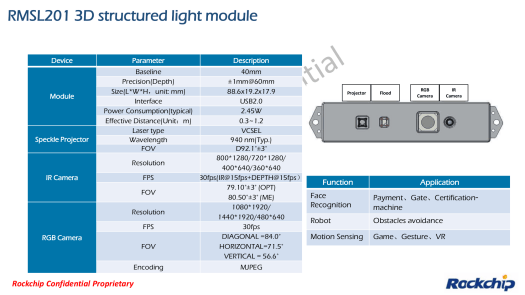 We highlighted some of the most interesting details in this post, but you may find more details in the roadmap (PDF).

Jean-Luc started CNX Software in 2010 as a part-time endeavor, before quitting his job as a software engineering manager, and starting to write daily news, and reviews full time later in 2011.