[Update November 7, 2020: Correction for the meaning of "multi-OS support" on Arm Cortex-A78AE core]
Arm Cortex-A78 CPU core was first introduced in May 2020 with a focus on mobile devices like smartphones and was followed by Cortex-A78AE for automotive and industrial embedded applications in September.
The company has now introduced a new variant with Arm Cortex-A78C supporting up to eight cores per cluster, a larger cache up to 8MB for higher performance, and advanced security features all designed for always-on laptops and other "on-the-go" devices.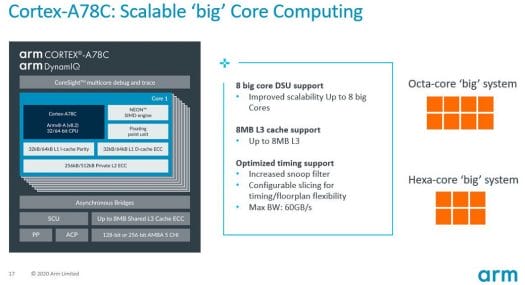 Arm Cortex-A78C key features and specifications:
Architecture – Armv8-A (Harvard)
Extensions – Armv8.1, Armv8.2, Cryptography, and RAS; Armv8.3 (LDAPR instructions only), Armv8.3-A and Armv8.6-A Pointer Authentication support (excluding the optional FPAC extension), and Armv8.4 multi-OS support
ISA support – A64, A32, and T32 (at EL0 only)
Microarchitecture

Pipeline – Out of order
Superscalar
Neon / Floating Point Unit
Optional cryptography Unit
Max number of CPUs in cluster – 8 (instead of 4 max for Cortex-A78)
Physical Addressing (PA) – 40-bit

Memory system and external interfaces

32KB to 64KB L1 I-Cache / D-Cache
256KB to 512KB L2 Cache
Optional 512KB to 8MB L3 Cache (instead of 4MB max for Cortex-A78)
ECC and LPAE support
Trustzone security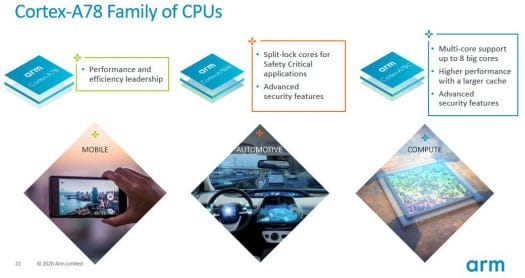 Arm explains:
These enhanced features are ideal for enabling high performance, heavily threaded workloads, such as 'physics' in gaming and professional productivity applications. When combined with Mali GPUs, the 8 core configurations extend and enhance the all-day gaming capabilities. Mali-G78 provides the graphics performance and battery life improvements to support the drive for more immersive gaming experiences on-the-go for longer. Meanwhile, the L3 cache improvements empower developers to bring enhanced gaming experiences, such as AAA gaming, to next-generation devices.
All those improvements will provide increased performance in laptops, likely at the cost of higher power consumption, but considering Arm laptop often get over 20 hours of battery life, it may be a worthwhile compromise to lose a couple of hours of battery life for higher performance.
Point Authentication (PAC) support enables improved security by reducing Return-Orientated-Programming (ROP) and Jump-Orientated-Programming (JOP) exploits by over 60 and 40 percent respectively. You've probably already booted several OS on Arm devices and may wonder what "Armv8.4 multi-OS support" is all about. The answer appears to be two-fold:
Secure EL2 to enable multiple Secure OS services to exist in the system alongside one another.
Improvements in the handling of nested-virtualization that yields significant performance benefits when the guests are not using para-virtualization
[Update: Arm explains that "multi-OS support" is not about virtualization and Secure-EL2 but is a name for the following set of features: ARMv8.4-RCPC, Armv8.4 enhancements to weaker release consistency ARMv8.4-CondM, Condition flag Manipulation]
More details may be found on the announcement and developer page.

Jean-Luc started CNX Software in 2010 as a part-time endeavor, before quitting his job as a software engineering manager, and starting to write daily news, and reviews full time later in 2011.