A week before the announcement that Raspberry Pi supported industrial customers through several new services, including a dedicated website for the industry and the Raspberry Pi Approved Design Partners program, OAS announced support for deploying the Open Automation Software Platform on Raspberry Pi 4 with 4GB or 8GB of memory. The solution enables the low-cost scaling of operations and "reliable on-site data logging in remote locations with limited power and connectivity".
As you may know… or not, OAS has provided IIoT solutions for the last 20 years and is widely used since the company offers secure moving of data from one location to another.
Network Configuration Possibilities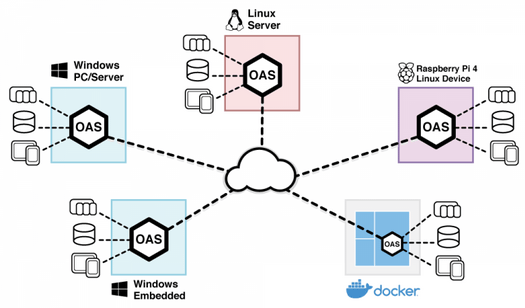 The platform offers support for Windows PC/Server, Windows Embedded, Windows IoT, Linux Server, Virtual Machines (Win/Linux), Raspberry Pi 4, and Docker Containers (Win/Linux). "These systems can be networked together and share data creating endless network configuration possibilities".
The OAS platform running on the Raspberry Pi 4 has opened various new possibilities, one of which is reading and writing real-time data. With this, the data from many Raspberry Pi devices can be collected into a central OAS Engine and even shared directly with each other, as shown in the reference image above. The Raspberry Pi 4 can also be used in areas with limited power or internet access with an external hard drive to collect data using the OAS Data Historian for several years. This means that you can now deploy and run in remote locations with the help of solar panels.
A system developer at OAS says, "With this latest development, our platform can work on virtually any platform in any form factor such as Windows PC/Server, Linux, Windows IoT, Virtual Machines (Win/Linux), Raspberry Pi 4, and more. This will also allow connectivity to Allen-Bradley, Siemens S7, Modbus, OPC UA devices, as well as IoT cloud services like Azure."
Advantages of the Open Automation Software Platform on Raspberry Pi
High-speed data logging to open formats on MS SQL Server, Oracle, MySQL, SQL Azure, PostgreSQL, Cassandra, MongoDB, MariaDB, SQLite, InfluxDB, and CSV files
Connectivity to Allen-Bradley, Siemens S7, Modbus, OPC UA devices and servers
Connectivity to IoT cloud services such as AWS IoT and Azure IoT
Built-in high-speed MQTT Broker.
Alarm logging and notifications via SMS, email, and voice
Host live and historical data for visualization HMIs or applications for .NET or Web environments
Fully customizable via SDKs in .NET, Web, and any other language using the built-in REST API
Live Data Cloud network and self-hosting data servers.
More information
You can now download the 30-days trial of the Open Automation Software Platform for Raspberry Pi for free by filling out the form on the OAS website.
Via LinuxGizmos

Abhishek Jadhav is an engineering student, RISC-V Ambassador, freelance tech writer, and leader of the Open Hardware Developer Community.