This post is about updates to CNX Software website. If you have subscribed to receive daily digests by email through Feedburner, it's not going to work anymore very soon, as Google plans to terminate the service in July. I've implemented another solution, which I'll explain in more detail below.
Up to now, I maintained three versions of the website: desktop, mobile, and AMP. This was kind of a mess, as I had to manually update some plugins. Google is also sending much less traffic than before for some unknown(s) reason, so I'm working on modifying the website with a responsive design just like the Chinese version of the website that will allow me to serve only one version of the website to all devices. But it does not look as nice as it could right now.
Email subscriptions
There are currently a little over 1,000 people who have subscribed to receive CNX Software news by email. The service will be discontinued soon, so I had to find an alternative. I end up using a service called follow.it as it's free with an unlimited number of users.
While I could export Feedburner emails into Follow.it, I'd rather not do that without consent, so people wanting to continue receiving updates by email would have to resubscribe through the new service. On desktop, you'll find the subscribe box on the top sidebar, while on mobile it's after the list of posts on the main page or the comments section on single posts.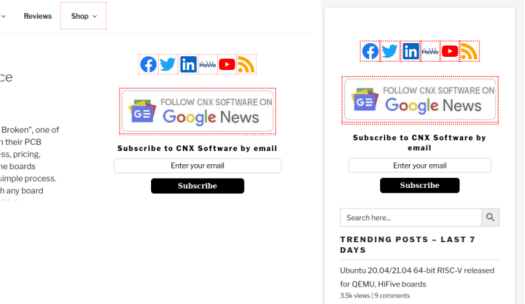 All you'd need to do is to enter your email and click Subscribe. You'd then receive an email from follow it, and you need to confirm your subscription by clicking on the link in the email. You'd then received a daily email with a list of posts published within a 24-hour period.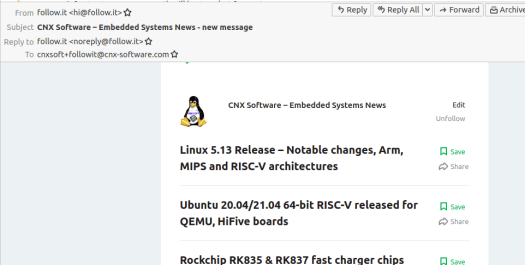 I've been using it for a few days, and I didn't have any issues, and no spam, but note that the service will send an email at the time a user subscribed. So if subscribed at 14:00, you'd receive an email every day at that time, provided I've published some content. I post a piece of news at 14:15, it will be included in the email the next day.
Responsive Design
The reason I'm writing about the changes here is to let people report any issues they have with the website. I don't expect much change on the desktop side, but in the mobile version, it may not be another story.
For anything related to the GDPR/CCPA window or programmatic ads, please also provide information about the device, OS, browser, and country. Screenshots would be ideal in any case.
I've already received some useful complaints, which I'll document below:
Q1 : Social login to this comment section box still does not work, Facebook responds with "URL Blocked: This redirect failed because the redirect URI is not whitelisted in the app's Client OAuth Settings. Make sure Client and Web OAuth Login are on and add all your app domains as Valid OAuth Redirect URIs."
A1: Noted, I'll need some time to work on it. [Update Jul 4: Fixed]
Q2: On mobile, "UniConsent" pops up on almost every visit, even if I hit "Agree and proceed".
A2: I've notified the company that helps me, and they can't reproduce the issue. They further included some potential workarounds
CMPs use cookies to remember user's consent. Most probably the user's browser does not keep the cookie from UniConsent. Possible causes:
the user agent indicates that the user is using Firefox. Firefox by default has enabled tracking protection and might be deleting third party cookies. The user should make sure that third party cookies are allowed

if the user is browsing in incognito mode (safe mode) the cookie is not saved and the CMP pop-up will be displayed every time

if the user clears the cookies the CMP pop-up will be displayed
Q3: Also on mobile, this new "white-on-white" theme is atrocious, shows less information per post than previous ones and it's hard to see borders of elements.
A3: That will be the trickiest one to solve. It may depend on font settings, browser, resolution, etc… For instance, this is what the mobile website looks like on my phone in Chrome.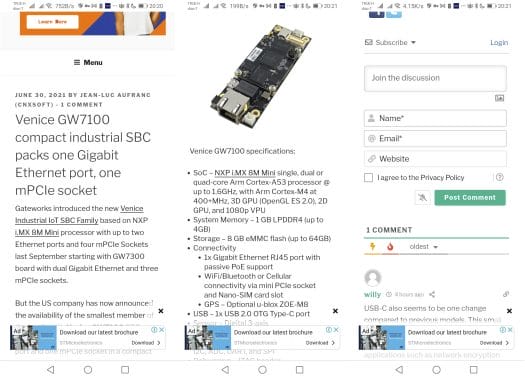 This looks fine to me, and we've tested the theme on multiple devices, and responsive mode in Firefox and Chrome. So If there's any issue with the website on your device, it would be nice to report the model number, browser, OS, etc… and screenshots would be ideal. If you rather not leave a public comment there's always the contact form.
Thanks for visiting CNX Software, and bearing with me while I sort out the issues.

Jean-Luc started CNX Software in 2010 as a part-time endeavor, before quitting his job as a software engineering manager, and starting to write daily news, and reviews full time later in 2011.