Short story: CNX Software is now available in Chinese at CNX SOFTWARE中文站—嵌入式开发者的新闻知识库! thanks to a collaboration with RAKwireless.
And now for the longer story. I was born in a small town in the middle of France on the morning of a snowy spring day. Alright, maybe I'll skip the part about my childhood 🙂 I've been writing a lot about Chinese processors, boards, and other electronics products over the years, but my story with China started in November 2002 when I went to Shenzhen to work for a French company spending my time developing hardware and software for CD and DVD players. Eventually, I worked for Hong Kong companies with offices in Guangdong province and Hong Kong for products like VoIP phones, and later IPTV boxes as well as Karaoke systems.
But when I moved to Thailand for personal reasons in 2010, CNX Software was already running as a backup plan, and I wrote a bit about some of the software work I did previously, and eventually mostly switched to new products announcements, tutorials, and reviews, with many of the products coming from China, notably Android TV boxes. In the early years of CNX Software, I ended up receiving a product sample almost weekly mostly from China, and the vast majority of CNX Softwawe's advertisers/sponsors come from mainland China, or even more when including Greater China.
So last December, I thought I should investigate whether it could make sense to translate the website into Chinese. But based on the data I got from my display partner, making the site profitable seemed not impossible, but let's say challenging, and I would have had to host it in Hong Kong, Singapore, or Japan, as physically hosting a website in China can only be done through a company registered in mainland China.
But sometimes fate is really amazing. Six days after I started investigating, I received an email from Ken Yu, RAKwireless founder and CEO, entitled "Partnership idea". Since RAKwireless is an advertiser and I reviewed RAK811 LoRa GPS Tracker Board a while ago, I was expecting something along those lines, but that email was quite different from what I had expected, reading in part:
We would like to share IoT and hardware knowledge with the China market, through a WeChat channel. We believe your type content will be a great fit for the Chinese market, and I am wondering if you would be interested in a partnership where we become the 'official translator' of your blog in China?
I was not too sure about posting on WeChat only, but eventually, we worked things out and this happened!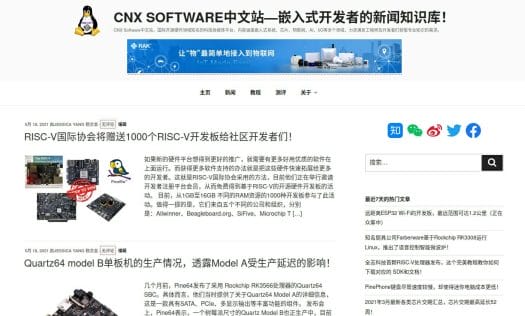 Yes, that right! CNX Software is now available in Chinese thanks to the great team at RAKwireless including Ken, Roy, Jessy, Nicholas, and others with at least 10 people involved on RAKwireless side. It took around 5 months to launch the website as it took time to understand each other expectations, sort out the legal issues, then some technical issues to make sure the website works well both in China and the rest of the world, and finally translate some content into Chinese.
RAKwireless is managing the infrastructure for the website, the translation of articles, as well as social networks in China, and you may also expect original articles in Chinese in the future.
While the best way to get news is to go to the website directly, we've opened several social media account for users in China and in the rest of the world including Zhihu, WeChat (See QR Code below), Weibo, Facebook, and Twitter that will share a summary of the posts and link back to CNX Software China.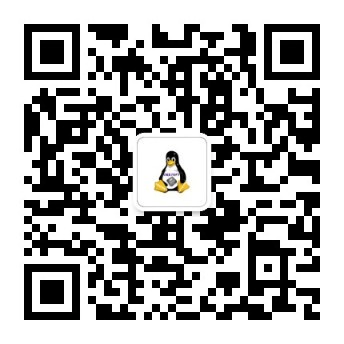 We're also trying to apply for Google News, and comments are not working just yet, as we'll need to implement login through WeChat to comply with the PRC regulations. Eventually, we'll also accept advertisers as I do on this very website, once traffic warrants it, meaning companies wanting to targets North American, European, and Chinese markets would be able to advertise through both websites. We've tested the site extensively on our side, but if you have issues on your device, please let us know in the comments section, and we'll do our best to fix it.
Now you may wonder why I wrote "去赶潮!" in the title.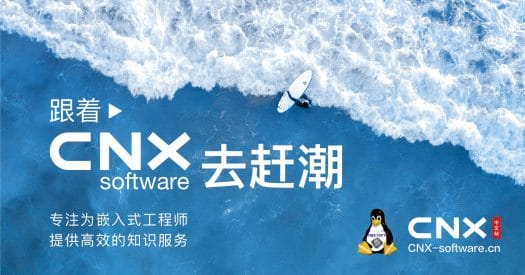 That's because RAKwireless created a social media banner including the words 去赶潮 that read "Qù gǎn cháo" and mean "Catch the tide" in reference to embedded news & information.
I'd like to thank RAKwireless for making this possible, I hope CNX Software readers who can read Chinese will enjoy both versions of the website, and this will help further raise awareness of the news published by CNX Software.

Jean-Luc started CNX Software in 2010 as a part-time endeavor, before quitting his job as a software engineering manager, and starting to write daily news, and reviews full time later in 2011.