Arm China (安谋科技) has apparently split from Arm Holdings in an interesting saga. Last year we noted Allwinner R329 processor featured Arm China AIPU with 256 MOPS. But this AI accelerator was nowhere to be found on the official Arm website, which seemed odd.
But it appears there have been conflicts with and within Arm China for a while. Allen Wu, who was President of ARM Greater China, Member of the Executive Committee between 2014 and 2018, and has been Chairman and CEO, Arm Technology (China) since April 2018, has set up an investment fund called Alphatecture Hong Kong Ltd in 2019 in order invest in Bestechnic, an ARM licensee and developer of audio chips, reaping hundreds of dollars in profit for himself.
Arm Technology (China)'s board of directors was not impressed and voted 7 to 1 on June 4, 2020 to dismiss him, but Allen refused to leave since he still holds the company's seal, and he remains the legal representative of the company according to the Chinese law. There's a legal process to retrieve the company's seal, but it can take years.
A recent Semianalysis article by Dylan Patel goes further claiming Arm China is now an independent company from Arm. It all started when SoftBank formed a joint venture where Arm Limited and the SoftBank subsidiary sold a 51% stake of the company to a consortium of Chinese investors with the venture having the exclusive right to distribute Arm's IP within China. They lost control of the company that way, but it was probably due to regulations as this type of law is common in Asia, and for instance, CNX Software Limited is a Hong Kong company instead of a Thai company, as foreigners can own up to 49% of a company, except for some expensive and time-consuming options.
Back to Arm China. The joint venture recently gave a presentation to the where they had plans to rebrand, develop their own IP, and operate independently from Arm. This is easy to see why once we learn the rest of the story… With the "power of the seal", Allen Wu ousted executives that were loyal to Arm and kept them out of the building with hired security. Arm stopped providing IP to Arm China, and Cortex-A77 core is the latest Arm IP available to Arm China. Neoverse, Armv9, Cortex-A78, and all other recent IP have not been shared with the Chinese entity.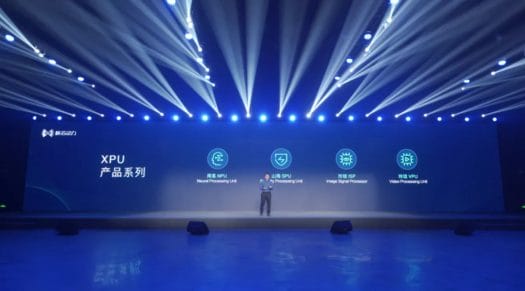 Arm China also unveiled the XPU family with IP blocks including NPU AI accelerators, secure processing units (SPU), image signal processor (ISP), and video processing units (VPU), but no CPU cores that I could see. It's going to be interesting to see how Chinese vendors like Allwinner or Rockchip will be able to use newer technology from Arm. The companies do not typically rely on high-end (and expensive) cores, but the Arm Cortex-A510 Armv9 core would certainly have to be part of their roadmap for the next few years. Can Arm China block those designs in China, or on the reverse, would Arm decide to block designs based on Arm China IP stealing their IP to enter markets outside of China. It just feels like a lose-lose situation at this point.
Thanks to TLS and Zoobab for the tip.

Jean-Luc started CNX Software in 2010 as a part-time endeavor, before quitting his job as a software engineering manager, and starting to write daily news, and reviews full time later in 2011.