I was first introduced to Wirepas Massive mesh networking a few days ago when I covered Solidrun Solidsense N8 IoT Compact Wirepas Massive gateway comprised of an NXP i.MX 8M Nano processor running Linux and a module based on Nordic Semi nRF52832 wireless MCU handling Wirepas Massive through its 2.4 GHz radio.
It turns out there's an easy way to add the new mesh networking technology to existing gateways: USB dongles. Fujitsu has launched the FWM8BLZ09x Wirepas Massive USB dongle family, based on the more recent nRF52833 SoC, with Anchor, Tag, and Sink models.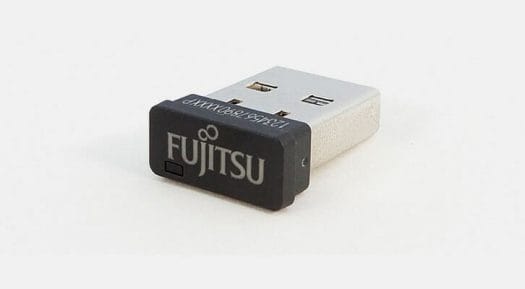 Fujitsu FWM8BLZ09x specifications:
USB Dongle Types

Anchor – FWM8BLZ09P
Tag – FWM8BLZ09T
Sink – FWM8BLZ09S

Wireless MCU – Nordic Semi nRF52833-CJAA Cortex-M4 microcontroller @ 64 MHz with 8 KB RAM, 512 KB Flash, 2.4 GHz radio
Connectivity

Wirepas Massive mesh networking
Transmit power – +8dBm max.
Carrier frequency – 2,400MHz to 2,483.5MHz
Modulation – GFSK
Symbol rate – 1 Mbps
Modulation index – 0.5
Number of channels – 40 channels
Channel spacing – 2 MHz
Embedded antenna

Host interface – USB 2.0 Type-A port used as a data port for the Sink model only, as it's only used for power for the Tag and Anchor versions.
Temperature & Humidity Range – -30°C to +60°C / +20 to +80% RH (no frost)
Dimensions – 17.5 x 14.2 x 6.6 mm
Weight – About 2 grams
Certifications (planned) – Radio Act Japan, FCC, ISED, CE, RCM, RSM
The Sink model is used for gateways that can support Wirepas Massive
Gateway software, which should be any Linux capable gateways with a free USB host port including Raspberry Pi boards based on the Wirepas gateway software released on Github. The Tag and Anchor versions are nodes in the mesh network that just plug into a device for power for "Smart Tracking".
What's the difference between a Wirepas Tag and a Wirepas Anchor though? We asked Wirepas, and Alan Sillito, Head of Global Key Accounts, explained to us that Anchors are plugged into a fixed location such as light fitting or a USB charger, while Tags are plugged into moving objects such as a laptop. We also learned that the hardware for the three models is identical, and the only difference is the software. The video below showcases how Tags and Anchors join the mesh network.
When I first looked into Wirepas Massive last week, we noted it was for large scale IoT deployments such as smart metering, automation, asset tracking, safety & security, and smart buildings. What I didn't get is that "Smart Tracking" is built into the Wirepas protocol, and it does not rely on GPS location for example, and it does not look like Bluetooth 5.1 direction finding which requires multiple antennas in the gateway.
Wirepas Smart Tracking relies on signal strength (RSSI) to estimate the location of a tag relative to the anchors. Wirepas has a post dedicated to Smart Tracking, and although they do not explain how it works exactly, they do list some of the benefits and capabilities:
The infrastructure cost required to deploy a Wirepas smart tracking is insignificant – a hundred times less than an RFID infrastructure and requires no human intervention
Every tag can provide the location, sensing and can communicate in both directions
An inventory of up to 5,000 devices with 100% accuracy can be detected in under a minute
Tags and Anchors only require power, and in the case of USB dongles, can be installed by anybody
Applications are also interesting with detection of theft of goods in a shop or a truck, inventory management, finding assets such as a car in a large dealer's parking lot, improving efficiency in hospital settings as nurses may find the right asset, be it a bed or equipment, faster, safety and efficiency for construction workers, etc…
The Fujitsu USB dongle will be only useful for location tracking, because it does not contain any sensors, except potentially when connected to a gateway. But what's interesting is that if you already have Bluetooth location tags based on Nordic Semi or Silicon Labs MCU, they can be probably turned into Wirepas nodes through a firmware upgrade, although I don't know the business requirements to do so. For example, I can see the Ruuvi Tag introduced 5 years ago supports Wirepas.
Fujitsu FWM8BLZ09x Wirepas Massive USB dongle is available now, but at an undisclosed price. For reference, SolidSense N8 IoT Compact gateway only costs $10 extra with a Wirepas Massive module, so I'd expect similar pricing for the USB dongles, and even less in quantities. More information may be found in the press release.

Jean-Luc started CNX Software in 2010 as a part-time endeavor, before quitting his job as a software engineering manager, and starting to write daily news, and reviews full time later in 2011.