Bench DC power supplies are usually adjusted with some buttons and rotary encoders, but RIDEN RD6012P DC power supply can be controlled from your PC via USB, and there's RD6012P-W model that adds a WiFi module to adjust parameters from a smartphone running Android or iOS.
Besides the "smart" functions, the bench power supply supports 0V to 60V voltage range and up to 12A current for a maximum of 720W output power and comes with an HD color display with 5 digits for each voltage, current, and power measurement, and a setup menu.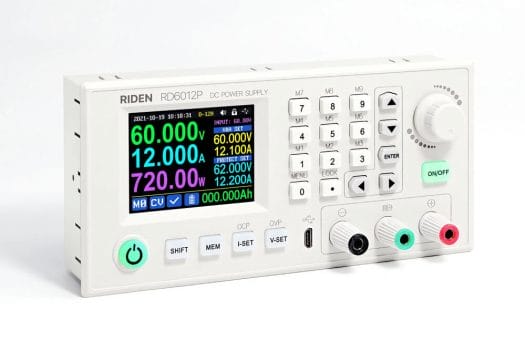 RIDEN RD6012P(-W) power supply specifications:
Display – 2.4-inch color HD display with adjustable brightness
Host interface – Micro USB port and optional WiFi module (fitted to RD6012P-W model)
Input voltage – 7 – 70.00V with 0.01V resolution, ±(1% + 5 digits) accuracy
Output voltage – 0 – 60.000V with 0.001V resolution, ±(0.5‰ + 4 digits) accuracy
Output current – 0 – 12.000A with 0.0001A (6A range) or 0.001A (12A range) resolution, ±(1‰ + 6 digits) accuracy
Output power range 0-720.00W
Battery voltage measurement – 0.01V resolution, (±0.5% + 3 digits) accuracy; Note: Green terminal on device.
Selectable automatic cut off current value when charging
External temperature sensor – Range: -10°C to 100°C with ±3°C accurary
Output ripple voltage – 20mV VPP
Constant voltage mode – response time: 2ms with 0.1A-5A load; load regulation: ±(0.1% + 2 digits)
Constant current mode – load regulation: ±(0.1% + 3 digits)
Capacity measurement range – 0 to 9999.99Ah
Energy measurement range – 0 to 9999.99Wh
Max output voltage – (input voltage÷1.1) – 2
Cooling fan start condition – Output current > 4A or system temperature > 50 °C
Overheat protection – System temperature > 80 °C
Dimensions – 167 x 81 x 65 mm
Weight – about 660 grams
Operating temperature range – -10°C to 40°C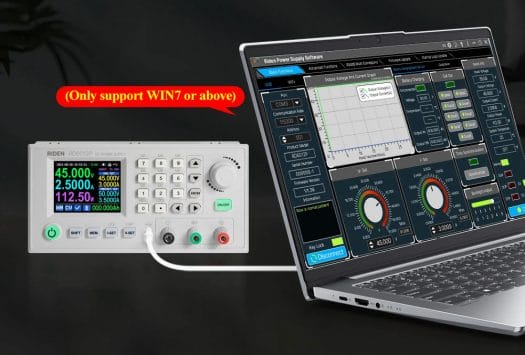 The PC software appears to only be available for Windows and you'll find the download link and instructions on Google Drive. The company (or Banggood) advise people to test the power supply the first time in case of damage during transportation:
When get the PSU, please use multimeter to check if the real output voltage is stable and fits the rated voltage, to see if it is damaged on the way, if the output is abnormal, please contact us, do not connect it to RD power supply to avoid more loss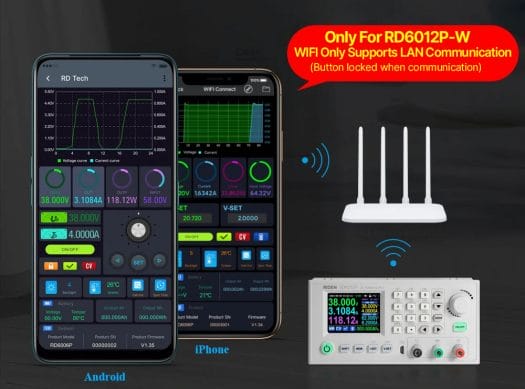 They are also brutally honest about the WiFi function:
WiFi connection is a test function, due to poor compatibility of some computers, if you cannot connect PC software via WiFi, please ignore this function. For this function, we do not provide any guarantee and technical support, and we will decide whether to keep this function based on customer feedback.
It does not inspire confidence, but I do appreciate the honesty. There are good reasons for the warning, as the RdPower mobile app reviews are rather mixed both for the Android and iOS versions, although people seem to be happy with the DC power supply itself. Here's one example of review:
I love the product but the app just rubbish I wish I didn't pay the extra money for the wifi module right now it feel so bad to use the app, really bad connection even though the wifi right next to the rdpower it keep disconnected and won't connect till I switch the rd off or rest the wifi settings in the rdpower, please fix it, please I love rd products, I'm give it 5star when this app work flawless.
There must be some interference with the ESP-12S (ESP8266) WiFi module inside the power supply. The user manual also shows an RS485 module, but the company says it's not for sale right now, and you should contact them if you are interested.
RIDEN RD6012P and RD6012P-W power supplies are available now for $95.99 shipped on Banggood, and somehow the price is the same with or without WiFi. [Update: As noted in the comments, the device doesn't contain a case, a power source, and cables, so those would have to be purchased separately].

Jean-Luc started CNX Software in 2010 as a part-time endeavor, before quitting his job as a software engineering manager, and starting to write daily news, and reviews full time later in 2011.