STMicroelectronics' Intelligent Sensor Processing Unit (ISPU) is a single chip that combines a MEMS sensor together with a Digital Signal Processor (DSP) designed to run AI algorithms to let the chip make electronic decisions "in the edge" without help from the cloud or a local gateway.
The ISPU is said to offer a smaller size compared to system-in-package devices, cut power consumption by up to 80%, and according to STMicro, launch the new "Onlife era" following the "Offline era" of the 2000's where sensors were controlled by MCUs without network connectivity and the "Online era" in the 2010's when sensors became connected to the cloud or a local gateway.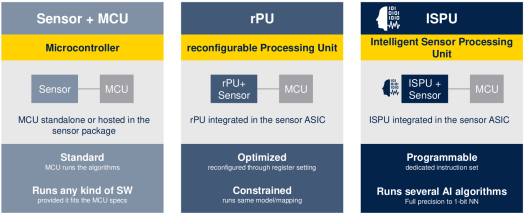 ISPU key features:
Enhanced 32-bit RISC Harvard architecture
Extensible at the chip design phase with dedicated instructions or HW components
Frequency / ODR (Output Data Rate) max – 5 MHz / 3.33 kHz – 10 MHz / 6.66kHz
Four-stage pipeline
16-bit variable length instructions
20-bit addressing space
Fast interrupt response: 4 cycles vs. 15 (Cortex)
Single-cycle 16-bit multiplier
Full precision FPU
Binary Neural Network with convolution acceleration
40 kB RAM for program + execution
Area – Down 8 kgates
Standard package – 3 x 2.5 x 0.83 mm for pin-compatibility with earlier sensors
Power savings – 5-6x over System-in-Package devices in sensor-fusion applications, 2-3x in RUN mode.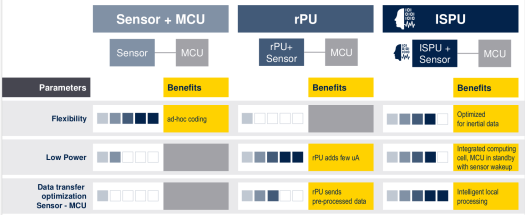 The older method connecting the sensor to an MCU is the most flexible since it's fully programmable, but it's not as power-efficient, and there's usually no advanced data processing. The reconfigurable processing unit always runs the sample model with some tweaks, but is the most efficient, and sends pre-processed data. STMicro explains the ISPU offers the best comprise with a high degree of flexibility, low power consumption, and on-sensor data processing with AI through the DSP.
The (proprietary) DSP can be programmed in C and allows quantized AI sensors to support full- to single-bit-precision neural networks, which the company says "ensures superior accuracy and efficiency in tasks such as activity recognition and anomaly detection by analyzing inertial data".
STMicro did not provide a list of ISPU-based sensor, and as I understand it, the announcement is more about the company's capabilities, with actual sensors likely to be announced later this year. More details can be found in the press release and STMicro website.

Jean-Luc started CNX Software in 2010 as a part-time endeavor, before quitting his job as a software engineering manager, and starting to write daily news, and reviews full time later in 2011.