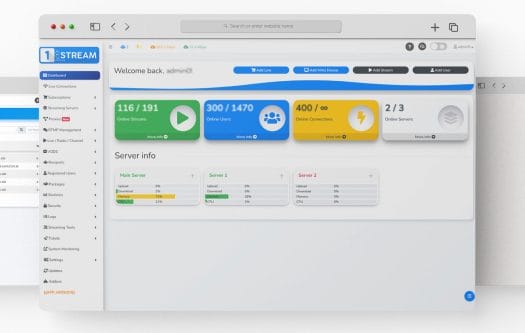 1-Stream is an IPTV streaming platform with smart load balancing that allows providers to scale their service and integrates geo-location to ensure content delivery from the closest available server for quicker load times and less buffering.
One popular professional IPTV platform used to be Xteam Codes for which I wrote a detailed four-part review but they started having trouble on September 18, 2019 with Xtream Codes IPTV Panels having a legal dispute related due to piracy, despite not providing any streams, and it seems they may never come back online, as their latest update contesting the claims date from January 2021.
A lot has happened during these two and a half years in the IPTV scene with many alternatives, most of them with another similar name but based on almost the same old, PHP-based vulnerable platform found in the former Xtream Codes Panel version 2.9.3, which could never provide good security, even via its CMS system (parts on XC Servers, parts on own server), contrary to a standalone system, which means all files are hosted within the Admin's server groups.
Renamed, sliced in parts, mixtures and even the old outdated XC v.1 came back to glory for some times. Nevertheless, all IPTV panels seemed to have flaws, security vulnerabilities, and plenty of bugs, often too many to count. With 1-Stream streaming panel, I've finally found a new generation IPTV panel, build from scratch, that appears to be secure, stable, and with good set of features.
I plan to write a 5-part review of the 1-stream IPTV streaming platform which will take some times, but here are some of the highlights of the software first:
Transcoding System
Highly scalable with the ability to combine multiple servers and load balancing
High Level Security – Multiple logs for each connection, connection source detection (VPN, Datacenter, or a proxy), locking subscriptions by IPs, countries and number of connections is also possible.
Live Streams, VOD (Video-on-Demand), Radio
TV Archive & Timeshift
MPEG-TS, HLS, RTMP Output
TV Series & TMDB API implementation
RTMP Push
MAG Devices supports with STALKER player
Plugins – Auto-Block, Proxies, Billing, etc…
More details may be found in the official website, but stay tuned as part 1 of the review/tutorial should come soon.