This is confusing. E Ink just announced the Kaleido 3 color e-paper at the beginning of the month, and now comes up with E Ink Gallery 3 color e-paper. Before we try to look into the differences, let's see what E Ink says about the new Gallery 3 color ePaper technology.
Designed for the eReader and eNote markets, E Ink Gallery 3 is based on the E Ink ACeP (Advanced Color ePaper) with a full-color gamut achieved through a four-particle ink system: cyan, magenta, yellow and white, which allows a full-color gamut at each pixel. The earlier E Ink Gallery has a black and white update time of two seconds, and color updates of ten seconds. The new Gallery 3 ePaper technology slashes those times to 350ms for black and white and as low as 500 ms in fast color mode. The standard and best color modes have refresh rates of 750 to 1000ms and 1500 ms respectively.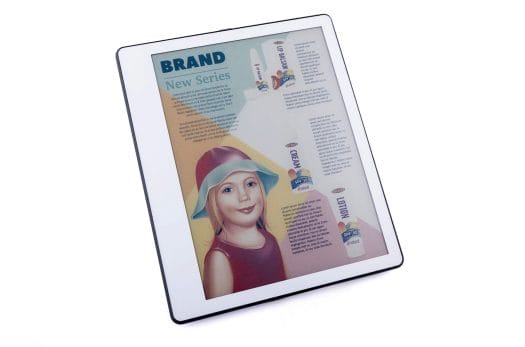 The company also says the Gallery 3 will have an improved resolution of 300 pixels per inch instead of just 150ppi and operate in 0 to 50°C temperature range like black and white eReaders. The new display will also support pen input in black and white, plus a few colors, with an update time of 30 ms. E Ink Gallery 3 will also feature the new ComfortGaze front light to reduce the amount of blue light reflected off the surface of the display and already found in Kaleido 3 ePaper display.
The press release only mentions Kailedo 3 in passing, saying that both technologies would offer customers several new color options to adopt into their devices. Let's try to find some of the differences. Under the hood, the technology is different. E Ink Gallery 3 relies on E Ink ACeP (Advanced Color ePaper) technology while Kaleido 3 relies on the Print Color ePaper technology "where a color filter array (CFA) is used in conjunction with E Ink's Carta black and white ink film, creating a full-color device for a more fully realized eBook shopping and reading experience". There are a few more details about each on the technology page:
Advanced Color ePaper (ACeP) is a high quality, full color reflective display. In the ACeP system, the ink can produce full color at every pixel, without the use of a color filter array (CFA). ACeP achieves a full color gamut, including all eight primary colors, using only colored pigments. The display utilizes a single layer of electrophoretic fluid which is controlled using voltages compatible with commercial TFT backplanes. Applications include digital signage, public information board, menu board, etc…

E Ink Kaleido displays offer 16 levels of grayscale and are capable of displaying 4096 colors, enable ultra low power and high mobility devices with a paper-like experience, ideal for image-rich information applications such as charts, graphs, maps, photos, comics and advertising…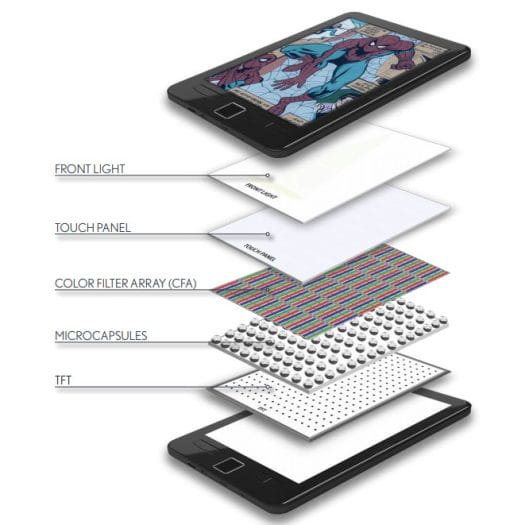 Everything is quite confusing a E Ink does not provide numbers of colors and refresh rate numbers and other parameters for each of its displays. Selecting the display technology will depend on your requirements, as confirmed by GoodEReader who asked E-ink directly:
This is all about experience. Some customers will prefer the fast page turns and animation frame rate support of the Carta ink line, and can leverage the color CFA for a color e-reader / e-note experience. Some customers will prefer the brighter display of Kaleido 3 (CNXSoft: did he mean Gallery 3?), with a more intense color experience, and are not focused on animated / fast frame rate applications…

… The color in Gallery 3 comes from aligning particles close to each other, and there is less muddiness in all colors and in black and white, due to this. In Gallery 3, the black state is achieved by aligning multiple pigments, and the white state is from white pigments. In a CFA product, the underlying pigment may be black, but the CFA above it mutes it a bit. The black and white reading experience of Gallery 3 is very close to our traditional black and white displays, without color mixing. In addition, that means PPI is the same for both black and white and color, unlike Kaleido 3 and DES. CFA is additive color vs. ACeP, which is subtractive.
So white and black will look better on Kaleido 3, and the technology allows for the same resolution for black and white and color content, contrary to Kaleido 3 with half the ppi in color mode due to the built-in CFA. I'm still confused why we're told Kaleido 3 offers a brighter display and a more intense color experience, so I'm guessing it might be a typo.
There's no information about E Ink Gallery 3 on the company's website yet, but standard, rollable, and foldable products based on the new technology will be showcased at Touch Taiwan 2022 on April 27-29, 2022, and during Display Week on May 10-12 at the San Jose Convention Center.
Thanks to TLS for the tip.

Jean-Luc started CNX Software in 2010 as a part-time endeavor, before quitting his job as a software engineering manager, and starting to write daily news, and reviews full time later in 2011.