Silicon Labs announced various new products at its annual Works With Developer Conference including the FG25 Arm Cortex-M33 SoC designed for sub-GHz Wi-SUN FAN networks for Smart Cities and applications such as smart metering, street lighting, electricity distribution automation, municipal infrastructure, and more.
The microcontroller runs at up to 97.5 MHz, features 512KB RAM and up to 1920 KB flash, operates at up to 125°C, consumes as little as 2.6 μA in deep sleep mode, and can offer a range of up to 3 km when used in combination with the new EFF01x front-end module delivering up to +30 dBm output power.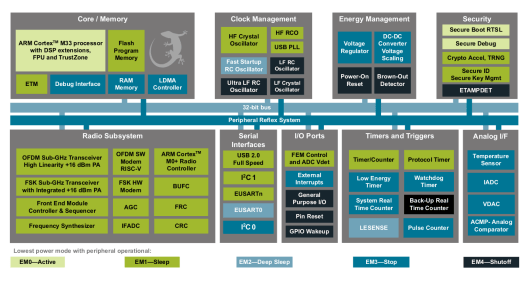 Silicon Labs FG25 (EFR32FG25) specifications:
CPU core – Arm Cortex-M33 core @ 97.5 MHz with DSP instruction and floating-point unit for signal processing
Memory – Up to 512 kB RAM data memory
Storage – Up to 1920 kB flash program memory
Radio

Sub-GHz radio operation
TX power up to 16 dBm
Up to 2.4 Mbps data rates with low latency
Sensitivity

-106.3 dBm sensitivity @ 300 kbps 923.7 MHz Wi-SUN OFDM Option 3, MCS4
-126.3 dBm sensitivity @ 4.8 kbps 915 MHz O-QPSK
-95.3 dBm sensitivity @ 2.4 Mbps 914 MHz Wi-SUN OFDM Option 1, MCS6

Supported Modulation Format

Wi-SUN MR OFDM MCS 0-6 (all 4 Options)
802.15.4 SUN MR O-QPSK with DSSS
Wi-SUN FSK
2 (G)FSK with fully configurable shaping
(G)MSK

Peripherals

ADC – 12-bit @ 1 Msps, 16-bit @ 76.9 ksps
2x Analog Comparator (ACMP)
Digital to Analog Converter (VDAC) with two channels
Low-Energy Sensor Interface (LESENSE)
Up to 37x General Purpose I/O pins with output state retention and asynchronous interrupts
8-channel DMA controller
12-channel Peripheral Reflex System (PRS)
6x 16-bit Timer/Counter with 3 Compare/Capture/PWM channels
2x 32-bit Timer/Counter with 3 Compare/Capture/PWM channels
32-bit Real Time Counter
24-bit Low Energy Timer for waveform generation
2x Watchdog Timer
1x USB2.0 Full Speed port, device only
5x EUSART (Enhanced Universal Synchronous/Asynchronous Receiver/Transmitter) with support for SPI and IrDA
2x I2C interfaces with SMBus support
High-frequency Crystal Oscillator clock sharing using buffered sine wave clock output
Die temperature sensor with ±2 °C typical accuracy across temperature ranges

Security (Secure Vault)

Secure Boot with Root of Trust and Secure Loader (RTSL)
Hardware Cryptographic Acceleration with DPA counter-measures for AES128/256, SHA-1, SHA-2 (up to 256-bit), ECC (up to 256-bit), ECDSA, ECDH and J-Pake
True Random Number Generator (TRNG) compliant with NIST SP800-90 and AIS-31
Arm TrustZone
Secure Debug with lock/unlock

Power Supply

1.71 to 3.8 V VDD power supply
3.45 to 3.8 V PAVDD power supply for OFDM

Energy Consumption

6.28 mA RX current at 924 MHz (400 kbps 4-GFSK)
58.6 mA TX current @ 13 dBm output power at 923.6 MHz with CW from FSK PA
76.6 mA TX current @ 16 dBm output power at 915 MHz with CW from FSK PA
186 mA TX current @ 16 dBm output power at 914 MHz (2.4 Mbps Wi-SUN OFDM Option 1, MCS6)
30 μA/MHz in Active Mode (EM0) at 97.5 MHz
4.6 μA EM2 DeepSleep current (512 kB RAM retention and RTC running from LFXO)
2.6 μA EM2 DeepSleep current (32 kB RAM retention and RTC running from LFRCO)

Temperature Range – -40°C to +125°C
Package – QFN56 (7 x 7 x 0.85 mm)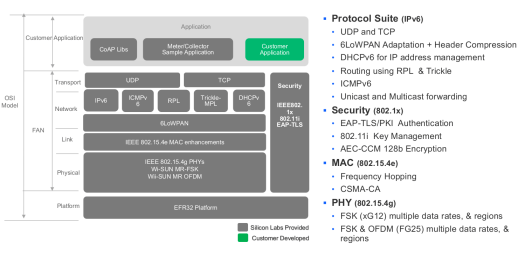 Silicon Labs provide a complete Wi-SUN stack with IPv6, 6LoWPAN, security, physical drivers, as well as CoAP libraries and sample applications (meter/collector) in order to speed the time-to-market for their customers.
The company says the FG25 SoC can be used in Border routers (BR), Router nodes, and Leaf nodes in Wi-SUN Field Area Networks, and supports the new Wi-SUN FAN 1.1 standard that enables faster data rates of up to 2.4 Mbps (vs 300 Kbps for Wi-SUN FAN 1.0) and support for battery-operated "sleepy" nodes.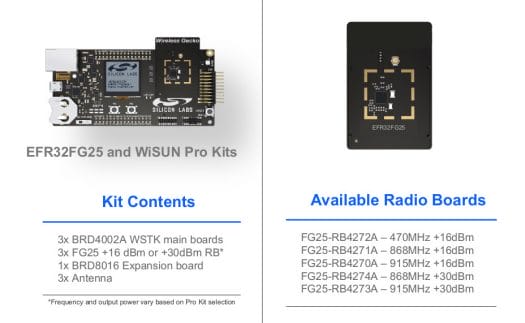 Silicon Labs can provide EFR32FG25 and WiSUN Pro kits that can be used for the development of end nodes and border routers, as well as radio boards at various ISM frequencies from 470 MHz to 915 MHz to meet the legal requirements of different countries.
Silicon Labs FG25 and EFF01 are currently sampling with customers, and are expected to become more broadly available in Q4 2022 and Q2 2023 respectively. More details may be found on the product page, a blog post, and a press release that also addresses other announcements such as Matter development solutions, the Silicon Labs Pro Kit for Amazon Sidewalk, and the company's first WiFi 6 (and BLE) SoC: the SiWx917. We'll cover one or more of those in detail in upcoming posts.

Jean-Luc started CNX Software in 2010 as a part-time endeavor, before quitting his job as a software engineering manager, and starting to write daily news, and reviews full time later in 2011.