Wi-SUN is a standard (IEEE 802.15.4g) managed by the Wi-SUN Alliance and designed for Smart Cities, Smart Agriculture, and other large scale IoT deployments with a large number of devices thanks to the use of IPv6 mesh networking.
The organization was founded in 2011 to "support the worldwide development of Wireless Communications Networks for Utilities, Smart Cities and IoT", but due to the niche nature of target applications, it does not get that much press coverage and was only recently brought to my attention.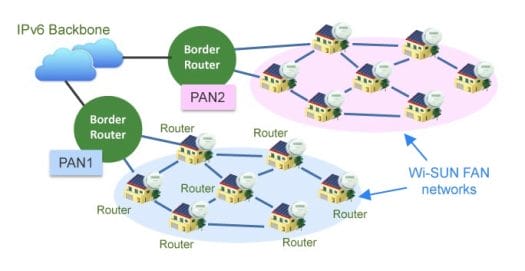 Wi-SUN stands for "Wireless Smart Utility Networks"or "Wireless Smart Ubiquitous Networks", and the standard aims to connect streetlights, cameras, weather stations, smart metering, utility transmission systems, and others to enable data-sharing between city services to improve their efficiency, save costs, and offer improves services to citizens.
Wi-SUN FAN (Field Area Network) is the latest protocol managed by the Wi-SUN Alliance with over 95 million units shipped worldwide (as of 2019) and each mesh network can communicate with the IPv6 backbone (aka the cloud) through border routers.
Somehow, it's close to impossible to find a clear spec sheet for the standard from the official website, but the organization provides a comparison against LoRaWAN and NB-IoT. Wi-SUN has a higher throughput than LoRaWAN and NB-IoT, is said to use less power when sleeping and listening, and its higher throughput means that the devices spend less time on the air than their rivals, and hence consume less power. We are told that LoRaWAN and NB-IoT are better suited to applications with infrequent communication requirements.

More specifically, Wi-SUN FAN devices can be designed for frequent (from 10-second intervals) low-latency communication, drawing less than 2μA when resting, around 8mA when listening and less than 14mA at +10dBm when sending, while LoRaWAN devices are usually designed for infrequent communication (from 128-second intervals), drawing 2μA at rest, but 50% more than Wi-SUN FAN when listening (12mA). NB-IoT devices are also designed for infrequent communications, but with much higher power consumption as the peak current can go as high as 120-300mA and a sleep current of around 5μA. Wi-SUN also uses sub-GHz ISM frequencies like LoRa, as well as the 2.45 GHz ISM band.
Wi-SUN FAN is also more robust as a self-forming mesh network protocol, so adding new devices to a network is easy, and if a pathway fails, the network will automatically re-route to the gateways. The standard also integrates a public-key infrastructure (PKI) and IPv6 features for security, and while there are ways to do this in LoRaWAN and NB-IoT, we are told it is much easier in the standards-based Wi-SUN FAN ecosystem.
Vendors providing Wi-SUN solutions include Texas Instruments (See Gateworks GW16122 IoT mPCIe card with CC1352P microcontroller), STMicro, Renesas, Silicon Labs, Rohm, and others. For your entertainment, here's how Rohm views Wi-SUN compared to LoRaWAN, Sigfox, and NB-IoT.

I suppose this is in the context of Smart Cities only…
You'll find more details on the Wi-SUN website and RFWireless World has some interesting information about the standard too.

Jean-Luc started CNX Software in 2010 as a part-time endeavor, before quitting his job as a software engineering manager, and starting to write daily news, and reviews full time later in 2011.