I've been following autonomous cars' progress for many years, but it's taking longer to bring the technology to market than expected. So some companies are now offering "Drive from Work" services where they hire drivers that sit in an office to remotely drive passengers around.
That seems insane, but that's what Fetch does in the UK with their drivers remotely controlling cars from the head office using cellular network connectivity, 360-degree cameras, and a "workstation" with a steering wheel and pedals as well as four displays. It looks like a game, but this is real life…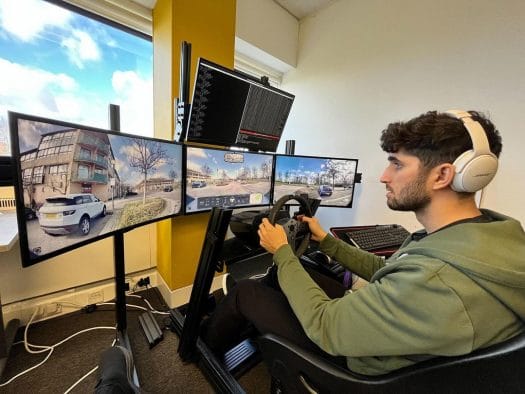 The service is now only offered in Milton Keynes, UK, and has been trialed for 18 months so far. This could pave the for cheaper drivers based overseas, but I suppose the lag is an issue as is the potential loss of connection, so the Hackaday article that informed us of this option also points out that overseas remote drivers will likely be banned in the UK and legal framework will be develop for this type of services.
I can see so many problems with those "Drive form Work" services from technical issues (loss of connectivity, power issues…) and legal headaches (insurance, legal responsibility…) in case of an accident that I can't believe it's allowed even with local drivers. But the FAQ on the company website gives a clue why it's been allowed so far:
Our vehicles are being remotely driven during delivery and return. You'll notice that our cars have safety drivers that sit in the driver's seat. These specialists are there to monitor our remote driving technology and share important feedback to help us improve the Fetch experience.
So at this time, you still have an employee from the company that sits in the driver's seat to take control if anything goes wrong with the remote driver. The insurance part of the FAQ is interesting, as the customer is apparently liable for the first £500 (around $645 US) and the service can not be used for business use, although I'm not sure what that means in this context.
If you happen to be in Milton Keynes and want to give it a try you can download a mobile app for Android or iOS, and from there it looks very much like booking a Uber drive.

Jean-Luc started CNX Software in 2010 as a part-time endeavor, before quitting his job as a software engineering manager, and starting to write daily news, and reviews full time later in 2011.