This is a list of gadgets that are remarkable either by their hackability, their popularity and/or their price. As with the boards lists, I plan to keep the list short and add/remove gadgets as things evolve. I don't plan to include smartphones and/or tablets, but if you have one you can probably just go to XDA developers forums and start to hack away.
Mele A1000 set-top box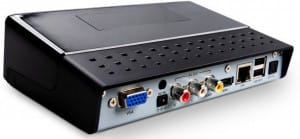 The Mele A1000 is an Android set-top box based on AllWinner A10, with 512GB RAM and 4GB flash, and a whole lots of features:
HDMI, VGA and Composite video outputs
RCA audio and optical audio outputs
3 USB Host ports
SATA interface
IR sensor
10/100M Ethernet
Wi-fi 802.11 b/g/n,
SD card slot.
There's an internal serial port that makes it very easy to debug u-boot and the kernel via a serial debug board. Beside Android, this device currently supports most ARM Linux distributions, although without proper OpenGL ES acceleration, that can be booted from the SD card.
There is an active developer community communicating via arm-netbook mailing list and #arm-netbook IRC channel. AllWinner A10 u-boot and kernel source code is available on github. Lots of information developping on this device is available on Rhombus Tech "hacking the mele a1000" page, as well as in this blog.
Blog Posts:
Official URL: https://www.mele.cn/en/web/pro_show.aspx?cid=46&pid=60
Price: $79 to $100 including shipping.
Where to Buy:
Amazon
Rikomagic MK802 Android mini PC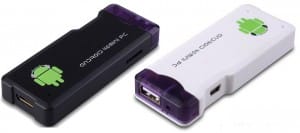 MK802 is based on the same platform as Mele A1000 (AllWinner A10), but in a smaller form factor (now called mini-pc), and with less features (Only HDMI output, no SATA, no Ethernet…). Following the article "74 USD AllWinner A10 Android 4.0 Mini PC", this little device just went viral in the interwebs. It's not as good a development platform as the Mele A1000, but much more popular, and it's still possible to access the serial port, by soldering the wires to the board.
You'll get the same Android and Linux distribution as supported by the Mele, and an even more active community in sites such as miniand forums or Rikomagic UK forums where you'll be able to download SD card images with different Linux OS, get tips, support and more. You can still refer to arm-netbook mailing list for more technical questions.
Blog Posts:
More posts with mk802 tag.
Official URL: That's a mystery, seriously.
Price (as of today – 10/02/2013): $35 to $45 including shipping
Where to Buy:
Amazon
Lots of other places…
TP-Link WR703N Wi-Fi Router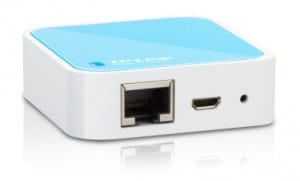 TP-Link WR703N is a tiny (5.7 x 5.7 x 1.8 cm) 802.11N 150 Mbps Wi-Fi router smaller powered by Atheros AR7240 processor with 4 MB flash and 32 MB RAM that costs just above $20 US and can be hacked with openWRT. It also features one USB host connector that allows you to connect USB devices (USB flash drive, printer…) to it.
There's all the information you need on OpenWRT wiki, and you can use this cheap router as a s an home automation system, a printer server, and even a PirateBox among other things. You can ask questions on OpenWRT forums and you'll find examples over the internet.
Blog Post:
Official URL: https://www.tp-link.com.cn/pages/product-detail.asp?d=225
Price: $22 to $30 including shipping
Where to Buy:
Amazon
HiAPad HI802 / Zealz GK802 Android mini PC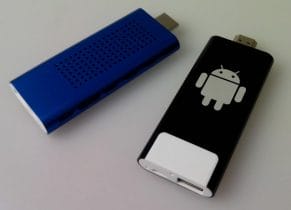 HiAPad HI802 and Zealz GK802 are the same device sold with different names. Powered by Freescale i.MX6 processor, it is the first quad-core mini PC available on the market. This mini PC comes with 1GB, 8 to 16 GB storage (internal SD card), USB ports and HDMI output.
Thanks to the relative openness of Freescale, you've got access to great documentation, source code for Android and Linux, and an Ubuntu 11.10 image is available with OpenGL ES support and hardware video decoding/encoding via gstreamer. Those resources are tuned for Freescale i.MX6 development boards, but the company has also released patches for HDMI dongles, which allowed to start imx6-dongle developer community, a small group of developer focusing on a Linux port. As of April 2013, they already have a proper Ubuntu 11.10 image with VPU and GPU support.
UART pins are easily accessible on the platform, but some soldering is required. And as long as you have a copy of your internal microSD card, it's unbrickable, because you can always change the micro SD, even with a 32GB card if you want.
Blog Posts:
Official URLs:
https://www.hiapad.com/?p=1939 (just a blog post, but that's the best I could find…)
There's no official URL for Zealz GK802.
Price: $89 to $104 including shipping for the 8GB version, around $120 for the 16GB version.
Where to buy:
Geekbuying (Currently as low as $70 with a coupon)
MK808 Android mini PC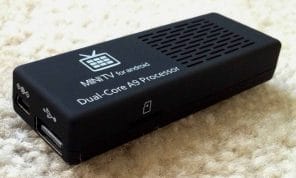 Rockchip RK3066 mini PC are currently the most popular mini PCs, but the device which seems to have to most users is MK808, or MK808B (Bluetooth version). The device comes with 1GB RAM, 8GB flash, a micro SD slot, mini HDMI female, Wi-Fi, one USB host port and one USB OTG port.
Rockchip is a pretty bad company when it comes to GPL compliance, and when source code is released it's often via on distributor of tablet in western economies. Documentation is sometimes leaked, tools are written by the community, and some RK3066 development resources are available. There has been tremendous work by the community to release a Linux distribution for RK3066 devices called PicUntu, which works relatively well also VPU and GPU support are obviously challenging. What makes MK808 interesting as an hackable gadget is its price, popularity, relatively easy access to the serial port (for debugging) and PicUntu community.
Blog Posts:
Official URL: N/A
Price: $44 to $60 including shipping
Where to buy:
amazon
Aliexpress