Kimdecent
has just sent me one HiAPAD Hi-802 mini PC powered by Freescale i.MX6 Quad, and running Android 4.0.4 ICS. This is the first quad core HDMI TV dongle available on the market, and it can run both Android and Linux distributions such as Ubuntu since Freescale released the source code for i.MX6 processor family. Today, I'll just show some pictures of the device, and review the device by running some tests in Android. I'll try the Ubuntu 11.10 image release for GK802 another day.
Hi-802 Unboxing
I received the package by DHL within 3 days, and it includes Hi802, a 5V/2A power supply, and a USB to microUSB cable.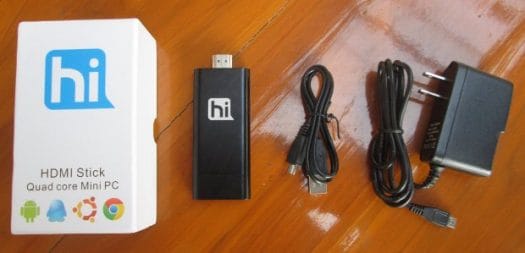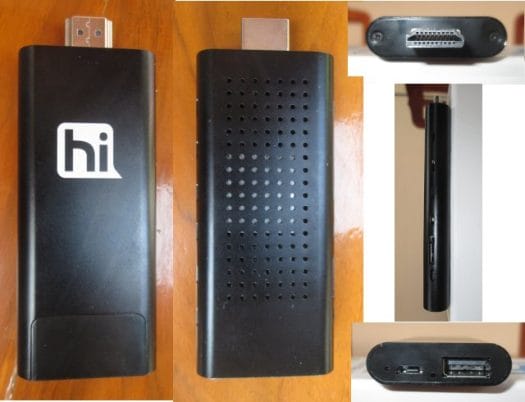 A closer look at the device reveals an aluminum casing with lots of ventilation holes (really needed since the device gets pretty hot). Hi802 features an HDMI male connector, a microSD card slot on the side, a full USB port, and a microUSB port for power.
First Boot, Settings, and First Impressions
Let's connect a USB hub to the USB port to attach a keyboard and mouse, insert Hi802 into the TV, and connect the power supply to the microUSB port. After a few seconds, we get to the Android Home Screen.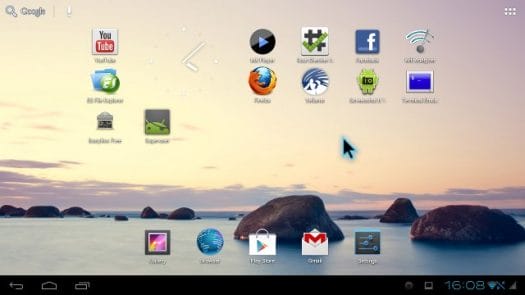 There are just the 5 icons at the bottom of the screen after the first boot, and I've installed the other apps subsequently. The mouse pointer may be a bit too large for some people.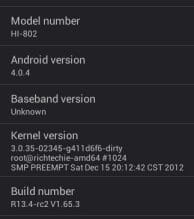 In the settings menu, we have options to connect to Wi-Fi, Wi-Fi Direct, Bluetooth (built-in), Ethernet (USB dongle) , VPN and use tethering. Wi-Fi connection is always the first thing I do, and I had no problem. The good thing is that the soft keyboard does not show up when you edit fields, so you can just use the hardware keyboard normally, and the enter key does what it's supposed to do. The display section allows you to choose between 720p (default) or 1080p video output, several Developer Options are available (including USB debugging / ADB), and the rest of the settings are standard. In the "About device" section, we can see the model number is "HI-802", and it's running Android 4.0.4 with kernel 3.0.35. The build dates from the 15th of December 2012, so I may not have the latest firmware. Mention of "Richtechie" shows up in many mini PCs, so they must be the company behind many of the designs.
There are not many pre-installed apps on the device, except the usual Google apps (gmail, google maps, google play, etc..), as well as ES File Explorer, QuickOffice Pro and SystemPanel. So let's register with Google Play, and install a few apps. Antutu and Quandrant were the first 2 apps I tried, and I could not install them as Google Play returned "this item is not compatible with your device". I did not have this problem with some other applications I tried including YouTube, Facebook, MX Player, Android Terminal, and more. I've found the problem was because of missing XML files in /system/etc/permissions directory, and the fix is available in ArmTVTech via a firmware update which also roots the device, but I haven't tried it yet.
Overall the system feels very responsive, and I haven't experienced crashes or freezes. I once tried to power the device via the USB port of my PC, and it could boot, but the device was unable to detect my USB keyboard or USB mouse. So it seems using the power supply is a must.
Hi802 Video Playback (and Wi-Fi)
There are two media players installed:
ES Media Player
Video Player
I used those two players for video playback testing, and used MX Player when the test failed. Most of the videos below are from samplemedia.linaro.org and were played via a SAMBA share:
H.264 codec / MP4 container (Big Buck Bunny), 480p/720p/1080p – OK
MPEG2 codec / MPG container, 480p/720p/080p – OK
MPEG4 codec, AVI container – OK
VC1 codec (WMV) – FAIL. There's no HW support. MX Player can play 480p fine, 720p has some audio cuts, and 1080p plays is very choppy, and plays in slow motion.
Real Media (RMVB) – FAIL. However, MX Player can play RV8/9/10 sample.
MOV file from Canon camera – 720p videos will stop after a while.
FLV videos – OK.
WebM – 480p/720p/1080p – OK
MKV (several codecs) – OK. Audio may not play (AC3). This can be fixed by using MX Player and selecting software audio decoding.
I'm pretty happy with the video playback experience with Hi802, as it's the best of all mini PCs I've tried. The only problem is with WMV files, so if you have many VC1 videos, the device may not be for you. This test also shows the Wi-Fi performance is quite decent since I did not experience buffering issues I had with some other HDMI TV dongles.
Linaro videos are not really high bitrate (The highest is 8.6 Mbps), so I've also tried to push the system a bit with videos with a higher bitrate:
All 3 files failed to play smoothly via Wi-Fi / SAMBA. Elephant Dream and HDDVD are not supported by the hardware decoder, only Big Buck Bunny is, so this can also affect performance.  A file copy of hddvd_demo_1080p.mkv (278 MB) to the internal SD card took 3m15s (1.42MB/s). Playing from the SD card was a choppy as playing from the network, so this could also be due to video software decoding.

Hi-802 Antutu Benchmark
Even though I could not install Antutu and Quadrant from Google Play, I found some APK and ran the benchmarks.
The Antutu 3.0.3 score is 8516 which is pretty disappointing, especially when Rockchip RK3066 devices get around 12,000. This places Hi-802 between Samsung Galaxy Nexus (OMAP 4460) and Samgung Galaxy S2 (Exynos 4210). However when we look into the score details something is clearly not right. Hi-802 RAM, CPU integer and floating point are much faster (about the same as Tegra 3 based Transformer Prime),  but what destroys the score are the GPU tests, especially 3D (2D is light green, and 3D is dark green in the bar chart). The SD card read/write performance is not that good either, but this could be because Hi-802 does not use flash, but an internal SD card. During the 3D tests, I noticed that OpenGL ES 1.1 is twice as fast as AllWinner A10 / Wondermedia WM8850 based on Mali-400 (~50 fps vs ~25 fps), but OpenGL ES 2.0 is catastrophic with about 4fps compared to 6fps in my WonderMedia WM8850 tablet. So there must be some Vivante GPU drivers issues here.
Quadrant benchmark could not run as is the case with many other devices, but I could still get into the system information tab. The product name is richtechie_6dq, Quadrant detects an ARMv7 processor with 4 cores, and a Vivante GC2000 GPU (All good), but is unable to detect the CPU frequency (Antutu shows it switch between 790 Mhz to 1500 Mhz, which does not seem correct either). There's 1GB RAM, but only 834204 KB is available to Android, the rest is probably used by the GPU.
Inside Hi-802 mini PC
I found that opening Hi-802 is easier than other mini PCs, and you have less risk to break the small clips. All you have to do is remove the 2 screws on the side of the HDMI connector, and push the HDMI to take the board out, then you just have to unclip the PCB from the rest of the case.
The top (or is that the bottom) of the board features the microSD card (it can be remove the same way you would do with a SIM card slot), the RAM chips and the Wi-Fi / Bluetooth module. There's a proper antenna which could explain the relatively good Wi-Fi performance.
The bottom of the board have some more RAM chips, Freescale i.MX6 quad, and the external microSD socket. There also a heat transmissive rubber pad on top of the CPU. You'll also notice 6 through holes at the bottom right of the board. Those are with I2C and UART debugging.
Zealz GK802 Video Review
Zealz GK802 and HiAPad Hi-802 are basically the same device, so if you'd like to see it in action, watch Somecooltech1 review below.

Conclusion
Overall I'm very positive about Hi-802 mini PC, as it operates smoothly, video playback is very good, Wi-Fi seems better than other devices I reviewed, and I did not come across major issues. The problems I found were lack of VC1 hardware decoding capability, poor benchmark results due to GPU performance (hopefully fixable with firmware), Google Play issues which are easily fixable, and it overheats a little, although it does not affect its performance/stability. The main problem might actually be its price because at $94
it currently offers about the same performance as Rockchip RK3066 mini PCs sold for $45 to $65
, and unless you plan to use Linux, Rockchip RK3066 based mini PCs just seem to be a better choice. If you want to use Linux however, there's no match in the market for Hi-802 / GK802, as you should be able to get a full Linux distributions with GPU and VPU hardware acceleration, and the UART pins are easily accessible so that you can connect a USB to TTL board in order to access the console, and see U-Boot and the Linux kernel output.

Jean-Luc started CNX Software in 2010 as a part-time endeavor, before quitting his job as a software engineering manager, and starting to write daily news, and reviews full time later in 2011.