Gumstix has manufactured its Overo COMS based on OMAP3503 and OMAP3530 since 2008. They have now announced a new low cost version named Overa Sand that sells for 115 USD per unit or less than 99 USD per unit for orders of 1,000 units or more.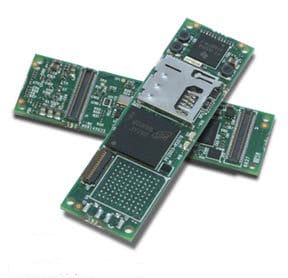 Overo Sand COM is Gumstix's most basic computer-on-module with 256MB RAM and no on-board NAND. Here are the board specifications and features:
Processor:

Texas Instruments OMAP 3503 Applications Processor:
– ARM Cortex-A8 CPU @ 600 Mhz

Memory:

256MB RAM
NO On-Board NAND Included

Features:

microSD card slot
TPS65950 Power Management

Expandability:

via one 140-pin expansion board of Gumstix Overo series or custom, 140-pin expansion board
via 27-pin camera board

Connections:

– (2) 70-pin connectors with 140 signals for:
– I2C, PWM lines (6), A/D (6), 1-wire
– UART, SPI, Extra MMC lines
– Headset, Microphone
– Backup battery
– High Speed USB Host and USB OTG
(1) 27-pin connector with signals for camera board

Power:

Powered via expansion board (Overo series or custom) connected to dual 70-pin connectors

Size:

17mm x 58mm x 4.2mm
(0.67 in. x 2.28 in. 0.16 in.)

Weight:

GS3503S @ 4.3g
GUM3503S @ 15.1g (incl. shipping case)

Products Included:

GUM3503S includes:
– 1 x GS3503S (Overo Sand COM)
– 4 x retaining spacers for Overo COM (CONH0020)
The product is not shipped with power supply and since it has no NAND, the OS must be loaded from the microSD card.
There are 6 other Overo COMs with more features selling between 149 and 219 USD per unit called Air, Fire, Tide, Water, FE and Earth. Extra features include things like Bluetooth, Wifi, a DSP and OpenGL support.
Gumstix Overo COM are supplied with Linux 2.6.34 and use OpenEmbedded development environment.
For software development on the Overo platform, you can visit Gumstix Developer Website to get started and more specifically visit the Software Development How-Tos, download the pre-built images and learn how to build the Overo linux images with OpenEmbedded. You can also join gumstix-users mailing list.
You can also get details on Overo COMs Hardware such as details on the connection boards, the schematics, PCB layouts, etc…
Gumstix Overo boards could be considered as an alternative to Beagleboard for software development as they are also build around TI OMAP3 processors. However, they seem slightly pricer for the same features and there is currently not a large community as is the case with the Beagleboard.

Jean-Luc started CNX Software in 2010 as a part-time endeavor, before quitting his job as a software engineering manager, and starting to write daily news, and reviews full time later in 2011.