Cymbet has developed rechargeable solid state batteries called EnerChip for Embedded Energy, Power Backup and Energy Harvesting. Applications include backing up Real Time Clocks (RTC), Micro-controllers (MCU) and SRAM devices. The company says "EnerChips are ideal for energy harvesting powered devices such as wireless sensors, medical devices, data loggers and remote location tracking equipment."
Those chipsets aim at replacing batteries such as CR2032 batteries that you can find in watches, calculators and other low power devices.
The company emphasized three key benefits of such "batteries":
EnerChips are more than 10x smaller than non-rechargeable coin cell batteries
EnerChips last 3x longer than conventional coin cell batteries
EnerChips are less expensive to use than conventional coin cell batteries or super caps. The price starts at 20 US cents in volume quantities.
You can watch the promotion video below for an overview of those chips. Cymbet shows a lot of mobile phones in their video, but I very doubt this can be used in such power hungry embedded devices in any useful manner.
Cymbet has several EnerChip Solid State Battery evaluation kits including energy harvesting kits that support light, vibration, thermal gradients, electromagnetic and flow/motion energy harvesting transducers:
CBC-EVAL-05 EnerChip CC Evaluation Kit contains everything needed to test: EnerChip 12uAh and 50uAh thin film batteries, EnerChip CC CBC3112 and CBC3150 batteries with Integrated Battery Management and to test multiple batteries in parallel. (Around 30 USD)
CBC-EVAL-06 EnerChip CC Real Time Clock Power Backup Evaluation Kit Experiment with a small footprint battery backup for low power RTC. A Micro Crystal 2123 RTC with oscillator can be backed up for 92 hours with the EnerChip CC CBC3112. USB stick with PC GUI. (Around 30 USD)
CBC-EVAL-08 EnerChip EH Solar Energy Harvesting Evaluation Kit is used to create Zero-power designs for sensors, controllers, embedded systems, medical applications, environmental control systems and any "un-tethered" system. (No price available)
CBC-EVAL-09 EnerChip EP Universal Energy Harvesting Evaluation Kit accepts inputs from solar, piezoelectric, thermoelectric or electromagnetic EH transducers. Features the EnerChip EP CBC915 Energy Processor Chip and EnerChip Solid State Batteries. (Around 120 USD)
CBC-EVAL-10 EnerChip CC Solar Energy Harvesting Evaluation Kit uses the EnerChip CC CBC3150 to provide a single chip solution for EH power conversion, energy storage and power management. A low cost solution for solar-based sensors. (Around 70 USD)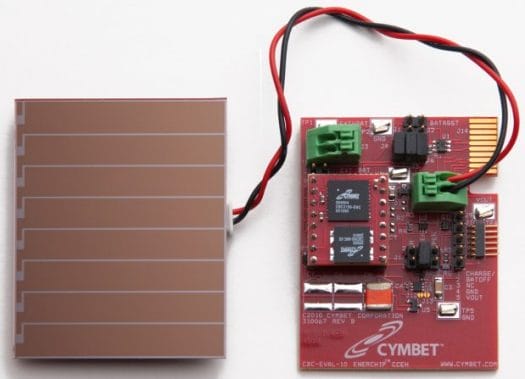 CBC-EVAL-11 EnerChip RF Induction Charging Evaluation Kit utilizes EnerAir™ near field RF coupling techniques between two antennas to charge a CBC3150 energy storage device. Perfect for active RFID medical applications, data loggers and other "reusable" types of sensors. (Around 50 USD)
There are also 4 other kits using Cymbet EH Kits in conjunction with Texas Instruments and Microchip MCU Kits:
Digi-key TI CC430 and Cymbet EnerChip Alternate Energy Eval Board. This kit combines a TI CC430 MCU/Wireless combo device with an EnerChip CC CBC3150 and CBC050 connected to a solar cell. The EnerChips store energy and provide power management for the CC430 and LCD display. (99 USD)
Cymbet EH Eval Kits for TI MSP430 LaunchPad Kit. The EnerChip EP EVAL-09, EnerChip CC Solar EH EVAL-10 and the EnerChip CC RF Induction Charger EVAL-11 can all be used to power the TI LaunchPad kit.
Microchip XLP 16-Bit Ultra Low Power MCU Solar Energy Harvesting Application Development Kit – This kit enables designers to develop complete EH applications using all the supplied hardware and software. (195 USD)
TI eZ430-RF2500-SEH – This Solar Energy Harvesting Wireless Demo Kit utilizes the Cymbet EnerChip EH solar module with the MSP430 MCU and CC2500 radio. All hardware, firmware and graphical user interface software is included. Works with Cymbet EVAL-08, EVAL-09, EVAL-10 and EVAL-11 (152 USD)
Watch a demo with four CBC-EVAL-09 EnerChip EP Universal Energy Harvesting Evaluation Kits charged with photovoltaic, thermoelectic, piezoelectric or electromagnetic energy harvesting transducer and reporting the temperature via Zigbee to a program running in a Laptop.
For more information about thin film batteries, visit the Cymbet website: http://www.cymbet.com
For details on the evaluation kits including video demos, firmware download and link to purchase via Cymbet's distributors, visit http://www.cymbet.com/products/evaluation-kits.php
Cymbet will be at Embedded World 2012, Nuremberg on February 28 – March 01 to promote and showcase those products.

Jean-Luc started CNX Software in 2010 as a part-time endeavor, before quitting his job as a software engineering manager, and starting to write daily news, and reviews full time later in 2011.