Mozilla announced Firefox for Android 14.0 on their blog yesterday.
They stressed 3 key improvements:
The foundation claims they improved Firefox for Android performance in several areas, and users should notice significant  performance improvements such as faster startups,  smaller page load times, smoother panning & zooming and better overall Web app performance.
Sunspider benchmark results are said to shows that Firefox for Android is much faster than the stock browser, but they did not provide numbers or comparison with other browsers. Instead, they developed Eideticker, a new benchmark, measuring Web experience, and they optimized Firefox for Android to it. And "Oh Surprise!", they beat all other major Android browsers (Chrome, Opera and Dolphin) in their own benchmark. This benchmark shows that Firefox is over three times as fast as the stock browser, and nearly twice as fast as Chrome for Android on a Galaxy Nexus phone running Android 4.0.4.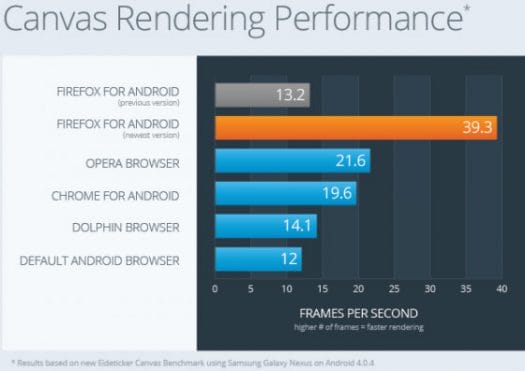 Upgrade to Mobile Browsing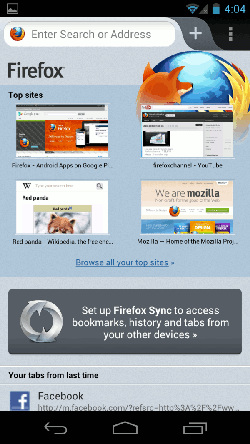 Mozilla also improved Firefox user interface with a new "Awesome Screen" powered by Firefox Sync and using Android native UI elements. The startup screen shows thumbnails of your top site (most visited sites), tabs visited last time, add-ons recommendations, and tabs synced with your computer or other devices running Firefox.
Firefox for Android supports Flash, and you can watch (Youtube) videos within the browser, play games and more with your Android device.
Mozilla implemented privacy and security features such as Do Not Track, Master Password, HTTP Strict Transport Security, etc… in their latest mobile browser.
Upgrade to the Web Platform
Firefox for Android features New HTML5 capabilities such as Camera API, Vibration API, Mobile Connection API, Battery Status API, Screen Orientation API and Geolocation API.
Mozilla recommends user to try out BrowserQuest an HTML5 multi-player role playing game to experience the power of the new Firefox for Android.
First Impressions
I've decided to install Firefox for Android in my tablet because of the benchmark claims, and more importantly because of Firefox Sync. My main desktop browser is Firefox, and it's really convenient to be able to share password and history on two different devices, especially since typing emails and password in Android is really a pain.
My first impression is that I'm really happy with the performance which appears similar to Opera Mini, my current Android browser, and I just love Firefox Sync.
I only have 3 (small) issues now:
Adblock Plus plugin is not available for Firefox for Android. There are some apps that can block ads in Android, but the ones I found require a rooted device. I should probably find a way to root my tablet…
Blurry text when scrolling the page of a website with lots of content, e.g. the main page of this blog. The text is just blurry for 1 to 2 seconds before it becomes clear again. They might have done this for performance improvement (or they did not test it with low/mid range hardware), but I don't like this effect. Maybe I'll get used to it.
Tap to enable plugin is enabled by default. So if you go to a website with Java or Flash plugins, for example an embedded Youtube video, you'll need to click twice to start the video: once to enable the plugin, and the other time to play the video. Again, this has probably been done for performance improvement or for extending battery life. This can be changed in Settings->Plugins->Enabled
I'll keep using it, and baring unexpected major flaws, I expect it to become my main Android browser because for the Sync feature.

Jean-Luc started CNX Software in 2010 as a part-time endeavor, before quitting his job as a software engineering manager, and starting to write daily news, and reviews full time later in 2011.