Tronsmart T1000 Mirror2TV is an EZcast HDMI dongle that connects to your TV, supports Miracast, DLNA, and Airplay, and sells for just $30 including shipping. I've just received a sample from Geekbuying, and I'll post some pictures first, followed by a review with ThL W200 Android 4.2 smartphone, and Acer Aspire One D255 netbook running Windows XP.
Tronsmart T1000 Unboxing Pictures
The package shows it is a Wi-Fi display adapter supporting Windows, Mac, iOS, and Android.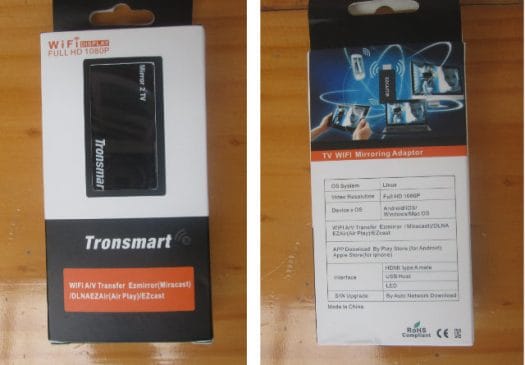 Beside the dongle, there's just a user's manual (that I did not read, shame on me), and a funny USB wit a microUSB plug at one end, and a Wi-Fi module, and USB plug to connect to your TV or a power adapter at the other end.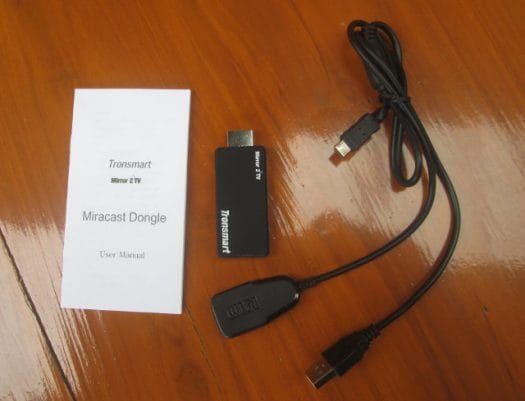 Since the Wi-Fi module is outside the dongle is much smaller than Android HDMI TV Sticks for example. Another advantage might be better Wi-Fi reception, as if you connect the dongle directly on the back of your TV, you can still move the Wi-Fi module at the front. There device only comes with a male HDMI connector, a micro USB port for power, and a small button on the side, which I haven't used.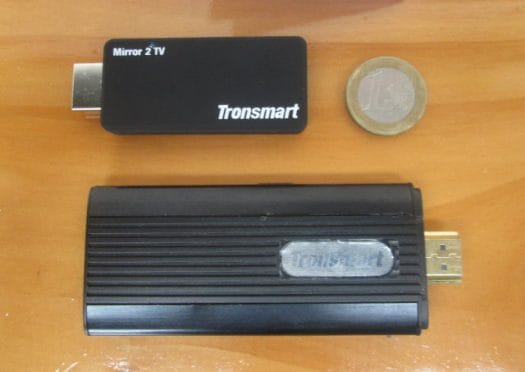 I've also opened the device to see what's inside, breaking one of the fragile plastic clips inside the casing in the process.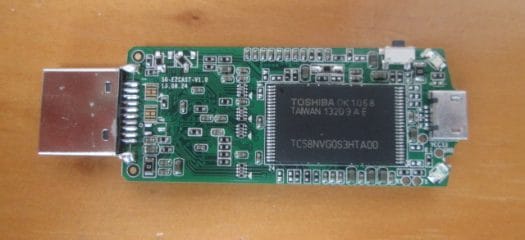 On the bottom, you can see the 128 NAND Flash (Toshiba TC58NVG0), the button, as well as the PCB name: SG-EZCAST-V1.0.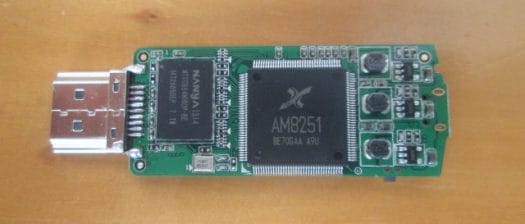 On the top side of the PCB, we've got Action Semi AM8251 (MIPS) processor, and 128MB RAM (NANYA NT5C864M1SDP). I failed to open the Wi-Fi module, but it's supposed to be based on Realtek RTL8188.
Review of Tronsmart T1000 with Android
The connection is very easy. You just have to connect the dongle to your HDMI port, and the micro USB port to the USB port of your TV, and you're done.
You'll need to install EZCast app that you can find on Google Play. If you want to use the dongle as a Miracast dongle, click in EZMirror, enable Wireless Display in the Display section of the Android settings, and select the Tronsmart device, shown as Tronsmart-0E06B585 in my case.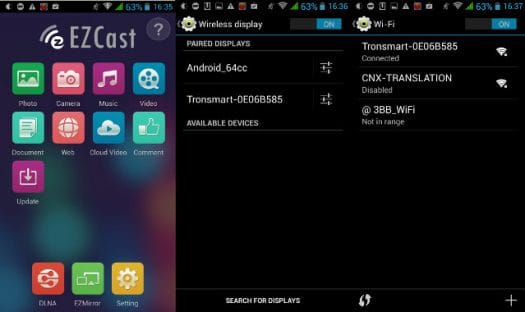 The good news is that Miracast is working much better than when I tried with MK908, and mirroring is working fine for pictures and videos, although with some frames dropped with the later. With regards to racing games, it's almost playable, as you'll see in the video below, but the delay makes it somewhat tricky. You'll have to make sure you configure Tronsmart T1000 to use your Wi-Fi router, or you'll lose Wi-Fi connection when you use the dongle in EZCast or EZMirror modes.
Using the top icons in EZCast app will use proprietary Wi-Fi display protocol. Pictures is working OK although picture decoding is very slow. It will immediately display a low quality picture, and show the full quality picture a few seconds later. The camera app will show the output from your rear camera on the TV, it was quite slow for me, and I'm not quite sure of useful use cases. Music is nice in theory, but only allows you to select one audio file at a time. I did not have Video in my phone, so I skip this part. I open a Word file with the Document app, and there's a drawing tool which can be very useful for presentations. The Web app opens that page with links to search engines, YouTube, Vimeo, News Videos such as BBC, SkyHD News, ACB news, and more, sports videos, educational videos, and online websites. The Cloud Video appears to be a subset of these links to only show links to Videos. I've tried YouTube with the video played on TV, and an simple interface showing on the phone to control the volume, and playback time.
In the video below, I forgot to configure Tronsmart T1000 with my Wi-Fi router, so I could not test any of the online services, but it can still give you an idea of the performance of the device.
Review of Tronsmart T1000 with Windows XP
My only Windows machine is an Acer Aspire One D255 netbook running Windows XP. It features an Intel Atom N455 with GMA3150 GPU, and 1GB RAM, so this is not quite a beast. At first I though it could explain some of the issues I'll point out below, but Brad Linder, Liliputing, also received the device for review, and also reported similar issues with a recent Windows 8 tablet.
You need to download and install the EZCast windows application from their download page. An annoying registration is required, but they don't actually send you anything to you email, so just use a fake one. When the application starts it will scan for access points, and select Tronsmart-xxxxxxx to get started. You'll also need to input the password shown on TV.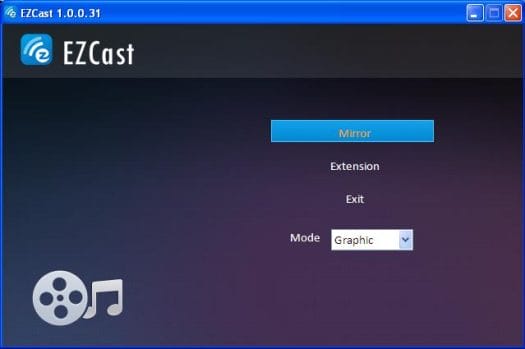 There are mainly two functions available: Mirror and Extension. The first option simply mirror your PC display on the TV, and the second adds a new display to your PC with 800×600 or 1024×768 resolution. So if you've got a 16:9 display the left and right parts of the display will be black. You can select Graphic or Video modes, most probably to adjust quality and framerate. I did not see obvious different between the two modes.
Mirroring is working, but it was quite sluggish for me, and video was simply a disaster. It can still be a decent device to "project" presentations on a big TV screen however.
The Extension mode will add a display, which is neat, except for some artifacts sometimes that require a disconnection and reconnection to the device, and the 4:3 resolutions available are also a pain. I'm sure it can fixed in an upcoming application update. It's just as sluggish on as the Mirror mode.
In the video below I completely lost Internet connectivity, because I forgot to configure Tronsmart T1000 with my Wi-Fi router. Once it's done, I have access to Internet via your browser, but lose connectivity to my network shares, until I connect an Ethernet cable.
* The video is still being processed. If it does not play, please try again in a few hours *

Conclusion
The device is relatively good to use with an Android phone or tablet, and the price is right, but the PC application performance is pretty weak, even on recent hardware, and you'd better opt for another device, or wait for an updated PC application.

Jean-Luc started CNX Software in 2010 as a part-time endeavor, before quitting his job as a software engineering manager, and starting to write daily news, and reviews full time later in 2011.