EZCast is a Wi-Fi display protocol that allows you to display local and online media and office files from your Android/iOS smartphone or Mac/WIndows computer onto your TV. It requires an app and an hardware EZCast dongle to connect to your HDMI enabled TV. I've already reviewed two EZcast dongles: Tronmart T1000, and WiDiCast EC-E2.  Mele sent me their own version, Mele Cast S1, together with Mele X1000 Blu-ray Navigation Android TV box, which I'll review another day. Today, I'll go through Mele Cast S1 specs, show some pictures including a comparison with T1000, and try it with an Android smartphone.
Mele Cast S1 Specifications
Unsurprisingly the hardware specs are the same of the other EZCast dongles, and the only thing that changes is the enclosure.
SoC – Action Semi AM8251 @ 600MHz (MIPS)
System memory – 128 MB DDR3 RAM
Storage – 128 MB NAND Flash
Video output – HDMI
Wi-Fi – 802.11 b/g/n Wi-Fi
Standards – Miracast, Airplay, DLNA, and EZCast
Video container formats – avi, .divx, .mkv, .ts, .dat, .vob, .mpg, .mpeg, .mov, .mp4, .rm, .rmvb, .wmv,
Audio formats / codecs – MP1/MP2,/MP3, WMA, OGG, ADPCM-WAV, PCM-WAV, AAC    etc
USB – micro USB port for power
Power – 5V/0.5A
Dimensions –  86.5 x 31 x 8.5 mm
Weight – 19.5
Weight – About 20 grams
The device runs Linux. EZCast mode is supported with Android 4.0 or above, iPhones with iOS 6.0 or greater, Windows XP/7/8, and Mac OS 10.7 or greater. EZMirror (Miracast) is supported with Android 4.2.x devices with Wi-Fi direct support.
Mele Cast S1 Unboxing
Mele package is a little fancier than other products, and list specs and features in several languages (English, Gernman, Italian, French, Spanish, and Russian).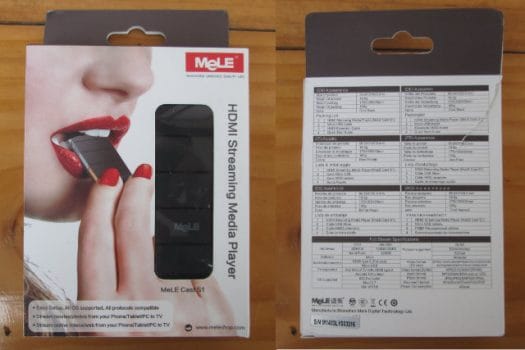 The box contains the dongle which features the usual HDMI and micro USB ports, a micro USB to USB cable, a short HDMI cable, and a user's manual in English to show how to use EZCast with different systems (Android, Computer, iPhone…). You can watch the unboxing video if you please.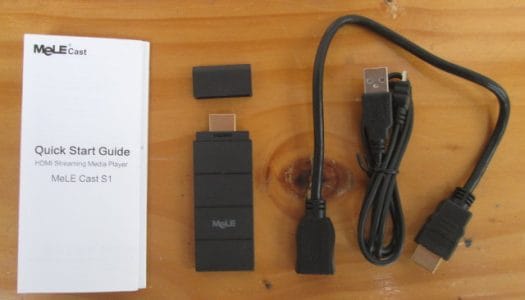 The picture below shows WiDiCast EC-E2, Mele Cast S1 and Tronsmart T1000. The first two integrate the Wi-Fi module in their body, with WiDiCast having an external antenna, but Tronsmart T1000 Wi-Fi module is separate and must be connected via micro USB and Y USB cable that also provides power the the device.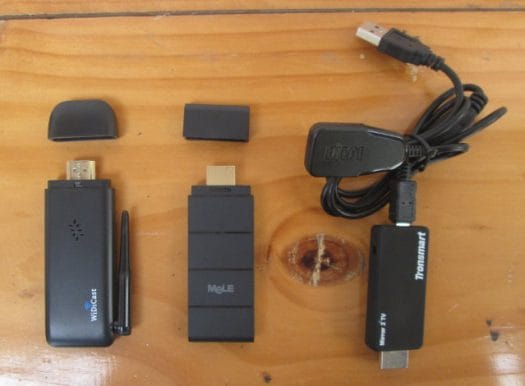 Some people claim the external Wi-Fi dongle is an advantage because it provided better Wi-Fi connectivity, but my previous tests showed, at least in my environment, that it did not really matter. T1000 Wi-Fi / USB cable is also proprietary, so in case you lose it, you'd have to buy one online again. It's just $5, but you'd still have to wait a few weeks before getting it. I personally find Mele Cast S1 is the best looking of the lot, and the thinnest, but since this is a tiny thing you just connect behind the TV, or place on the TV furniture, this may not be that important for most people.
Mele Cast S1 Review with Android
I've tested WiDicast with ThL W200, a smartphone powered by Mediatek MT6589T running Android 4.2.1, in EZCast,  EZMirror (Miracast) and DLNA mode. EZCast worked pretty well, but DLNA and Mircast was a frustrating and painful experience. I've my previsous EZCast reviews I've changed TV, so the dongle is at a slightly different location, and EZCast firmware and Android app have been updated so it's difficult to say if it is related to the hardware, and simply firmware and/or software has become less stable.
All HDMI ports on my TV are used, so I connected the device via an HDMI switcher, placed it in front of my TV, and connected the micro USB to USB cabled to my TV's USB port for power. I used EZCast app from Google Play (15 March version), and configured the dongle to connect to my Wi-Fi router to complete the setup.
In EZCast mode, I could show my local files including photos, document (Word, Excel, Powerpoint, etc…), music without problem. The camera app worked, but as usual, it was very sluggish. I could play YouTube videos without problem with Web pages and Cloud Video menus. All good.
EZMirror (Miracast), however, is a disaster, except to display pictures, or use mostly static apps. I ran Candy Crush, a games that should not requires too much screen refresh, but the dongle could not handle it, and sometimes I lost connection. In EZCast mode, the music menu is pretty much useless, because you can select individual songs, and there's no way to select playlist, or  add songs to a queue. So I tried to play music via Miracast, and I had frequent audio cuts even at 2 meters from the device. With other EZCast devices, I could go outside my room (5 to 6 meters + walls), but in this case, all audio would completely stop.
This time I've also tested DLNA by using Skifta to play the music files inside my phone. This has the advantage of letting me start playlist, and the range is pretty good when it works… In DLNA mode, you'd better not play with volume control apparently, as Mele Cast S1 hung three times, requiring a reboot.
Conclusion
Mele Cast S1 works OK in EZCast mode with Android, and my experience was similar to other EZCast dongles. However, I'm sad to say Miracast is basically unusable, and DLNA very unstable. I have not tried the device with Windows, but I fully expect the performance to be poor, just like it did with T1000.
Mele Cast S1 can be purchased for as low as $38 on Aliexpress or GeekBuying. That's about the same price as WiDicast, but a little more than Tronsmart T1000 which you can get for $28 including shipping. Another hardware option would be the ChromeCast that now supports EZCast, at least partially.

Jean-Luc started CNX Software in 2010 as a part-time endeavor, before quitting his job as a software engineering manager, and starting to write daily news, and reviews full time later in 2011.